8 Plastic Juice Container Trends to Watch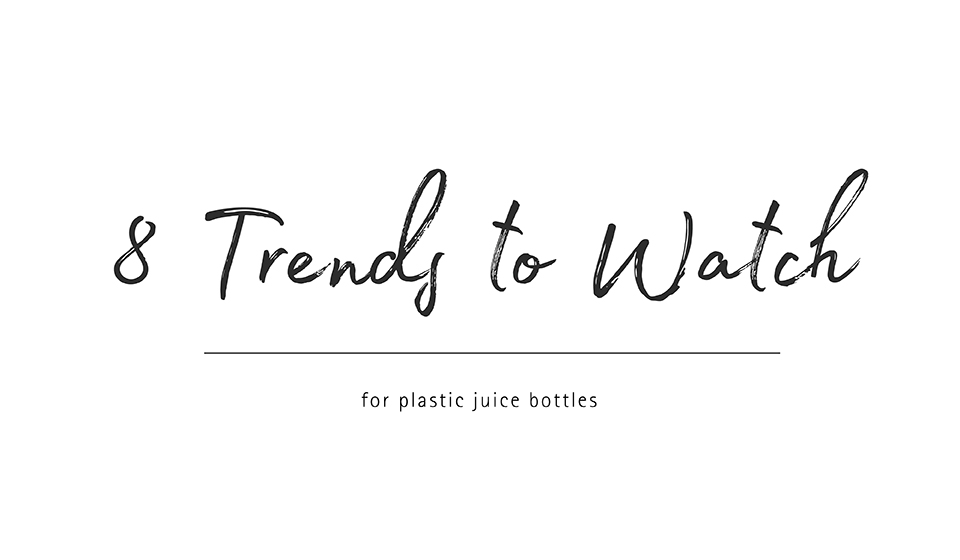 Juice bottle packaging in today's marketplace is a bigger deal than it used to be. With so much competition on the shelves, it is important to consider the finer points of an eye-catching package design. You need to attract the attention of your target audience and convey your message in a very small space. Plastic juice containers are a popular choice for juice manufacturers due to their versatility and environmental benefits. Juice makers are becoming more creative with their ideas for plastic juice bottle designs.
Below are 8 ideas for plastic juice containers now trending:

Because clear plastic juice bottles are most often used to reveal the natural color and consistency of the juice inside, using a colored cap to compliment the juice color is becoming a popular trend. Tamper evident colored caps are a popular choice for both aesthetics and consumer safety. A pop of color can conjure emotion and influence buying decisions, while the tamper evident cap offers security.

Many juices are marketed towards young children as a healthy alternative to soft drinks. These juice bottles should be easy to handle for smaller hands. The size of the bottle will also be a factor in juice targeted to children for both serving size and grasping ease. Round juice bottles are typically easier for kids to hold.

Juice bottlers are removing the applied paper label entirely from their plastic bottles, choosing to print directly on the bottle. Camera-ready artwork is used when creating the juice bottle label. Colors are applied separately, which produces a clear, crisp design with lasting durability. Screen printed label designs are being used to compliment the natural color of the juice for a colorful appearance. The screen printing process also allows for textures to be applied directly to the plastic bottle, which differentiate your brand and help to attract a consumer's interest.

A back-to-basics look is a growing trend in many industries, including the juice market. A minimal bottle design features the most basic information, offering a quick read of the most important details to the consumer. A simple, clean design is now preferred over wordy, text-heavy designs.

Juice bottlers are always looking for ways to differentiate their brand from the competition. Using a custom font is an easy way to attract attention on store shelves. For example, hand-lettering and cursive handwriting are often used for a more personal impression.

Hiring an illustrator to design a juice bottle package is an increasingly popular trend. Illustrators are showcasing a whole story line for a product in a few quick graphics, helping the consumer to make an instant, personal connection to the brand.

The vintage look is making a comeback. As technology continues to advance, a vintage label design is a great way to bring the consumer back to an earlier time. Older generations like to remember a time gone by, while younger generations' interests are piqued about a product's history.

High quality photos are increasingly used on many package designs. A photo of real people and/or objects (i.e. the fruit used in your juice) can greatly enhance package design.
Trends come and go so it is important to consider your target audience when designing your plastic juice bottle concept. Consider your brand vision, company mission and product attributes. Many of today's trends have come from entrepreneurs creatively thinking 'outside the box'. Juice manufacturers are working harder than ever to humanize their bottle designs and connect with their target market.
BottleStore.com offers a large inventory of plastic juice bottles in a variety of shapes and sizes. We also offer packaging resources to help juice makers differentiate their products from the competition.
---
---