Follow Up : Getting a Sprayer Or Pump With The Right Dip Tube Length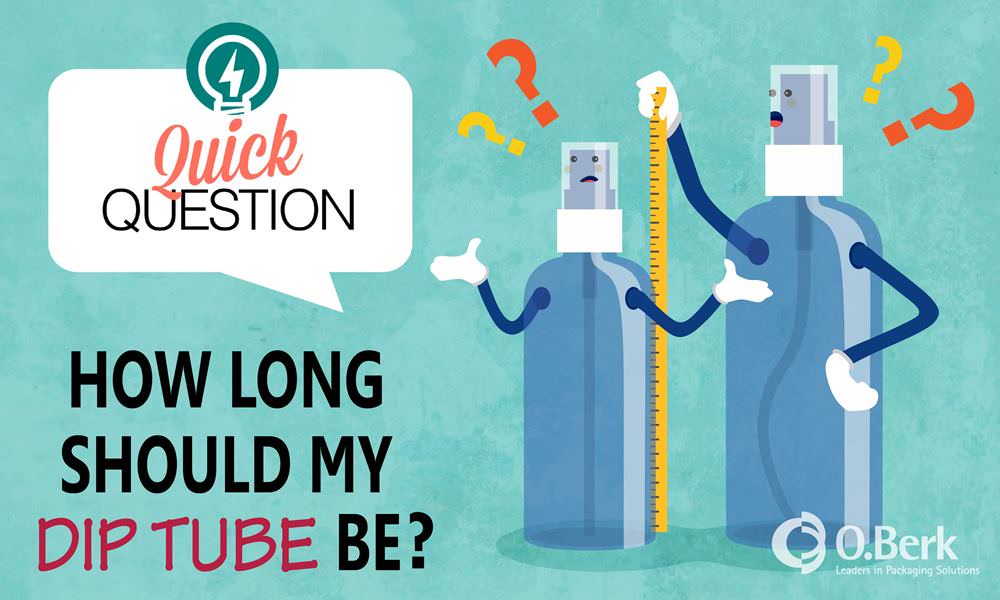 If you want a sprayer or lotion pump with your glass or plastic bottle, you might have noticed that each sprayer or pump will have a dip tube that reach all the way to the bottom of the bottle. Some of them are bent a bit to reach the corner of the push up (such in the case for sprayers), and some just sit straight and reach the very top of the push up (such in the case of pumps). What you might not know is each of these sprayers have dip tube length that is specifically measured to fit the bottle they are paired with. Today we will do a follow up on an article from Packaging Crash Course series : How do you measure dip tube lengths? We will give you some practical applications of how to measure and cut your dip tube for optimal performance, and introduce an alternative to dip tube cutting as a secondary operation if cutting individual dip tube is unfeasible.
What is a dip tube anyway?
A dip tube is a hallow plastic tube, often made of LDPE plastic, and is attached to the bottom of the sprayer or pump mechanism to extend the reach of the pump to the bottom of the bottle. The job of a dip tube is to draw the product contained in the bottle form the bottom, sending the liquid or cream product to the sprayer or pump mechanism, through the actuator and onto the consumer's hand. Most dip tubes are custom made to fit a specific sprayer or pump, the diameter of the dip tube often correlate to the output of the sprayer or pump. This is why you will generally see a thicker dip tube attached to a lotion pump versus a thinner dip tube for sprayers.
Since these pumps and sprayers are designed to fit a wide variety of bottles with different internal height and capacity, manufacturers often produce sprayers and pumps with a 10″ or longer "standard" dip tube length. For customers with a larger quantity needs (generally 5,000 and up), the manufacturer will often pre-cut the dip tube to a specified length at time of assembly.
For quantity slightly lower but above 1,000, distributors like us offers secondary dip tube cutting operations as a small cost to deliver pre-cut dip tubes for specific applications. The process for determining exact dip tube length requires access to the container the pumps and sprayers will be paired with, and ideally a technical drawing of the container to confirm dimensions.
If you have a small batch of sprayers and pumps that needs dip tubes cut, you can do so by simply cutting the dip tube at the desired length. To measure the length to cut at, visit our aforementioned article from Packaging Crash Course, we have written a step-by-step guide with pictures to help you take measurements without much trails and errors. Your end result should look something like this: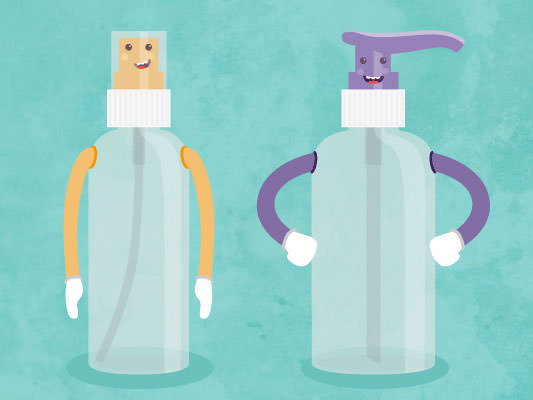 Can you cut the dip tube for me?
In short, yes! BottleStore provides a secondary dip tube cutting operations for case quantity sprayers and pumps that are bought from BottleStore.com. The process generally takes 2 – 3 weeks and here are the steps from start to finish:
Purchase the sprayers and pumps from BottleStore.com, we have a standard stock 10″ dip tube length that will fit most of your bottle applications
If you are purchasing the bottles from us as well, simply supply us with the SKU number of the bottle and we will provide a final measurement based on your selection
If the pumps and sprayers are from your own collection, we will need you to supply a sample of the bottle and a technical drawing that confirms the dimensions of the bottle and tolerances. We will measure based on the information you have supplied
A sample will be set to you with the dip tube cut to your specification for approval and signature
Based on your approved length we will proceed to cut your dip tube and ship the components out to you as soon as possible
Please note that cut dip tubes are designed to work solely with the bottle you have supplied and will be specified in the approval documents. We can not guarantee fitments and performance when used with a different bottle. Please also allow 2 – 3 weeks of production time after the final approval has been received. If you have a rush order, please contact us ahead of time to arrange for rush processing. Additional charges may apply.
If you would like to browse through our stock sprayers and pumps offering, please click here. Please note the dip tube length specified in the product detail page. For more information about our dip tube cutting operations, please contact us at 866.BUY.BTLS.
---
---