Ideas for Expanding Your Essential Oils Product Line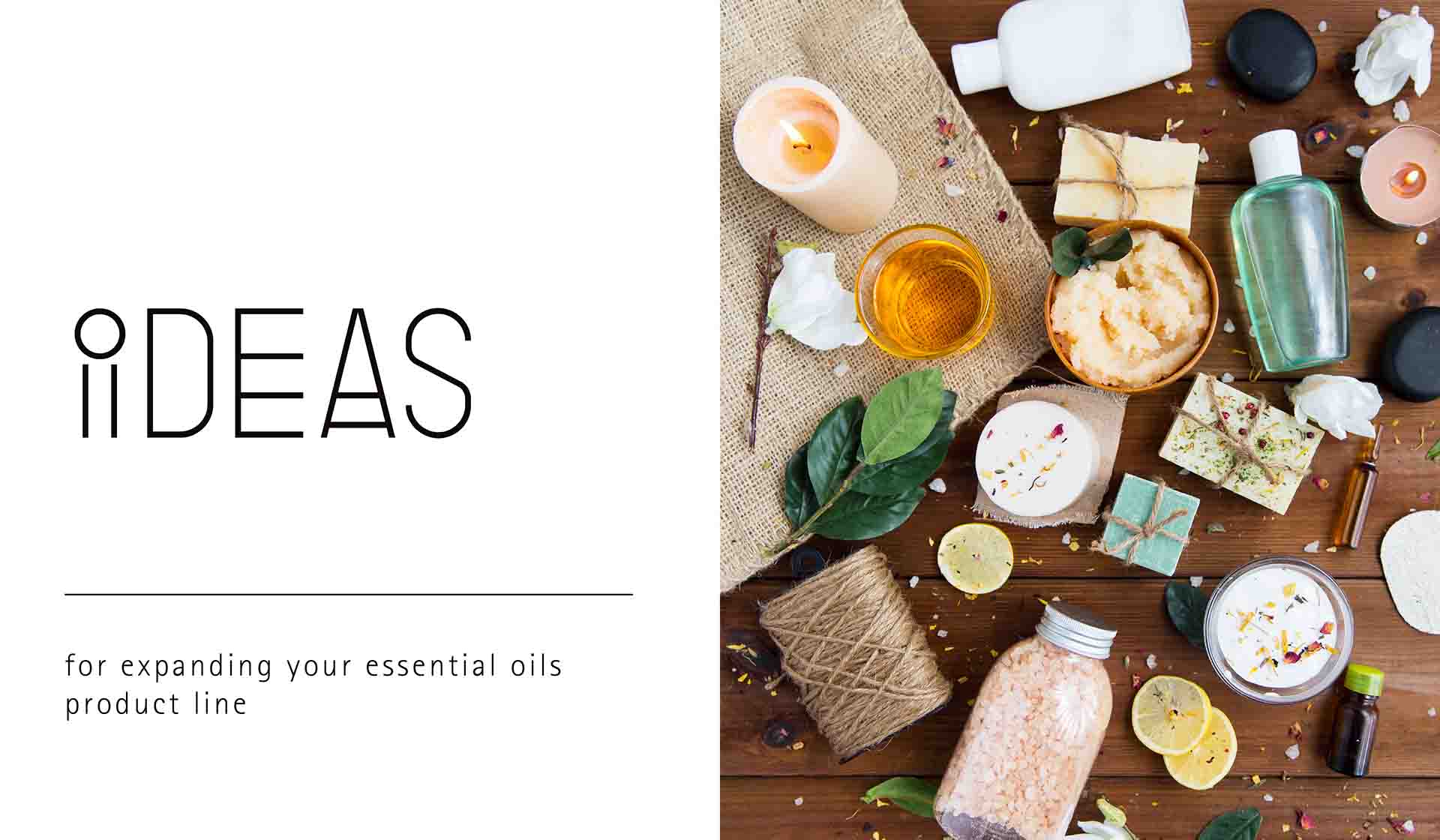 The essential oils business is a versatile one, filled with many possibilities for expanding your products into an interested marketplace. The demand for essential oils and their related therapeutic benefits is strong and it's a great time to explore your potential in the essential oils business. Expanding your essential oils bottle sales into other areas can increase your profit potential and help you build a more stable brand.
Expansion Ideas for Essential Oils
Taking your business to the next level is possible with the development of new product ideas in addition to your packaged essential oils. There are a number of essential oils-centric products you can create and package to upsell to your loyal customer base. These new products will also help you attract attention from new buyers.

Essential Oils Bath Salts
Bath salts made with essential oils are a great way to incorporate the therapeutic benefits of natural bath salts with the aromatherapy power of essential oils. Bath salt recipes can be developed to give your brand a signature line of exclusive products. The salts are relatively easy and inexpensive to make. A variety of natural bath salts are available, including affordable Epsom salts to higher-end sea salts. Salts are mixed in a large bowl with a choice of essential oils. Popular oils to use for bath salts include:
Lavender oils (relaxation)

Spearmint oils (energy)

Eucalyptus oils (tired muscle relief/colds)

Frankincense oils (anxiety relief)

Coconut oils (stress relief)

Peppermint oil (headache relief)

Chamomile oil (pre-menstrual syndrome)

Massage oils
Aromatherapy is often included with traditional massage therapies to reduce tension and invite a deeper sense of relaxation. Creating massage oil blends is a great way to expand your use of essential oils and your product offerings. Massage oils require a carrier oil to dilute the strength of the essential oils. The carrier oil will help the skin absorb the essential oils without irritation or burning. Massage oils can be stored in either plastic or glass bottle containers as they are a diluted essential oils product.
Popular carrier oils for massage include:
Sweet almond oil

– the extract of almonds is one of the most popular carrier oils for massage purposes. It glides easily over skin and absorbs quickly.
Jojoba oil

– a non-greasy wax extracted from the jojoba plant which absorbs into the skin quickly and is believed to have antibacterial properties.
Sunflower oil

– a light oil rich in fatty acids to promote healthy skin.
Apricot kernel oil

– full of vitamin E, apricot kernel oil offers a long shelf life and a non-greasy feel.
Fractionated coconut oil

– a lighter, non-greasy version of the traditionally thicker coconut oil.
When choosing massage oil blends, it is important to remember the strength of each essential oil you are using. You want to create a nice-smelling product but if it's too overwhelming (or even too underwhelming), your customers may not be satisfied. Practice a few different recipes before committing to the one you wish to sell. Always mix carrier oils and essential oils slowly and carefully so as not to break up the compounds of the oils. Store massage oils in a high-quality glass or plastic container with an air-tight sealing lid to keep your products protected from deterioration and loss of quality.

Hair and skin oils
Essential oils have been used for centuries due to their therapeutic and healing properties. Many skin conditions and hair problems can be addressed with essential oils. The most popular essential oils for skin and hair conditions include:
Lavender essential oils

– known for its antiseptic properties, lavender oil is often used to treat a variety of conditions, including oily skin, dandruff, acne, and bacterial or fungal infections.
Chamomile essential oils

– known for its anti-inflammatory properties and calming effects, chamomile oil can be used to treat dermatitis, psoriasis, itchy scalp and skin problems, and is also useful in protecting hair from toxins in the environment.
Clary sage essential oils

– known for its phytoestrogen properties, this essential oil is frequently used in hair care products to promote fast hair growth. It is also useful in control dandruff and treating dry scalp conditions.
Lemon essential oils

– known for its drying properties, lemon-based essential oil products can be used for treating oily skin, dandruff, and acne. It also acts as an antiseptic, which is useful for treating skin and scalp infections.
Tea tree oil

– known for treating any type of skin and hair issue, including dryness and dandruff. This oil also helps to unclog the hair follicles and pores of the skin to improve the flow of natural oils. Tea tree oil is effective at treating fungal and bacterial infections as well.
Popular carrier oils for skin lotions and balms include avocado oil, castor oil, coconut oil, grapeseed oil, jojoba oil, safflower oil, and sweet almond oil. Skincare oils are often packaged in smaller quantities with simple dropper-style bottles to easily dispense small amounts of fragrance on the skin.

Shampoo recipes containing essential oils are a bit more complicated. A number of ingredients are required to prepare a quality shampoo or conditioner in addition to carrier oils. They may be more time-intensive and expensive to make but they can also increase your profit potential significantly. Bottle different sizes of your crafted shampoos and conditioners to expand your brand's offerings.

It's All in the Packaging
Introducing your products to the marketplace requires some forethought. There is a lot of competition on store shelves so it is vital to create a marketing plan to set your essential oil products apart from the competition. Designing an intriguing logo and your overall packaging concept is the first step in marketing your essential oils. Customers are often inspired to buy based on packaging design alone. A unique looking essential oils bottle is a good start to building a memorable brand design. What's on your packaging is just as important. Be sure to provide consumers with as much insight as you can fit on the bottle, including how to use the product, what's inside, and the many benefits the use of the product offers. This kind of detail can help consumers choose products they are unfamiliar with but are interested in buying.
Check out the competition's colors, styles, and other detail to help you become familiar with how you will differentiate your product on the shelves. Invest in the planning of your packaging and marketing efforts, even if you have to hire professionals to help your vision come to life. With each new product you create, you'll need to have a corresponding package design that sets your product line apart but still incorporates your brand's overall image.
Bottlestore.com offers a large selection of essential oil bottles and packaging for your extended line of essential oils products, including wholesale packaging options like our popular amber glass dropper bottles, the stylish Boston Round bottles, and the convenient Pour-Out Round. High quality, durable glass and plastic containers are a great first step for expanding your essential oils business.
---
---