Welcome to the new BottleStore!
It's getting close to the holiday season. Here at BottleStore.com, we've decided to give customers like you a new look and feel of BottleStore, along with many functionality enhancements and improvements to make you more competitive in your marketplace.
We'll be spending the next few weeks of our blogging time to review some of these enhancements, they are designed to help you locate what you need faster, order quicker, and track your shipments easier. So let's get started with a 30,000 ft. view of what's changed.
Wider selection of glass bottles and plastic bottles
We've added quite a bit of products to our mix. On top of the classic Boston Round glass bottles and our unique Pour-Out glass bottles, but we've also added many other items such as glass cream jars, HDPE plastic cylinders, PET boston round. For those who are looking special deals, check out our Surplus selections.
Easy-to-use search and filtering tools
What we've gotten over the past year is that many of our customers wanted an easier way to search for their product. So we've added two new searching / filtering functionalities:
Advanced Product Search

BottleStore new advanced search functionality

At the top of every page, you'll see a white "Search" pull-down tab, click it once and a search form will reveal. Here you can perform specific product search based on common product attributes such as bottle size, neck diameter, material and shape. If you have ordered from us before and know the SKU number, there is a "SKU Search" on the right column specifically for that purpose.Please note, however, that due to the expanded selection we have modified our SKU structure, so if you can't find it using your old SKU number, make sure you utilize the search form, you will more than likely find what you are looking for.

Product Filtering Sidebar


"Narrow Your Results" product filtering


When you just browsing through our catalog, you'll now see a product filtering tool on the left column, much like the advanced search form, you can drill-down to your specific requirement one-by-one. This tool is particularly useful when you want to explore all the possibility we offer within your specifications.
Product Image Grid Catalog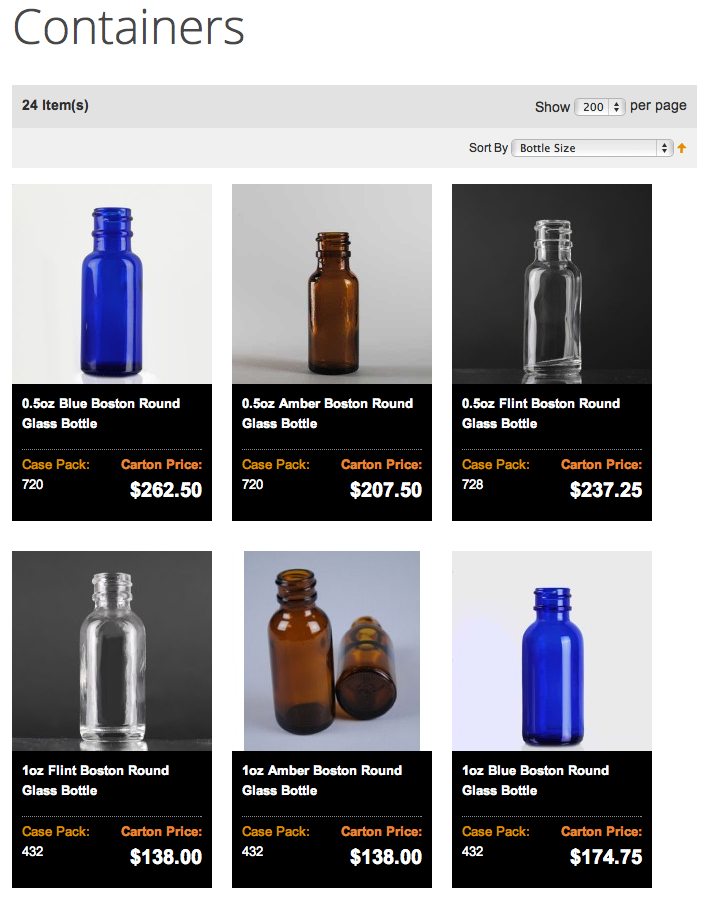 We've enhanced our product photography offerings to give you a chance to examine closely what your are buying. At the catalog listing level, you will now be able to see product specific photographs, giving you a peace-of-mind when you shop. At the product detail level, we've also started offering image galleries where you can examine each bottle at different angles: side view, neck view, base view, etc.
In addition, we have started added bottle and cap pictures so you know exactly what the final package will look like.
Come Experience The Difference
Whether your requirement is bottle samples to perform product test, or annual release quantities of pallets, we know that your requirement is unique. To that end we would like to invite you to browse our redesigned catalog, and contact our representative for specific needs. We stand ready to assist you in finding the perfect glass bottle or plastic bottle for your product, one carton at a time.
---
---