15 Ideas to Take Your Honey Business to the Next Level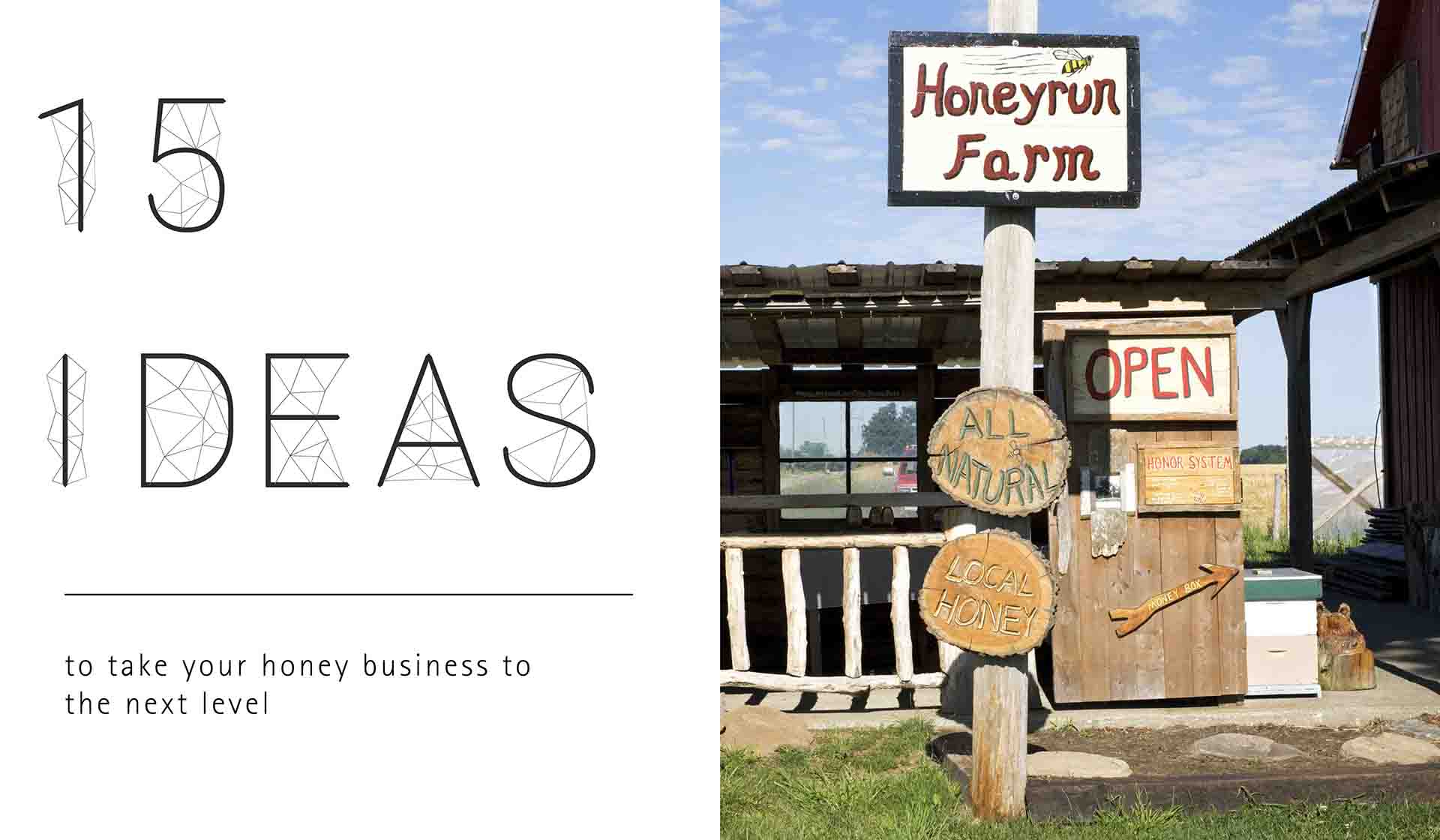 If you've been dabbling in the bottling of your own honey to fill your pantry or gift to friends and family, now may be the time to take your honey business to a whole other level. There is a lot you can do with honey, beeswax, and a little creativity. Make sure you have enough honey being produced to keep honey bottles in stock and ready to sell -then get ready to turn your hobby into a more profitable business.
Here are 15 ideas to take your honey business up a notch:

Because honey jars sitting next to each other on a shelf can often look just alike, it will pay off to spend time designing a creative overall look for your honey inventory. Take a quick trip to Pinterest to explore thousands of ideas for label making, bottle decorating, and logos. Express your own personality and style – bright and eye-catching or quaint and comfortable – to represent your honey products. Invest in a uniquely shaped, clear glass honey bottle to showcase the natural look of your honey. A creatively-shaped bottle can instantly set your product apart from the rest.

If you've been gifting friends and loved ones with honey jars at each holiday, start a conversation with the recipients. Let them know you are planning to sell honey as a side business and ask for them to help you out with some word-of-mouth advertising. They can tell friends, who can tell friends to get your honey business rolling.

There are often opportunities in your own community where fundraising can help promote your product. Organizations and non-profits will look for goods to sell or auction off to raise money for their cause. Supply these opportunities with several jars of your honey and related products free of charge. Be sure to provide business cards so the lucky winners know where the honey came from and how to contact you for more.

In nearby areas, close to home, contact the organizers of local farmer's markets, fairs, and festivals about becoming a vendor. These types of events are held all year around. Set up your table, fill it with product, and talk to as many people as you can about your honey products. Give out business cards to everyone. If you live somewhere which permits it, set up a roadside stand near a well-traveled area.

Have a signature giveaway to help people remember your honey. Give away free trial samples of your products or design a signature stuffed bee with a business card attached to give to potential customers.

You'll have better luck asking for consignment opportunities among other small business owners. Chain stores are not likely to sell your product for you but small groceries, boutiques, and tourist areas may be willing to sell your honey products in-house for a fee. Some businesses may charge a flat-rate fee each month or will consign based on a percentage of sales. Be ready to suggest other options to business not currently offering consignment situations.

There are a number of places you can advertise honey sales online. Social media websites, eBay, and Craigslist are all viable ways to sell to people outside of your immediate area. Many of these online avenues are free or low-cost. Consistency will help keep your products in front of the consumer and can help you build a loyal following.

Raw honey is a natural remedy for a lot of ailments. Be sure to advertise the fact your honey is produced locally, contains no preservatives or additives, and is a versatile product for better health.

Honey is used in a lot of do-it-yourself recipes for health care. Research some easy recipes where honey is a chief ingredient (facial masks, hair conditioners) and make samples for friends. The samples, as well as a copy of each recipe, are great handouts to promote the versatility of honey.

Besides honey, bees also make wax, which can be a profit-making product as well. There are a number of popular products made out of beeswax, which can be sold right alongside your honey jars. Lotions, lip balms, and candles will all become a strong part of your inventory. Learn how to make these additional products and start building a solid brand.

There are lots of people who are interested in the process of making and bottling honey. Invite scout troops, schools, and other groups to your location to teach them more about the art of beekeeping, honey extraction, and bottling. Provide opportunities for homeschooled children to learn more about biology and science. Teach special classes in making beeswax crafts for extra cash. You can draw in new customers to your honey business using new avenues.

The next time you plan to sell your honey in public, dare to be a little different. Don a bee suit or bring a small, contained collection of your bees for the public to observe. Little creative twists can be a big draw for new customers who can ultimately become a loyal customer. One beekeeper in China once covered his entire body with live bees just to sell more honey.

If you set up a roadside stand or a space in a local farmer's market, find someone handy to build you an actual hive. Make your selling space over to resemble a real-life beehive and watch customers start to swarm your honey spot.

If you are experienced in online sales, consider setting up your own honey club. This can be a great way to promote different varieties of honey and honey-related products to existing customers. Keeping mailing list addresses or emails to market new products and let people sign up to receive select honey products once a month for personal use, or as a gift.

If you are operating a thriving honey business and are already well-known in your community, consider establishing an annual festival celebrating all things honey. A community honey festival can be a great way to meet new people, start working in cooperation with other local small business owners, and make a name for yourself as a honey experts.
The Marketing Plan to Success
While there are many creative ideas you can incorporate into your honey business, it is important to put the time and effort into creating a solid marketing plan. Even if you're already an established business, when it's time to take things to another level, take things seriously.
Ideally, you should have already started your business with a business plan. Part of that plan involves outlining ways to market and promote your product, as well as to estimate the costs and budget involved in meeting your goals. If you've already created a business plan at the beginning, go back to it and review your initial ideas for marketing and selling. Figure out ways to expand on what you've already tried.
Don't be afraid to ask for help. Get input from loved ones as well as actual customers as to what kind of products they'd like you to sell. Take any and all feedback into consideration to grow your business bigger.
Go undercover with other local honey farmers and learn some additional tricks of the trade. Many entrepreneurs are willing to mentor up-and-coming business owners, especially those who will not be competing with each other for sales. Immersing yourself in the honey business from different perspectives can bring about new ideas and creative ways to sell more honey.
Keep detailed notes on the marketing ideas you've tried, highlighting the ones that were successful, as well as those that weren't. As new ideas come to you, write them down in a journal so you won't forget. As a busy business owner, it is possible you already wear a lot of hats. It can be easy to let your marketing efforts fall by the wayside. Remain dedicated to the marketing part of your business plan and stay innovative and ahead of the rest when it comes to your sales efforts. If it's in the budget, hire a professional marketing consultant to help spark new ideas and set an actionable plan in motion.
---
---