24 Practical Uses for Plastic Jugs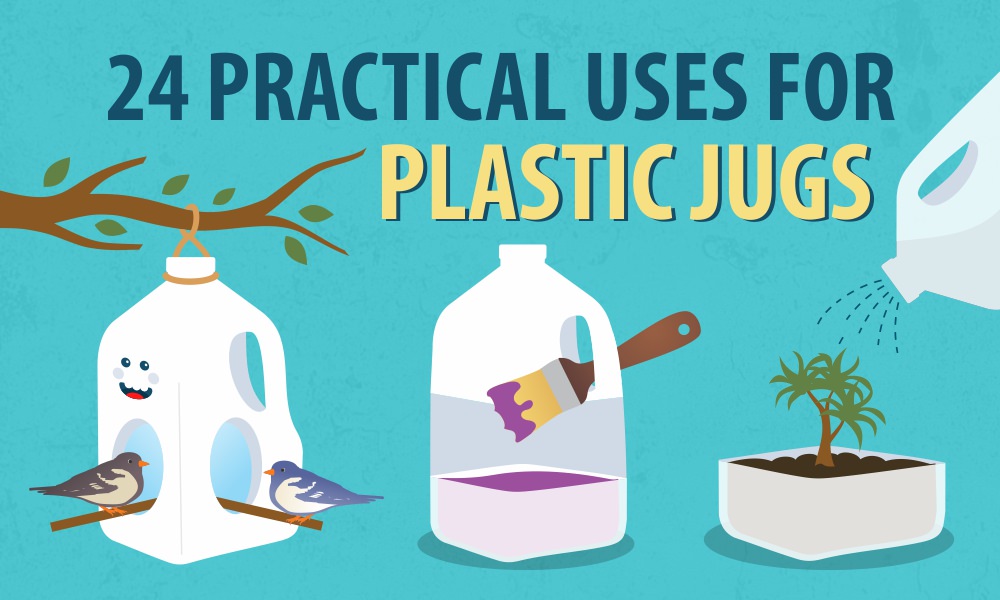 24 Practical Uses for Plastic Jugs
Leftover and new plastic jugs can be used in many practical ways in and around your home. Most people think only of the iconic plastic milk jug and don't realize just how many different varieties of shapes and sizes plastic jugs come in – or just how many uses there are for using plastic jugs in and around the home.
What to do with 5 Gallon Water Bottles
Plastic jugs are available in sizes as small as 11 ounces or in large sizes like 5-gallon water jugs. With a little DIY creativity and crafty skills, you can turn a regular old plastic jug into a practical, useful, and inventive new item.
Take a look at 24 practical ideas for using plastic jugs:
IN THE GARDEN
Bug Attractor

A plastic jug can be used to lure and capture stinging yard pests like hornets and wasps. A quick search of Google will yield several recipes you can use to catch the winged beasts. Many stinging pests will be attracted by juice or soda. Pour enough in the jug to cover the bottom. Add a drop or two of dish washing detergent to ensure the bugs drown once they hit the water. More complex DIY bug traps can also be constructed using plastic bottles and jugs.

Granular Container

If you get products like garden chemicals or ice melt in bags, transfer the granules or powders carefully into a plastic jug. When you need to use them, the jug will make it easy to pour out and prevent leakage and spills from opened bags. It also helps prevent kids and pets from getting into potentially harmful materials.

Outdoor Weights

If you have a swimming pool, utilize several plastic jugs as weights for the winter cover. Fill with water which will freeze in cold temperatures or use sand to fill the jugs and provide the needed weight. Weighted jugs can be used for other things around the yard, like keeping a tarp from blowing away in the wind.

Outdoor Luminaries

Light up your walkway for a special occasion using plastic jugs and tea light candles. Cut a hole in the back of the jug large enough to fit the candle inside. Don't forget to leave a little extra room to light the candle. Battery operated lights are also an option to use in outside luminaries.

Holiday Lanterns

Much like the walkway luminaries, you can decorate and paint plastic jugs with some holiday style and add your tea lights. Make ghosts and faux jack-o-lanterns for Halloween. Decorate Santa's for the Christmas season.

Cookout Utensil Holder

Stop taking multiple trips into the house the next time you cook out on the grill. Cut off the top of a large plastic jug, keeping the handle intact. Fill the jug with your necessary grilling tools like forks, tongs, and sauce brushes. A sturdy jug with a handle makes it easy to tote your cooking tools to where you need them. The jug can easily be washed out after the dirty utensils have been removed. Once everything is dry, store the grill utensils in the jug for next time.

Bird Feeder

A bird feeder is an easy to do craft makes use of the milk-style plastic jug. It's a great afternoon project for the kids too! Use scissors to cut out bird-sized holes on two sides of the jug. Use a metal skewer to poke holes in the bottom of the jug to act as drainage. Holes also need to be punched on each side, above the hole. String twine or metal wire through the top wholes to make it easy to hang. Decorate in any style ad fill with birdseed.

Watering Can

A plastic jug with a lid makes a quick and easy watering can for your plants. Simply poke decent-sized holes in the lid and fill the jug with water. If you need to water plants over an extended period of time, freeze the water inside the jug then flip it upside down in your planter. As the ice melts into water, it will slowly drip out of the jug to keep your soil moist.

Rain Water Collector

Use a plastic jug to collect rain water to keep your garden growing. To make a more effective catcher, cut the top of one jug off to serve as a funnel. Use a little duct tape to secure the funnel top into the mouth of the second jug. You'll want to remove the funnel after water has been collected. Fill with a small amount of water to keep jugs from blowing away. Place the jugs in hidden areas around your yard. Hang on to the jug's lid. Poke holes in the top and use as a watering can.

5 Gallon Water Jug Planter

Get your garden started in early spring using plastic jugs. Cut off enough of the jug's top to leave a good-sized base. Fill with potting soil and your choice of seeds. Use a marker to write which kind of seed you have planted in each of your containers. You can also use the bottom of a plastic jug as a water tray for your other potted plants to prevent messy leaks during watering.
IN YOUR HOME
Grocery Bag Dispenser

A plastic jug is a convenient way to store your collection of plastic grocery bags without a hassle. Simply cut a hole in the top big enough to stuff in the bags. Cut another smaller hole in the front of the jug, opposite the handle, so you can pull a bag out when you need it.

Storage for Grains, Rice & Beans

Don't invest in costly canisters when you can use a plastic jug to hold your loose grains, beans, and rice. Use a permanent marker to label individual containers with a description of what's inside. If you have a favorite recipe or cooking instruction to follow, print it out and tape it to the jug for easy access. The jugs will keep your grains safe and it will be easy for you to pour out specific measurements.

Money Holder

Throw your spare nickels and dimes into a plastic jug and save for a rainy day. You can even designate a different plastic jug for each different denomination of coin. Place several around your home where loose change is common like the bedrooms, laundry room, and bathroom. To ensure you collect more than you spend, cut a slit in the top of the lid and superglue it closed.

Funnel

A funnel is a good item to have on hand in your kitchen. You can use a plastic jug to make your own in just a few minutes. Choose the right sized jug, cutting off enough of the top to have adequate pouring space.

Exercise Weights

For an affordable exercise weight, fill a plastic jug with water to use in your exercise routine. One gallon of water equals 8 pounds of weight. Use them to build muscle and burn fat without the costly expense of gym equipment.

Ice Pack

Small plastic jugs can be filled with water and placed in the freezer before your next road trip or picnic. The frozen jugs will be ideal for keeping coolers cold without a mess.

Pet Food Dispenser

Many cat and dog foods come in large, heavy bags. Help reduce the weight you need to carry and keep your pet's food fresher by using a plastic jug to store smaller quantities of food. The jugs make it easy to pour out food in measured quantities.

Painter's Cup

A plastic milk jug can be turned into a handy painter's cup. Cut out the front side of the jug, opposite of the handle so that you have a shallow dish where you can pour in your paint. A bonus to using this DIY cup is you can use the opening of the jug to hold your wet paint brush as you work. Whole plastic jugs can also eliminate the messy hassle you deal with when working with paints in a can. Transfer your paint to a gallon-sized plastic jug for easier, mess-free pouring for your future painting projects.

Jug Storage Bins

Extra-large five-gallon plastic jugs can be made into a convenient storage catch-all for every member of the family. Use as many as you need to create a storage nook for your items. Cut out the front part of the jug large enough for you to fit in your items. Hot glue the jugs in a row, side by side. Add a second level and glue both the sides and bottoms to the other jugs to create a more stable structure. Place the storage unit in your closets, mud room, or children's room to collect the odds and ends, toys, and other loose items in your household.
FOR THE KIDS
Bottle Toss Game

A long neck plastic jug can be used to create an old fashioned carnival game favorite right at home. Use swimming pool rings to see who can successfully score points by tossing rings over the neck of the bottle. Be sure to fill the bottles with sand or water to provide added weight and prevent the bottle from tipping over.

Ball Catch Game

Another kid-friendly game you can make using simple plastic jugs is a ball catch game. Cut off the bottom of a large plastic jug, keeping the handle intact. You may want to cover the cut area with colorful duct tape to prevent accidental cuts from the sharp plastic. Hold the jug by the handle with the opening facing up. Toss and catch a tennis or whiffle ball with a partner using only the jug.

Handmade Musical Instruments

Entertain the kids by filling up plastic jugs with colorful beans, rice, or dried corn. It's an inexpensive way to make instant musical instruments for the little ones.

Easter Baskets

Make fun baskets at Easter time using large plastic jugs. Cut out a portion of the jug to resemble a basket, leaving a sturdy base and handle. Decorate the basket with markers, stickers, and ribbons. Fill with plastic grass, eggs, and candy before Easter morning.

Playhouse Igloo

For parents interested in an ambitious project with the kids, try constructing a plastic jug igloo. This homemade playhouse is perfect for toddlers. Take a collection of plastic jugs and hot glue them together to form an impressive igloo!
There are a number of ways to turn a plastic jug into your next work of art. From storage centers to fun family arts and crafts ideas, plastic jugs are versatile and an affordable option to creating something you need and can use around the house for next to nothing in cost. O. Berk is a leader in packaging solutions and offers a variety of plastic bottles and jugs in a variety of sizes, shapes, and colors to suit your needs. Using our durable plastic jugs for DIY projects will ensure your creation stands the test of time.
---
---