8 Surefire Strategies to Market your Essential Oils Business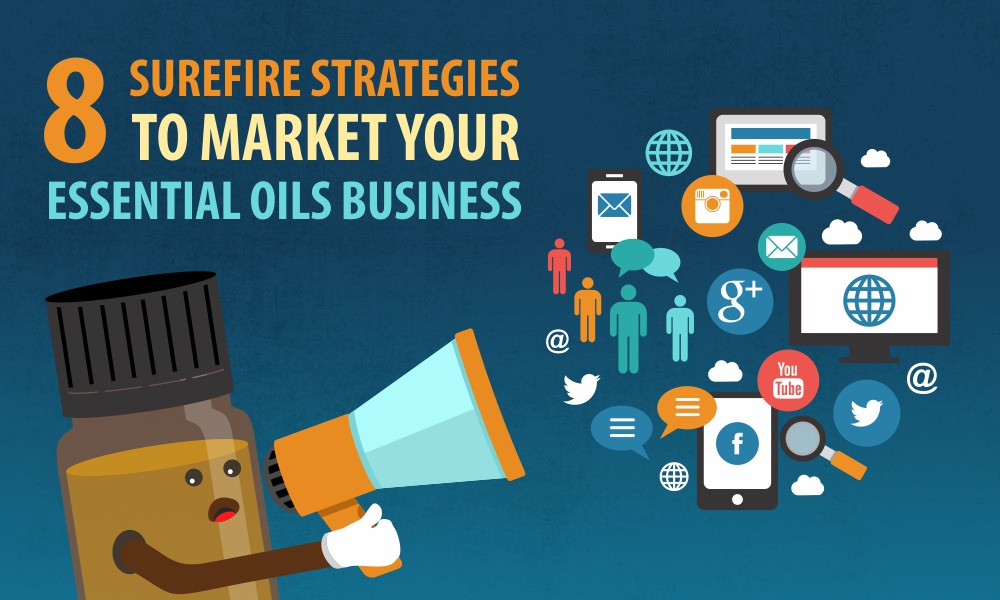 Essential oils are in high demand and have been around for centuries, but their popularity is currently exploding in the U.S as a broader demographic of consumers begins to share their experiences with first hand holistic effects.
Essential oils are lauded as natural remedies for a variety of ailments; they are safe, healthy, affordable, and legal. Consumers want natural, chemical-free products, and they don't want to do business with companies that don't treat them like people. Consumers want to go online, read personally-written blogs, and visit community or farmer's markets for quality products. This is your "in", so to speak, as a burgeoning supplier of essential oil products. As the divide between consumer interest continues to push farther away from "Big Pharma", opportunity for small business entrepreneurs to enter the holistic product market continues to increase. In order to be successful, however, you are going to need a tactful marketing strategy to get off the ground and attract consumers to your company. Starting an essential oil business is easy, making sales and creating a brand takes work. Consider these 8 strategies to build your brand and catalyze sales.
8 Effective Marketing Strategies for Your Oils
So, how exactly do you market essential oils in an industry which is bustling with competition? You need to carefully define your company's value proposition, products, and the audience you're aiming to reach. Here's how you create a solid marketing strategy for your essential oils business.
Build Your Brand and Brand AwarenessFirst things first, you need to get to know your brand a little better. What is it about your essential oils that makes you stand out among the hundreds of other essential oil companies currently in the market? Is your brand all about purity or quality? Do you emphasize organic ingredients? It is essential that you develop a strong brand platform, leveraging what makes your oils unique and differentiating your company from the established brands in the industry.

To effectively leverage a brand, you need to develop a recognizable logo and the perception of what your brand represents. It doesn't have to be overly complicated – simple is better – but it has to be effective. Consider for a moment the logos that come to mind immediately when you think about recognizable companies. You can see the image. That image could be yours in the minds of new and potential customers.

Once you have a clear idea of what your brand is and what it means to customers, it's time to go live online. Don't take this leap until you are ready for it. You must have the logo in place and a brand platform clearly defined. This is critical for your online presence. Your digital platform must reflect your brand, but also engage a target audience effectively. The entire experience of "getting to know your company" has to be consistent and cohesive with your brand. To drive that point home for new and potential customers, leverage your website as a learning hub. Dabble in a little something called SEO of a website, with the help of companies like https://serpninja.io/. Explore the subculture that has emerged around the essential oil industry, and create content and drive need accordingly.

Learn About CustomersOkay, so who buys essential oils, and why do they buy them? Consider every facet of this question, then ask yourself if your brand coincides with your ideal demographic. Develop a solid understanding of where demand is strongest, and how your oils will be commonly used. Guess what? Now that you know where your products are needed most, you have to face the competition who has already entered that region and engaged your target audience. Research the competition to understand the demographic that consumes the products offered. What compels the customers to return, what are the best products, and what do the reviews say online about the company and their products. These are the same people who will purchase and consume your product, and could ultimately become brand loyalists or advocates.

Knowing, you need to engage a target demographic is obviously far from actually making that happen. As a a new company, developing an ad campaign can be a daunting and expensive endeavor. Don't worry about flashy ad campaigns at first if you don't have the cash on hand. The most important thing you can do is develop a thorough understanding of who you ultimately want to reach. An effective way to do that is to utilize demographic collection software. Consider implementing a remarketing tag from Google on your website. This tag passively collects demographic and audience data based on the audience which is currently reaching your domain. Doing so provides you with all the demographic data you need – for free.

Generate Exposure for Your BrandBuilding visibility and recognition for your brand is a crucial step in an established market. Your company needs exposure if it's going to compete in a crowded industry with established retailers. A reliable strategy for new and existing businesses with online platforms is to run a banner ad campaign on the Google Display Network (GDN). The GDN allows businesses to get their products out to the masses while they browse, conduct business online, and even check their Gmail accounts. By creating a Display campaign through Adwords, the GDN helps position your marketing messages in front of consumers who are already interested in your product. The GDN gives you the power to decide where you want your ads to display, how often they should display, and which users you want to target. You can also decide how you want your ad displayed – video, text, photo, or an image of your product.

In order to take advantage of the GDN, you will need to develop creative media to position your brand. Consumers respond to animated banners and video more effectively than static banners ads. You don't have to spend a fortune to create a click-worthy ad, but you do need to invest in quality graphic design or animation in order to create a compelling visual presence for your company.

Invest in Creative PackagingWhite envelopes, plastic bags, and brown bottles simply won't cut it any more. You need a creative packaging solution that aligns with your brand and generates excitement about the product inside. Choose essential oil bottles that are unique, sturdy, and iconic. There are two goals here: stand out, and create visible memories of the product. You don't want to be easily dismissed as "just another essential oils company." You want to be THE essential oils company in the mind of your target audience. Define an attitude, culture, or a way of life with your packaging. Invest in quality packaging materials by working with a company that provides you with the design resources and the wholesale containers who need for your oils.
Test the Market with Search Network AdvertisingYou can learn exceptionally valuable lessons about your target demographic's search behavior by launching a basic search network advertising campaign on Google. Google Adwords is an effective way to see to which keywords your customers actively utilize to find the products you have for sale. These "keywords" are what your target audience uses and will use to find your company and its products. When you step back and consider online shopping behavior – search is typically an integral component of that process. Most consumers who are looking to find multiple retailers begin their online shopping experience with a quick Google search. Adwords is the premier opportnity to connect those consumers with your products, based on the language they use to find what they're looking to purchase. The advantage to search network advertising is that users who search for products have intent – either to buy, or to discover and research new products they will likely buy in the future.
Go Social with Social Media AdsSocial media advertising is quickly becoming one of the most effective ways to reach your target audience, and whatever your marketing budget may be, there's a platform which can accommodate your brand. You can choose pay-as-you go plans, or you can select marketing campaigns that remain within strict budget guidelines. Running Facebook advertising campaigns is a great way to generate interest in your products, and you can link to any blogs or promotions you are running on your site within the ad itself.

Utilize demographic-targeting features on Facebook and Pinterest to hone in on your target audience and to encourage interaction with your brand and your essential oil products. Facebook ads and promoted pins are an excellent way to engage and inform your target demographic that you exist and are worthy of consideration.

Build a Content StrategyWhile it's easy to get caught up in the technical side of your product, it's important to create a "voice" for your brand and to create a culture around your essential oils. Giving your brand an opportunity to engage directly with a target audience is critical when it comes to building momentum in an established market. This is only possible if you're able to build an effective content strategy. A concise, effective, and well coordinated editorial calendar must be created in order to your content strategy to be effective. Content marketing is an inherent component of an effective promotional strategy online – you will want to remain consistent in your publishing efforts, be authoritative, and remain relevant. A solid content strategy consistently produces thought-provoking articles, guides, visual media, and interactive media as a way to represent your brand and your products.

The best course of action is to start by maintaining an active blog that leverages thought leaders in your industry. The strategy here is to build a broader audience, not just "get more visitors" to your site, and to expand your brand's reach across multiple channels. Working with established bloggers or industry trades can help position your brand within the digital community – this helps to build more exposure, but also contributes to the development of brand equity.

Participate in Local EventsMore and more consumers are turning to local brands instead of commercial entities for health related products. "Local love" is a type of brand loyalty that is easy to develop, and if you nurture the relationship, it can grow your business exponentially. The key is to put yourself out there. Don't sit behind your computer all day. Make yourself known in the community. Equip yourself with samples, business cards, and coupons. Visit local craft shows, trade shows, festivals and concerts. Wherever large crowds will gather, inject yourself in the fun. Vendors get a ton of foot traffic at these events. It is a valuable time to share your experience and expertise, give people the opportunity to try your products, and to network. This is an excellent opportunity to define and promote your brand in the community.

Think beyond community gatherings and festivals at all times – consider athletic events such as marathons, 5Ks, and make it a point to attend trade-specific art shows or expos. When charity groups or non-profit organizations come to you requesting raffle items and gift basket items for donations, do it. It puts your name out there, and it allows prospective clients to try your products. Think of something relevant in your local community where you can be involved and provide your services and product. Reach out and connect with local spas, resorts, and boutiques.
Marketing your essential oils can be fun, but you have to have a plan when you get started. Get to know your brand better to understand your audience, and then give them the product they have always needed – your essential oils.
---
---