Glass Jars for Homemade Beauty Products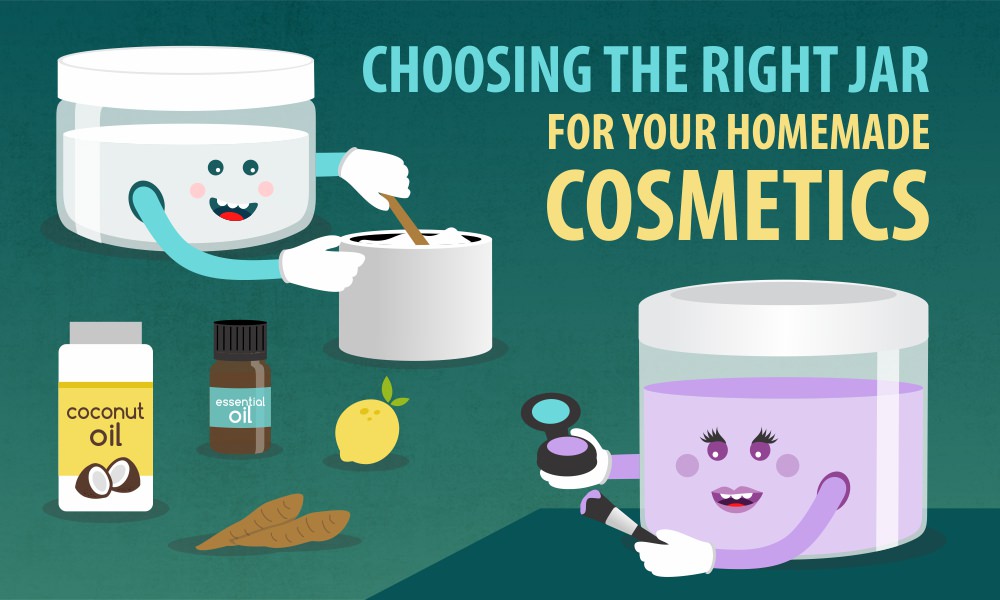 With so many wonderful ideas and step-by-step tutorials available online through articles and videos, the DIY world is blowing up. More people are getting back to basics to create things they need for their own use. Preserving food, brewing beer, concocting cleaners, and even making cosmetics have become a viable way to save money while still getting a high-quality, safe, and useable product.
Reasons to Make Cosmetics at Home
One of the biggest reasons people decide to make their own products is due to the concern of chemicals and other potentially harmful ingredients found in today's commercial products. Consumers read headline after headline about product recalls on popular items and toxins causing health problems. Opting to make products at home allows the user to know exactly what goes into them.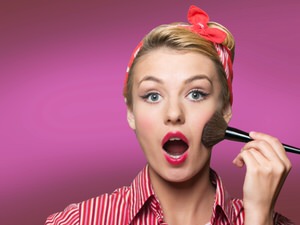 Many of the cosmetics made at home can incorporate organic and natural ingredients to lessen the risks associated with chemicals and toxins found in the store-bought versions. Recipes with natural ingredients like honey and milk are much safer and gentler for the skin.
For those suffering from allergies, crafting cosmetics from natural ingredients helps avoid the risk of contact with allergens found in commercial products. Allergies are often triggered by the dyes and harsh chemicals cosmetic manufacturers use to make and preserve products.
Cosmetics You Can Make Instead of Buying
There are plenty of health and beauty products easily made in a home kitchen. Recipes abound on Pinterest and other sites, which are created with all-natural, easy-to-find ingredients. Spending a few hours creating and bottling handmade products will not only improve skin condition, it can also help you spend less on costly, commercial products.
Products you can make at home include:
Mascara
Eyeliner
Powder foundation
Shampoo
Lip stain
Makeup remover
Basic recipes for each example are below and many use natural products already stocked in the pantry or the refrigerator.
DIY Cosmetic Recipes
Mascara
Ingredients:
Aloe Vera
Vitamin E oil
Activated charcoal
Directions:
In a small bowl, add a few drops of Aloe Vera and vitamin E oil and mix well. Add a pinch of the activated charcoal and mix until well blended. Mascara can be used immediately. Remaining product can be stored in a small glass vial and applied with a clean mascara brush. Learn more about mink eyelash extension if you would like to have natural looking lashes.
Eyeliner/Eye Shadow
Ingredients:
½ tsp cocoa powder (for brown shades)
½ tsp activated charcoal (for black shades)
½ ounce shea butter
½ ounce coconut oil
Directions:
In a small bowl, mix together equal parts shea butter and coconut oil. Add cocoa powder or charcoal and mix together until smooth. Store remaining product in a small cosmetic container.
Powdered Foundation
Ingredients:
4 tbs arrowroot
1 tsp cocoa powder
Directions:
Add arrowroot with cocoa powder and blend well. For a darker tint, add additional cocoa powder to match skin tone. Store powder in an air-tight container and use a damp makeup brush to apply.
Lip Stain
Ingredients:
5 blackberries
5 raspberries
1 tsp olive oil
Directions:
Mash together the blackberries and raspberries until smooth. Add the olive oil and mix well. Store product in a small container and apply with a cotton swab, makeup brush, or finger.
Makeup Remover Pads
Ingredients:
Cotton pads
2 tbs coconut oil
1 tsp castile soap
Distilled water
2-4 drops essential oils (optional)
Directions:
Place cotton pads in a 4-ounce glass jar. In a small bowl, mix coconut oil with soap until blended. Add the mixture to jar, soaking the cotton evenly. Add enough distilled water to the jar to wet cotton. Secure jar lid and shake well to distribute the mixture.
Shampoo for Dry/Color-Treated Hair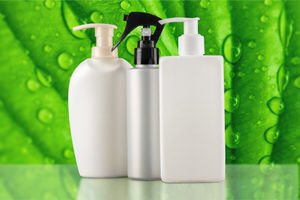 Ingredients:
6 ounces castile soap
½ tsp avocado oil
1 tsp coconut oil
Directions:
In a medium-sized bowl, add castile soap, avocado oil, and coconut oil and mix well. Shampoo can be stored in a clean bottle.
Tips for Safely Creating Makeup at Home
The process of making your own cosmetics at home can help eliminate the need to use commercial products containing harsh chemicals. But making your own cosmetics from the comfort of your own kitchen does require attention to detail and safety. Not all homemade health and beauty products can be stored for long periods of time. While there are many products which have a lengthy shelf life when properly preserved, many more recipes using fresh ingredients like fruits and vegetables are meant for one-time use, with remaining product to be discarded.
Here are some quick safety tips to ensure your homemade cosmetics are prepared correctly and your efforts will produce a useable, safe product:
How do you Sterilize Glass Jars for Makeup? Before you begin mixing ingredients, ensure all tools and supplies (including your hands) have been properly sterilized. This is essential, even when you are making one-time use recipes. Sterilization of supplies eliminates bacteria growth and contamination in your products. Also make sure to sterilize the counter you will be working on to remove contaminants. Glass jars can be sterilized in boiling water or using the appropriate setting on your dishwasher. Countertops and supplies can be sterilized using pure alcohol with at least 95% alcohol content.
Understand Recipe Amounts Since not all makeup products have the same shelf life, consider which products you want to make in small quantities and which ones can be safely stored for longer periods of time. Any product using perishable food items will not last more than two or three days, even when stored in the refrigerator. These products should be made in the smallest batch possible so you won't waste ingredients when the products must be tossed out.
Choose a Preservative Recipes which do not contain water can be safely preserved using an antioxidant ingredient which slows down the oxidation process and extends the shelf life of the cosmetic. Common antioxidants used in homemade cosmetics include rosemary extract and vitamin E. Antioxidants will not kill bacteria so they will not be useful in any product with water in its recipe. Water-based cosmetics will need a preservative, like essential oils, which can help prevent bacteria growth and extend shelf life. However, the preservative to be used depends on the ingredients involved. Many of the preservatives necessary to protect homemade products can be harmful to the skin.
Containers for Homemade Cosmetics Products should be stored in cool, dark areas to prevent exposure to sunlight. Glass or plastic storage containers should be air-tight. Air and sunlight can cause oxidation to the makeup, which causes deterioration of the product. Containers which are opaque rather than clear can help prevent UV rays from effecting the product. There is a variety of available containers which offer a dispensing lid to make cosmetic application mess-free.
Detail Your Recipe When experimenting with ingredients in a recipe, remember to keep careful track of what you are using and the methods involved in creating your product. Keep a box of index cards on hand to jot down notes as you work through the process. This will prevent wasted batches of product and make the next makeup creation day go smoothly.
One-Time Use Natural Beauty Recipes
Products meant for immediate use are just as fun to make as the products with a shelf life. Whipping up a quick facial treatment or hair conditioner using all-natural ingredients is a great alternative to using store-bought beauty products. While you do need to make a new batch each time, most recipes take only a few minutes to make and are worth the effort health-wise.
Here are a few quick natural beauty recipes to try:
Hair Mask
Ingredients:
1 avocado
¼ cup coconut oil
2 tbs honey
Directions:
Using a fork, mash the avocado until smooth. Add coconut oil and mix well. Add honey and stir. Apply mixture to hair, starting at scalp and working into the ends. Allow mixture to set on hair for at least 30 minutes. Shampoo as normal.
Body Scrub
Ingredients:
½ cup sugar (raw)
¼ cup coconut oil
Directions:
Add coconut oil to a small pot and melt slowly. Add in sugar and stir until thoroughly combined. Use immediately. If any mixture remains, store in a glass jar. Warm before use.)
Foot Scrub
Ingredients:
1 cup sugar
¼ cup sweet almond, coconut, or avocado oil
¼ tsp dried thyme or rosemary
5 drops peppermint essential oil
Directions:
Add sugar to medium-sized mixing bowl. Add oil on top of sugar. Use a spoon to combine the oil with the sugar. Oil should be completely combined with sugar and form small clumps. Additional oil can be added if the mixture is dry. Add essential oil and mix well. Add thyme or rosemary and fold into sugar. Use immediately to exfoliate and refresh feet. Rinse well with water.
Cosmetic Packaging for Home Use or Gifts
While many of the homemade recipes for makeup are simple, there are hundreds more which are time-intensive but worth the effort. A great way to start the tradition of making makeup at home is to team up with friends interested in doing the same. Experimenting with colors and ingredients can enhance your capabilities for creating the ideal makeup products for your skin type and tone. Split the cost of initial ingredients to save money and spend quality time with loved ones developing your own recipes.
While many of the products will be customized to your own needs, you can also craft products suitable for gift-giving. Lip stains and eyeshadows make a great personalized present for makeup lovers in your life. Customize the jars where makeup is stored for each recipient. Include the ingredients in the label and the date the product was made to ensure everyone is safe.
Pretty jars of handmade makeup can also make your bathroom counter or makeup table look nice. Arrange a variety of jars in different sizes on a shelf to create easy access to your makeup which also serves as an attractively decorated space.
Cosmetics as a Business
Perhaps through the process of experimenting with your own makeup recipes you've discovered you really enjoy making, using, and gifting the cosmetics you've developed. Keep in mind there are state and federal regulations regarding the manufacturing process and ingredients list on health and beauty products. Be sure to carefully research permits and other requirements before investing in ingredients and supplies to sell your own makeup.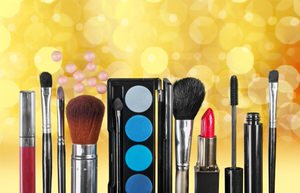 An alternative idea for starting your own line of cosmetics involves speaking with a professional manufacturing company who can help you develop and manufacture makeup products following the strict guidelines for the industry. They can also offer the guidance you need for testing the effectiveness, usability, and stability of your products for a commercial market. Consult with a cosmetics expert to get a better understanding of the products you'd like to sell and the expectations for starting such a business.
Making your own cosmetics can be a rewarding (and perhaps profitable) experience. Set aside time with your friends and enjoy the shared interest as often as you can. Turn natural ingredients into useful products and thoughtful gift ideas for anyone who loves makeup.
---
---