Advice for Starting a Cold Brew Coffee Business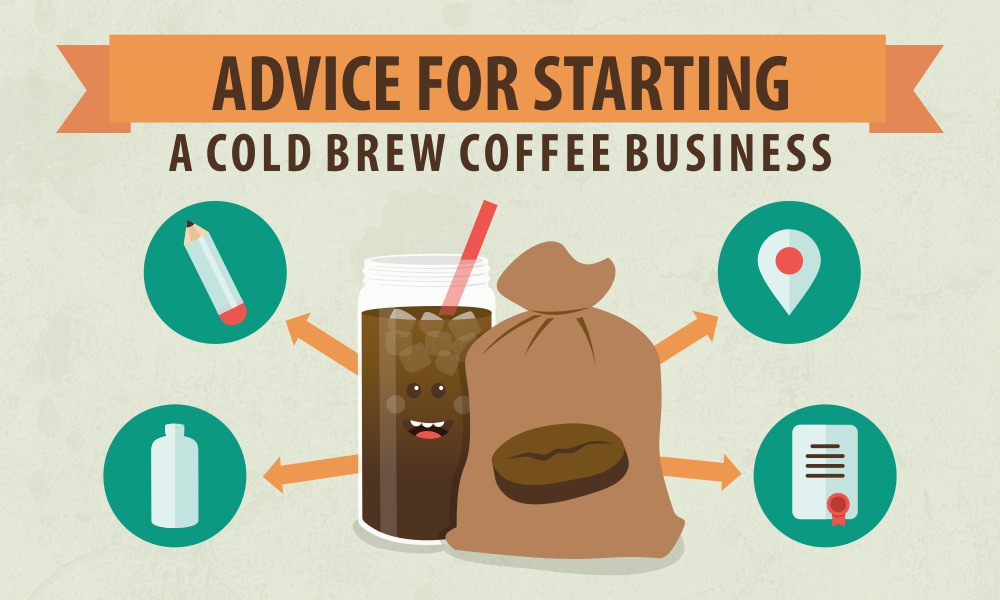 For coffee loving entrepreneurs, the surge of interest in the cold-brew coffee business shows a lot of promise. Motivated small business owners are starting cold-brew coffee businesses to cater to the demand in this segment of the beverage industry. If you enjoy a great cup of joe and are ready to take the jump into self-employment, cold-brew coffee may be the answer.
What Is Cold-Brew Coffee?
Cold-brew coffee is different than traditional coffee in that heat is not used to brew the perfect cup. Cold-brew coffee allows cold water to infuse with the coffee beans over time. This allows the best of what the beans have to offer to come shining through in the coffee. Cold-brew is much less acidic than heat-brewed coffee. In fact, acid is reduced by up to 70% and less bitter-tasting coffee is the result. People who suffer from sensitivity of the stomach or acid reflux issues may enjoy a cup of cold-brew without the usual side effects.
Many coffee aficionados also cite the better taste of a cold-brew cup of coffee. As the acid bite is reduced, more of the coffee's natural flavors are able to come through. Since cold-brew coffee doesn't use heat in its creation, the chemistry of the coffee is not changed. While it may take time to brew the coffee, the results won't taste like leftover coffee. Different varieties of coffee beans will produce different flavors. Cold-brew coffee offers many options to develop successful products in the beverage industry.
The Process of Cold-Brewing Coffee
Cold-brewing coffee is considered a simple process. Home brewers use simple equipment, including a glass jar with a lid and a sieve or small strainers. There are cold-brewing machines available and a French press can also be used to infuse the coffee beans in water.
A cup of coarsely ground coffee beans are added to four cups of room temperature water. The water and beans should be gently stored then left allow to infuse. The recommended brewing time is at least 12 hours so if you want a fresh cup in the morning, make your jar of coffee the evening before.
In the morning, use the sieve to strain out the grounds. You may want to add a coffee filter into the strainer and filter more than once to properly remove all of the grounds. The resulting coffee will last about 10 days. Once brewed, you can add hot water to the concentrate for a fresh cup of hot, low acid coffee. You can also pour the cold-brew mixture over ice cubes for the perfect ice coffee drink. Cold-brew coffee can even be used to add a coffee flavoring into your cooking or baking.
Turning a Love of Coffee into a Business
There are coffee giants in the world, like Starbucks, catching on to the cold-brewed coffee excitement but there is still plenty of room for the inspired entrepreneur to make a name for themselves in the cold-brew business. Ideally, every good business starts with a business plan. This will help you map out the ins and outs of business in general, including financials, marketing, staff, and growth potential. Check out the competition in your area. If there is cold-brew coffee saturating your local market, you may have a tougher start. By working through the business plan, you will be forced to ask the important questions about the competition and the viability of your potential business.
Potential Pitfalls
Creating a new beverage brand isn't a cheap startup proposition. There can be a significant initial investment to get started. Many small startups bootstrap their own business through friends and family, or a small business loan. Beverage companies need the right equipment and must have the refrigerated storage capability to protect the product. There should also be a hefty marketing budget established upfront to promote the products successfully, as competition can be stiff.
Another costly part of a cold-brew business is the short shelf life the beverage may have, as products must be discarded after a specific period of time. As many cold-brew coffee companies are trying to perfect a more natural, healthier drink, preservatives and additives are not part of their recipes.
Moving Forward
There is a lot of decision making to be done when starting a cold-brew coffee business. As many coffee companies are producing cold-brews, it will be important for a newbie to develop a solid marketing plan. This plan may prove to be one of the most critical factors in a new coffee brand's success. Some of the factors to consider include:
Bottle Design – To really stand out among the crowd, your cold-brew coffee bottle design matters. The color, shape, and lid closure can make a difference in what a consumer will choose.
Logo/Tagline – An eye-catching logo and memorable tagline for your coffee brand can help it get noticed. Take time to consider the name of your coffee and design a logo to match. By taking care of these details before product launch, you can ensure all of your marketing and promotional materials match and are not confusing to consumers. If the creative process is too overwhelming for you as you try and launch a business, consider contracting out for help with designs and professional creative services.
Location – A cold-brew coffee business may have potential for success online but it may be worth the consideration of a brick and mortar location where you can serve, as well as sell, your cold-brew creation. If you choose to set up a coffee shop, you'll need to carefully consider the additional overhead costs associated with a store, including rent, utilities, insurance, and licensing.
Licensing – Speaking of licensing, depending on where you live and where you plan to do business, you will need to ensure you have the correct licensing and meet the legal requirements on a local, state, and federal level.
Prepare to Wear Many Hats
As the owner of a startup, it should come as no surprise there is a lot of work to be done, even before the product actually launches. You will not only have to make all of the decisions about the brand's image, you will also need to ensure your products are worthy of being sold. From bottling your cold-brew to getting it into the marketplace, there will be a lot going on. It will be vital to stay organized and work with others you can rely on and trust.
By working through a business plan and taking the time to plan out the details of your coffee brand, finding success in the cold-brew coffee business is possible. Your vision and planning should also include steps necessary to handle the growth of the company. Manufacturing a few bottles of cold-brew coffee versus running a coffee empire is a big difference. Decide from the beginning what your company's future looks like and start putting goals in place.
Getting Out There
If you are looking to sell in a small regional market, network opportunities where you can introduce your product to the public. Pair up with a local bakery or set up shop at a local farmer's market to get to know your customer base. If you are looking to break into a larger market, do your homework and find the right broker to help you make the most beneficial deal for your product and your company's vision.
Have a plan to create and promote your website and social media pages. These days marketing resources allow companies to get up close and personal with their potential customers. Be prepared to listen to the feedback they provide, as this information can be the most valuable to your business growth.
Be prepared to offer top of the line customer service from day one. People who are treated well are likely to be loyal to a brand. Plus, their word of mouth advertising on your behalf can help increase your business presence effectively.
Expect Trial and Error
Establishing a cold-brew coffee business will likely take a lot of trial and error – from perfecting your recipe to finding just the right packaging for your product. Different coffee beans will produce different tasting coffees and it will take some investigative work to find the right beans for your product.
At BottleStore.com, we offer free samples which allow you to test the look and functionality of your bottle choice without a hassle or excessive cost. With a large inventory of glass and plastic bottles to choose from, you'll be able to try out different sizes and styles to ensure you are happy with your overall product. We also carry durable glass jars necessary for brewing the coffee in small and medium-sized batches.
The popularity and enjoyment of cold-brew coffee looks like it's here to stay. If you have considered starting a coffee shop or a coffee production business, cold-brew coffee may be a great foot in the door. The simple process of making cold-brew can minimize the startup costs and be just the right building block for entering into the beverage industry.
---
---