All-Natural Dog Treats You Can Make at Home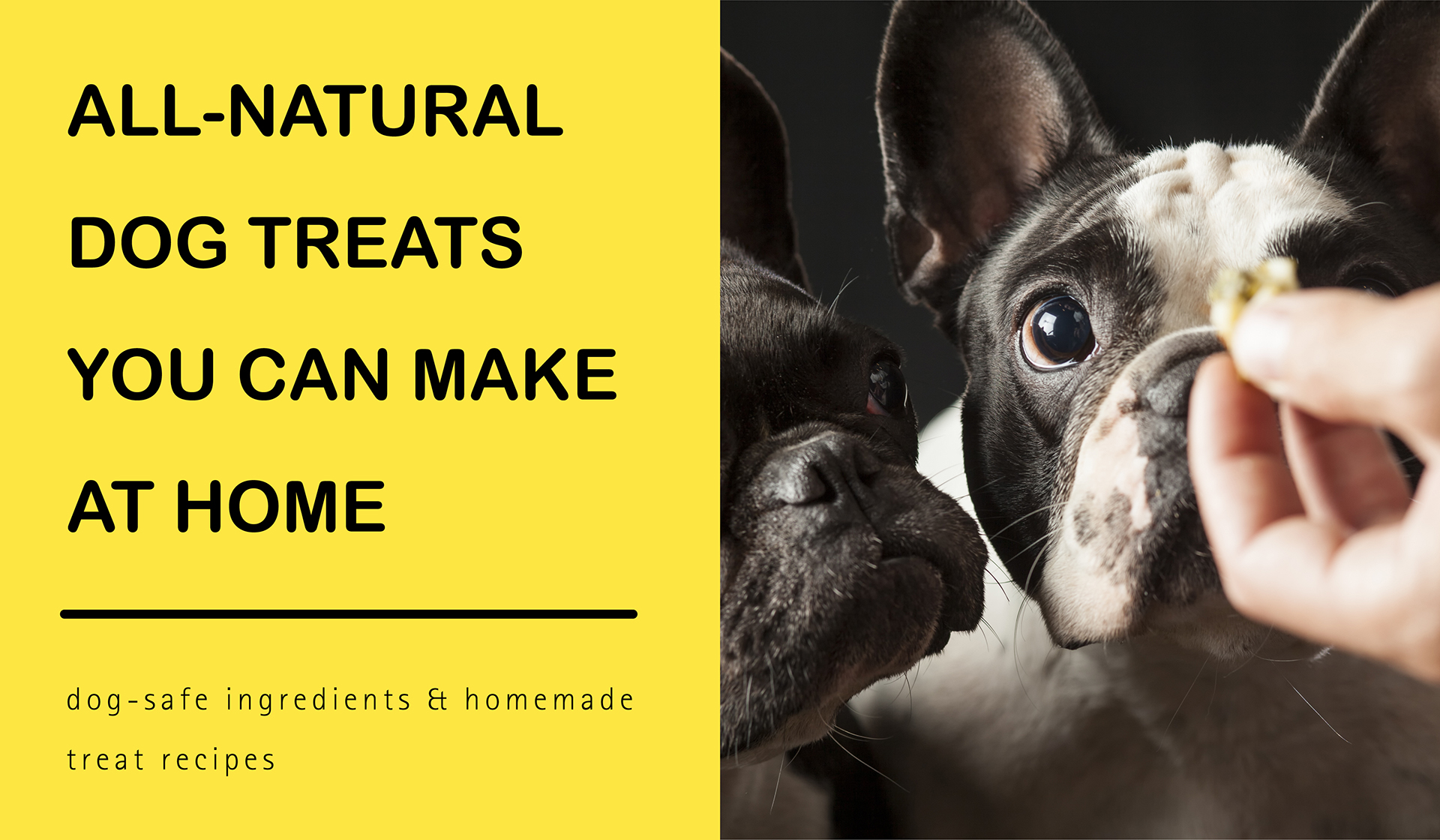 Making your own dog treats is a great way to keep the dog treat jar filled with the perfect reward for your best pal. The sky's the limit with dog treat ingredients, while still protecting your pooch from unnecessary chemicals or unknown additives.
To make your own natural dog treats at home, all you need are a few simple ingredients – many you may already have in your own pantry – an airtight pet treat container, and some imagination.
Here are some popular dog-friendly treat recipes you can start making now:
Doggie Trail Mix
If you have leftover dinners in your refrigerator, consider making a doggie trail mix. All you need is a food dehydrator and some time to slice meats, vegetables, and even leftover fruits into smaller pieces.
Spray the ingredients lightly with a cooking spray and set in the food dehydrator or an oven preheated to 200 degrees. Bake until dried and serve when cooled.
Pumpkin Balls
Pumpkin is a great snack idea because it adds necessary vitamins, like vitamin A, potassium, and iron, as well as fiber, to your dog's diet.
Ingredients include:
2 cups whole wheat flour
½ cup canned pumpkin
4 tablespoons water
4 tablespoons molasses
2 tablespoons vegetable oil
¼ teaspoon baking soda
¼ teaspoon baking powder
1 teaspoon cinnamon
Mix pumpkin, oil, molasses, and water in a bowl and add the whole wheat flour, baking powder, baking soda, and cinnamon into a dough. Roll small dough balls and place on a lightly greased cookie sheet then press flat with a fork. Bake for 25 minutes until the dough hardens. Let cool and store in an airtight dog treat container.
Cheesy Dog Treats
For a quick and yummy dog treat, combine just four simple ingredients:
4 cups flour
2 cups cheddar cheese (shredded)
1 1/3 cups water
2 tablespoons oil
Combine cheese and flour in a small bowl and add oil then water. Mix until the dough is stiff then roll out to 3/8 inches thick. Use a cookie cutter to cut out shapes and place on an ungreased cookie sheet. Place in an oven at 250 degrees and bake for up to three hours until the dough dries.
Baby Food Bones
This simple, two-ingredient recipe is a snap to make. Just combine two cups of whole wheat flour and 8-ounces of puréed baby food. Mix until a dough forms and roll out to a ¼ inch thick. You can cut into squares or use a cookie cutter.
Place on a parchment-lined cookie sheet and bake at 350 for 20-25 minutes. You can store in an airtight dog treat container for softer treats or in a paper bag for harder treats.
You can change up this recipe by changing your choice of baby foods. Consider meat-flavored purées, like chicken or beef, for some treats, while others can have a fruity base, like pears or blueberries.
Chicken and Rice Treat
When you want an extra-delicious chicken-based treat, gather up ingredients like:
1 cup cooked chicken (diced finely)
½ cup cooked rice (mashed)
3 tablespoons rice flour
1 tablespoon parsley
1 egg
Preheat your oven to 350 degrees then mix together all ingredients. Use a silicone (oven-safe) mold in your favorite shape and bake in the oven for 20-30 minutes until the top of the treats turn golden brown. Let treats cool before taking them from the mold and serving.
PB&B Vegan Snacks
If your dog follows a stricter diet, you can create a vegan-friendly treat recipe using:
1 cup rice flour
2 bananas (mashed)
¼ cup peanut butter
Preheat the oven to 325 degrees. Mash bananas together with peanut butter in a large bowl until smooth. Add half of the flour at a time while you continue mixing. Form one ball of dough using your hands and place in the refrigerator for 20 minutes.
On a floured countertop, roll out the dough to a ½ inch. Use a pizza cutter or cookie cutter to cut into small shapes. Place pieces on a parchment-lined cookie sheet and use a fork to poke four holes in the top of each treat. Bake for 30-35 minutes and let cool before serving. Store snacks in an airtight dog treat jar.
Any of these treats make a great addition to your dog treat jar. You can practice with these simple recipes and then get creative on your own. If you plan to sell the treats to other pet families, check out BottleStore.com's selection of pet-safe, airtight dog treat containersand dispensers.
https://www.cesarsway.com/recipe-ideas-for-quick-and-healthy-homemade-dog-treats/
http://www.sugarthegoldenretriever.com/2010/08/tasty-weekend/
https://dog-milk.com/doggiy-easy-two-ingredient-homemade-dog-treats/
https://kolchakpuggle.com/2012/02/tasty-tuesday-hearts-for-my-valentine-chicken-dog-treats.html
https://theplantphilosophy.com/diy-3-ingredient-vegan-dog-treats/
---
---