Beginner's Guide to Hydroponics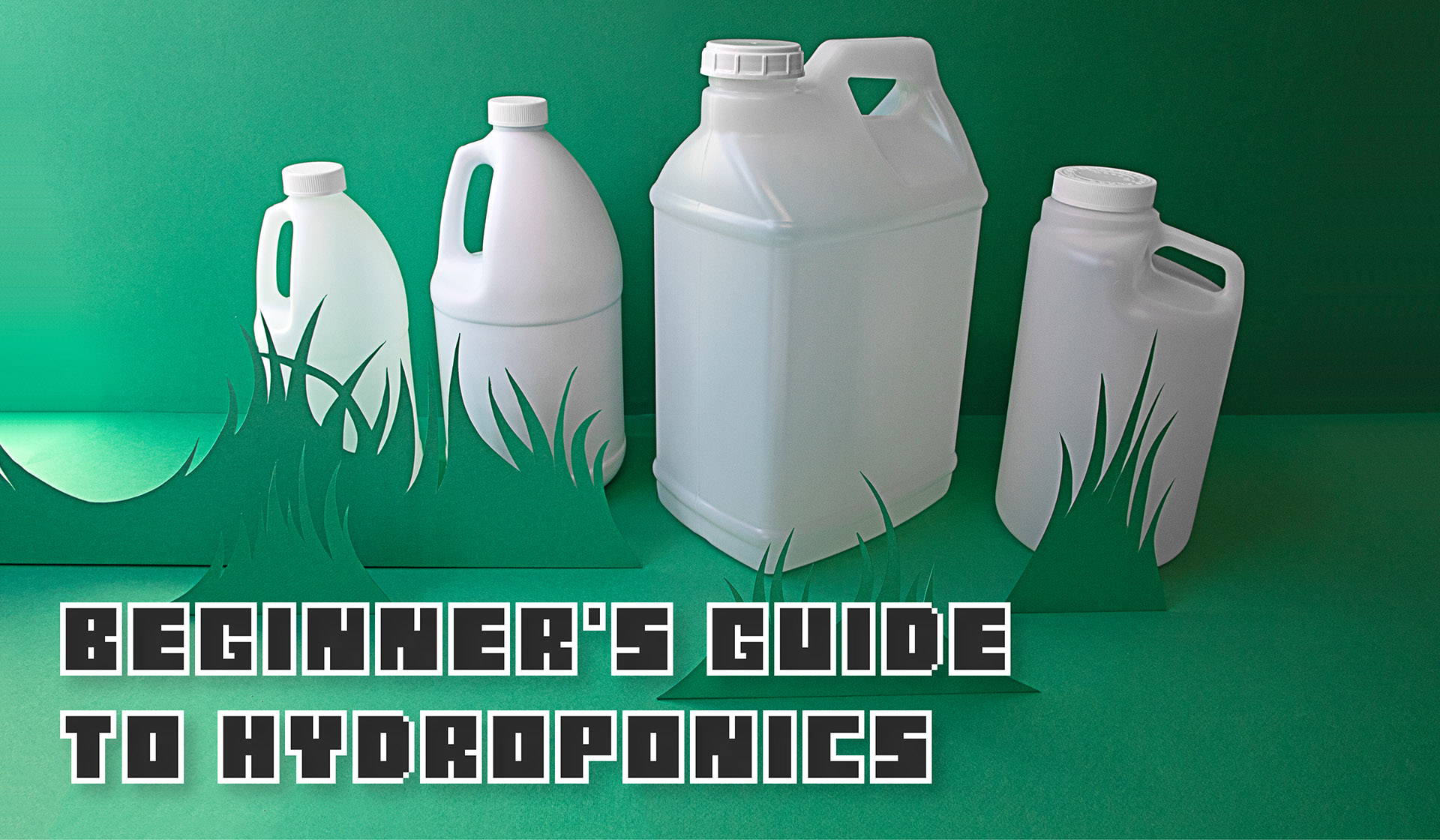 Are you looking to get started in the world of hydroponic gardening? Here at BottleStore.com, we have all the bottles, jars, jugs, pails, sprayers, and lids you could ever need to support your new hydroponic enterprise, whether you're simply pursuing it as a hobby or if you have entrepreneurial goals in mind. Let's discuss what hydroponic gardening is, and how our containers can help you achieve your goals while also minimizing your carbon footprint.
"Hydroponics" refers to gardening with nutrient-rich water, rather than the traditional method of planting seeds in the soil. There are several good reasons why gardeners enjoy the hydroponic approach. In general, your plants can grow bigger and more efficiently, and you also don't need nearly as much space as you do with a garden plot.
Additionally, hydroponic gardening is a great option for people without access to outdoor space, like those who live in apartments or condominiums. You can also use hydroponics if you live in an area where the soil doesn't provide favorable natural growing conditions. Finally, hydroponic gardening requires much less water than traditional methods, which is another way to pursue environmentally friendly gardening.
If you want to grow a basic herb garden, you can use a simple wick system. The setup for this method includes a container holding a mix of nutrients and water, which is situated below the container holding your herbs. In between these two containers is a wick that allows the nutrients to travel up into the roots of your herbs.
Growing plants that require lots of water, like lettuce or kale? You might be interested in a water culture setup, which is quite similar to a wick system, but with an air pump instead of a wick. This allows a larger volume of nutrients to feed the plants, while still maintaining a relatively simple setup.
Do you want to grow plants with longer lifespans, like eggplants or tomatoes? An ebb and flow system might be the right choice for you. This setup provides water and nutrients to your plants by flooding the container holding your plants, which can then drain back down into the water reservoir below.
No matter which of these methods you choose, BottleStore.com has everything you need to get started. If you visit our Gardening and Hydroponics page, you'll find a wide variety of options for containers to build your hydroponic gardening setup. In addition, we have trigger and fine mist sprayers available that can help you deliver just the right amounts of water and nutrients to your plants.
Our selection of drums and pails provides excellent options for securely storing your gardening and hydroponic chemicals, and we have a variety of tight-fitting lids and caps to help you prevent spillage. These strong metal and plastic containers can safely hold harsh chemicals or fertilizers, and many of them have convenient handles for easy transport and storage.
If you aren't quite sure which of our many products you need for your hydroponic setup, contact one of our expert BottleStore.com representatives today. We'd be happy to provide you a sample of your chosen containers, if you'd like to try before you buy.
Don't forget that we also offer significant discounts for our customers who like to order in bulk. If your hydroponic gardening operation is a large-scale project, we have wholesale pricing available for any of our containers, which can take a big bite out of your overall setup costs.
Hydroponics is an exciting, enjoyable, and environmentally conscientious form of gardening. Here at BottleStore.com, we have the tools you need to make your gardening dreams into a reality. Whether you want a small-scale setup to grow herbs in your apartment or you're starting a commercial operation in a greenhouse, we have the answers you seek.
---
---