Where Can I Find A Wholesale Pet Supplier To Sell Online?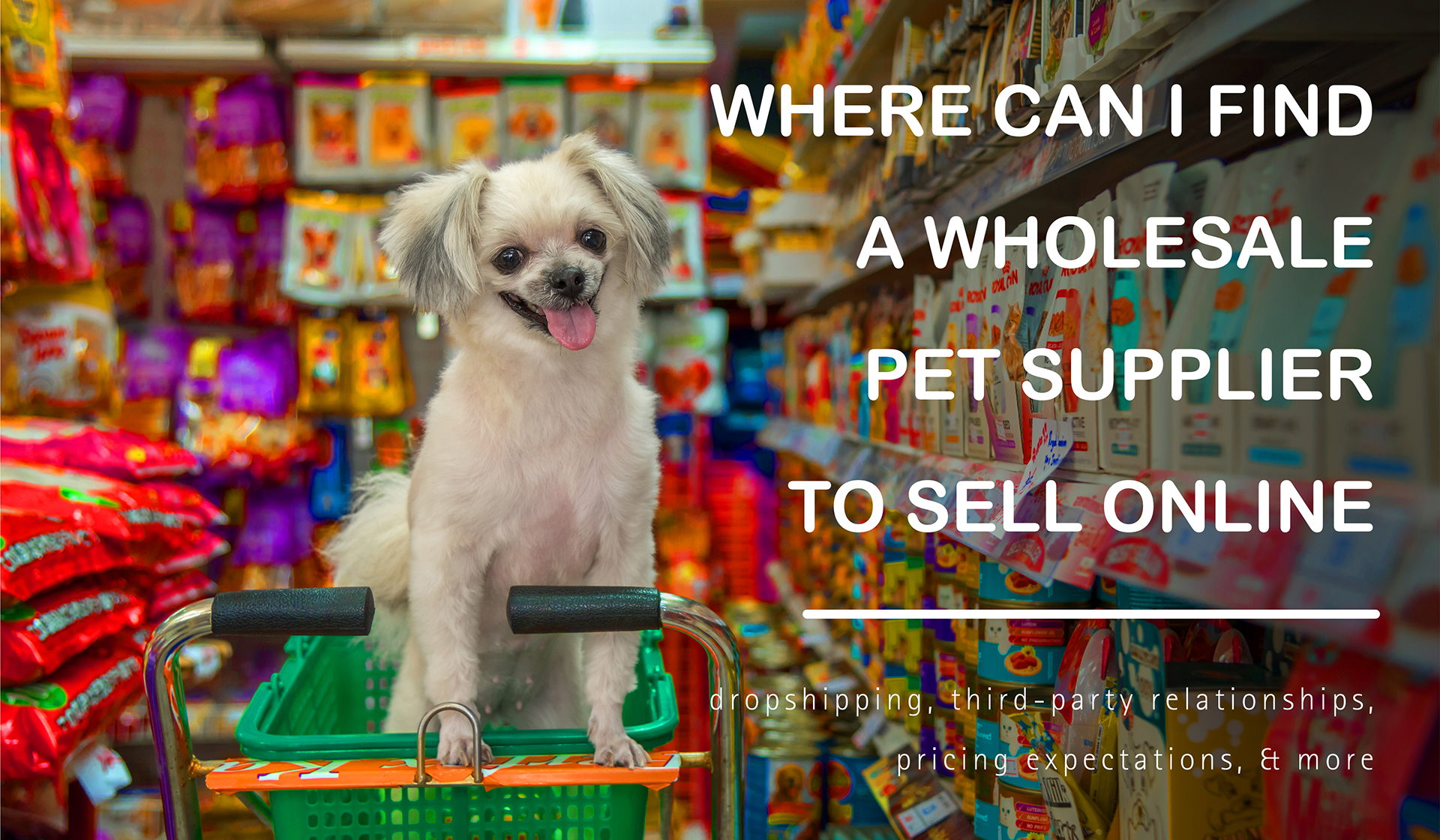 If you're thinking about starting your own online retail or wholesale pet supplybusiness but don't have the space to house your inventory, dropshipping may be the solution you need.
Dropshipping is a convenient system for ecommerce entrepreneurs who want to sell to the masses but don't have the resources for warehouse shipping at their own facility. You can market your pet supplies online without the added expense of a storage location for inventory or the cost of a shipping department.
How Dropshipping Can Work for Your Online Pet Store
Dropshipping is a retail solution that involves working with a third-party company for all your storage and shipping needs.
You create your ecommerce store and contract with another company who will stock your inventory and fulfill all of your customer orders. You manage the marketing and sales of your pet products, while the third-party operation ships all items directly to your customer.
Advantages of Dropshipping
Without the added expense of storage and shipping, you can start your pet supply business with much less of an investment. Even if you plan on selling thousands of items, there's no startup cost for a large warehouse facility or the many aspects that go into shipping goods.
You can also get started selling in a much faster period of time using a dropshipping company. Once you get your online pet supply company established, you can begin generating sales quickly, without waiting for merchandise to come in.
There are many dropshipping companies to work with, giving you the advantage of having distribution access points all around the world. This ensures your customers get fast, reliable delivery without a huge upfront investment from you.
Finding the Right Third-Party Relationship
While using a third-party dropshipping company can simplify your business model, it's important that you find a reputable, reliable company to work with. This can take some time as you consider the many options now available thanks to online technology.
The points to consider when finding a dropshipper include:
Product Range
Choosing what items to sell through your pet supply company is a big decision. There are many ways to capitalize on the pet market and you should take time to consider your specific niche.
Depending on your business plan and goals, you may consider specializing in specific areas of the pet industry, such as:
Toys
Training tools
Foods & treats
Grooming supplies
Leashes and collars
Memorials and keepsakes
You might also opt to sell a little of everything, provided you can find a good working relationship with a dropshipping company that can stock all desired items.
To determine which niche is best for you, do your research. You need to understand your target audience and the competition before deciding what products to sell.
Understanding Your Supply Options
Online suppliers are usually divided into two distinct categories – wholesalers and manufacturers.
If you choose to work with a wholesale pet supply company, they will buy products directly from the manufacturer and offer it to your droppershipper with a nominal markup.
Working directly with a manufacturer may involve contracting directly with the company's dropshipping program. This can be a convenient way to access a wide variety of products.
Ecommerce Platforms
Some ecommerce entrepreneurs start out in the pet industry using well-established platforms, like Amazonand eBay, to get their foot in the door. Not only do you receive guidance for building your store and your brand, you also get the convenience of a dropshipping arrangement for order fulfillment.
You can also establish your own company website to sell your products. You can connect your site to dropshipping technologies for processing and fulfilling online orders.
Many entrepreneurs start out using established platforms and move forward with their own site once they better understand the business.
Setting Your Pricing Expectations
Once you decide on your niche market in the pet industry, you need to consider how to price your items to ensure both sales and profit. You want to stay low enough to be competitive but high enough to prevent going out of business in the near future.
You will want to work closely with your pet supplier to ensure you're getting the best possible prices. When adding your markup, you want to set a range where you can expect to turn a profit to pay your bills – and yourself – without alienating customers.
It can take time to establish the right pricing. You may need to take a hit on some products to sell others inexpensively. As you become more familiar with your products and your target audience, you can learn more about how to effectively price your wares to help your business thrive.
Doing the Legwork
Who you choose as a supplier for your pet business won't matter if you're not actively engaged in your own marketing efforts.
It's up to you to promote the pet products that you sell online by investing time into taking high-quality photos, crafting concise product descriptions, and marketing your business to the masses.
Whether you rely exclusively on social media campaigns or choose to market your ecommerce pet business in a professional campaign using a third-party agency, you need to do the legwork to see results and build your brand.
If you're building your own brand of pet products and need attractive, affordable packaging options, start talking with a BottleStore.com representative now. Our team is skilled in finding exactly the right packaging solutionsfor your retail or wholesale pet supply company.
https://www.quora.com/Where-can-I-find-a-wholesale-pet-supplier-to-sell-online
https://www.shopify.com/guides/dropshipping/understanding-dropshipping
https://www.forbes.com/sites/richardkestenbaum/2018/11/27/the-biggest-trends-in-the-pet-industry/#6dddf488f099
---
---