Choosing the Right Look for Your Cold Brew Coffee Business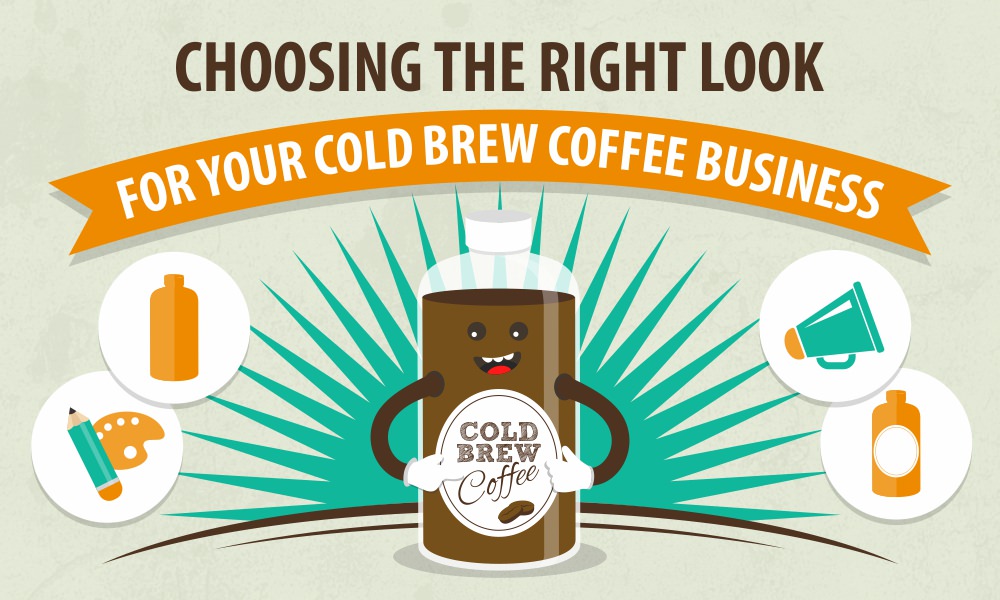 Cold-brew coffee is created differently than traditional coffee drinks. Cold-brew takes the heat out of the process. Time is the major ingredient that helps produce a delicious cup of coffee, which can be served hot or cold once the brewing process is over. In cold-brew drinks, coffee grounds are steeped in water for up to 24 hours. Because there is no heat involved in the process, the chemical makeup of the coffee remains unchanged. Cold-brew is popular because no heat means a less bitter cup of joe.
If you've decided to move forward with a cold-brew coffee business, realize upfront there is a growing competition in the specialty coffee market. As cold-brew coffee is so easy to make, many aspiring entrepreneurs are branching out from making their delicious coffees at home to selling it to the public. Some are bottling cold-brew coffee for sale in retail locations, while others are taking a bigger step and opening a cold brew coffee shop.
How to Make Your Cold-Brew Coffee Stand Out on the Shelves
Packing your cold-brew coffee is something you need to consider well in advance. A well-designed cold-brew coffee bottle design can give you a leg up against the competition. Do your research before making a final design decision by checking out the competition. See what else is out there and gauge how each design makes you feel. If you were out to buy coffee for yourself. Notice how colors, logos, and bottle shape attract your attention among the various types of cold-brew products on the shelf. Consumers often make their buying decision based on gut reaction. This can have a big impact on your future sales.
Selecting the Right Bottle
The bottle's shape, size, and it's color is just as much a part of your design as your logo and labeling. There is a large variety of glass and plastic bottles available on the market to store cold-brew coffees. It's worth considering an unusual shape for packaging your beverage to attract attention and pique curiosity of the consumer. Colored bottles may also help people choose your cold-brew product over others.
Bottle choice will also depend on the type of cold-brew coffee you are selling. Many cold-brew producers offer a ready-to-drink coffee product. When cold-brew coffee is made, it is in a concentrated form and should be diluted with water or coffee creamer before drinking. The concentrated product may also be sold to the public.
Designing Your Label
Your label needs to be attractive looking but also contain the right information. Check with your local, state, and federal laws regarding the production of beverages and what is required to be printed on the labels. Different rules may apply depending on where you plan to sell your product and how much product you plan to bottle.
Once you have an understanding of label requirements, image the overall concept you'd like your coffee bottle to portray. It may be well worth the money to hire a professional graphic designer, who knows the ins and outs of producing label graphics ready for printing. You'll also need to source a company who can do the label printing for the type of bottle you plan to use.
Create a Memorable Product
Before consumers will determine whether your coffee drink is memorable because of its taste, they will likely remember your clever marketing materials which made them pick your beverage in the first place. Not all coffee companies use a catchphrase or other unique marketing ploy to attract attention, but if you are a fun, free-spirited personality, it may be worth considering a marketing strategy based on humor. You may choose to go for a more classic look with a memorable logo design. Strike a familiar cord with coffee lovers by naming your coffee product something they won't forget.
Going All the Way into the Coffee Business
If you want to sell more than cold-brew, you might be looking to start a full-fledged independent coffee shop. A coffee business can be highly profitable in the right location. A busy street or popular shopping area can be just the right setting for a successful coffee business. There is even a great demand for mobile coffee shops and carts which operate in different locations as a vendor.
Starting a shop will take more capital than if you only bottle smaller amounts of cold-brew from home. You'll need to cover the cost of the space and utilities, buy the equipment necessary for use in the shop, and fill the place with tables and chairs for paying customers. If you plan to go mobile, equipment and a coffee cart or truck will need to be purchased. Money also must be allocated for ingredients including a variety of coffee beans, creamers, sugars, and cups to serve the coffee in.
Coffee shops typically serve a variety of coffee products like cold-brews, espressos, cappuccinos, flavored coffees, and iced coffee but such a large variety is not a requirement. A good quality product and outstanding customer service is what matters most, even if the shop only serves a few coffee items.
Crafting the Look of Your Business
Sometimes the best coffee shops are the quaint little places with a unique style all their own. From the overall look of the actual shop down to the smallest details of cup-design are all aspects of the business you need to consider. Professionals in interior design may be valuable in helping you set up your shop, to ensure you choose the right colors and design details to achieve your vision, or you may wish to create a space all your own, which reflects your personality. Your logo and sign design also must be considered in connection with your coffee shop space.
Marketing Your Business
Coffee shops just starting out likely will need to do quite a bit of marketing to help get the word out. Word of mouth advertising is often the most effective form, especially in the beginning stages of the doors opening. There also must be some consideration and a financial investment in print advertising in the local papers or on billboards in the community, advertisements on radio stations, and online marketing to let people in the area know about the business.
Having a well thought out marketing plan before the doors of the shop even opens is a great way to stay on track and offer consistent and relevant advertising of your products and services to your potential and loyal customers. Utilize free advertising avenues like social media and customer referrals to gain a following and attract new business.
Part of a coffee shop's marketing plan may also include the sale of ready-to-drink coffee products to go for those entrepreneurs who are interested in bottling their own products for sale. Bottling your popular coffee beverages is a great way to earn additional profits and further advertise your coffee shop business. Many of the leaders in the coffee industry now sell bottled coffee products in their stores as well as in the general marketplace, including Starbucks.
Get creative with your advertising efforts. Even when you don't have a ton of extra cash to spare in the startup phase, you can find effective ways to advertise your coffee business. Some ideas to attract new business include:
Offer a frequent buyer program for loyal customers
Coordinate marketing efforts with other local businesses in the community
Host an open house with free samples for people to try your products
Join the local Chamber of Commerce and network with other local business owners
Give back to the local community by donating leftovers to a soup kitchen or homeless shelter
Offer cool outdoor seating accommodations to attract attention
Use websites like Groupon to offer discounts
There are plenty of great ways to advertise a new coffee shop but the most important aspect of the business will remain the quality of the coffee products being sold. All the design details in the world can't make up for a cup of coffee that tastes like dishwater.
Bottestore.com offers a large selection of bottles perfect for packaging cold-brew and other coffee beverages for sale. Get your business started the right way by ensuring your coffee beverages are packaged in an attractive, durable, high-quality bottles built to protect your beverages.
---
---