9 Branding Trends We Love for Glass Juice Bottles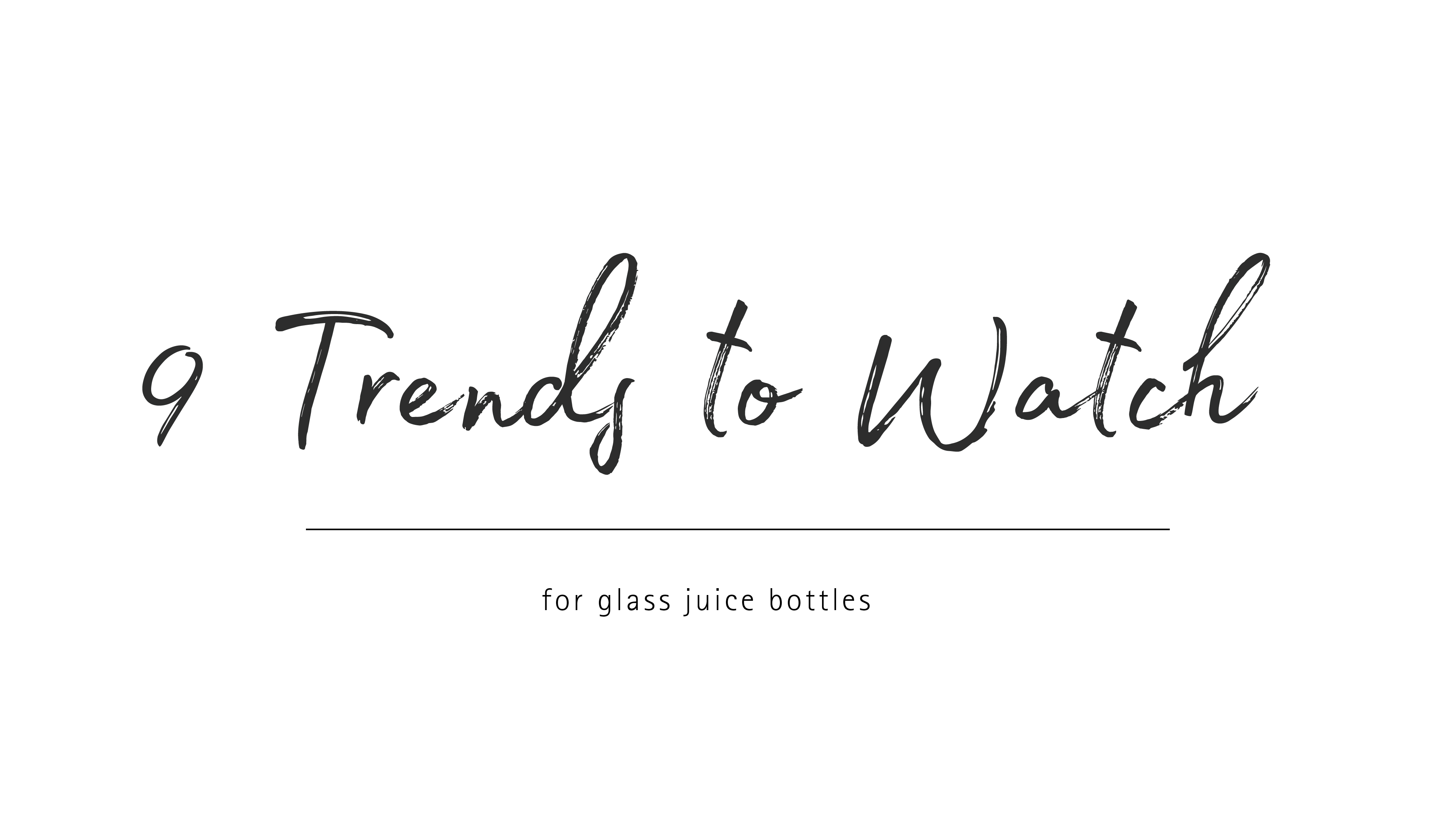 Selling juice is your goal but the path to getting there requires creative, out-of-the-bottle thinking. A glass juice bottle is the perfect blank canvas for expressing your brand, your style, and even your personal vision. A juice bottle is not only your creative space to express yourself, it may also be your ticket to long-term consumer recognition and profitability. In today's competitive juice marketplace, a bottle's design is often what sets one brand apart from the rest.
From the label's typography to the bottle shape itself, the following 9 marketing trends can help you increase sales and boost profits.
Trends in Labels

Textured labels are adding a new dimension to glass juice bottles. When consumers pick up your beverage bottle, they can instantly feel the difference. Textured labels and three-dimensional printing of your logo can create a stunning look for your juice bottle while differentiating your bottles from the competition.

Juice companies are creating brighter, more interesting labels using illustrations to tell a story. Colorful illustrations make an immediate visual impact on the consumer, drawing their eye to your product. Illustrations create a unique appearance for each bottle and help the consumer instantly recognize your juices.

The use of die cut labels is a trend that's here to stay. Die cutting offers plenty of options for creating unique labels. Labels can also be die cut into any shape, including that of your own logo or the fruit used in your juice, like an apple-shaped label.

As labels are becoming more vibrant and simplistic, clear labels are a fast-rising trend for many juice producers. The clear labels allow the natural look of the product to shine through and become a focal point of the label's aesthetic quality.
Trending Extras

More juice makers are adding a personal touch to their juice bottles. Handwritten fonts are an up and coming trend meant to personalize products. Lately, consumers are attracted to simplistic, natural products, which promote health and wellness. A personal-looking visual can help you showcase your products' benefits. The personal touch is helping both big brands and smaller ones make a connection with their customers.

Juice products are best highlighted in clear, glass bottles to show off the product's naturally bright colors and the product's consistency. To garner more attention to a product's natural look, bottlers are now matching their label colors to the shade of the juice, using vivid red labels and fonts for berry juices or deep blues for blueberry juices.

Having a coordinated tamper-evident closure or label instantly conveys to the consumer your product is safe. Tamper-evident caps and closures can be color-matched to blend with your label and overall design concept. This simple addition to your juice bottle can sway a consumer's decision to buy your juice over the other available options.
Bottle Shape Trends

While most juices are kid-friendly, the innovative juice combinations now appearing on store shelves are meant to appeal to adults. Using a non-traditional glass bottle shaped like a wine or spirits bottle can be an effective way to grab the attention of the adult consumer.

Mini juice bottles are trending. As more marketers concoct unusual juice creations, consumers want to try a product sample before committing to a larger purchase. Small juice bottles are perfect for encouraging product trial.
These trends are just the tip of the iceberg for taking your juice business to new heights. Whether you prefer a clean, wholesome look for your juice label – or a colorful, whimsical one – remember that you are creating a brand, an image you want to ingrain in the consumer's mind. While your juice products must certainly satisfy consumers, it takes a well-designed, unique juice bottle presentation to build your brand and create brand loyalty.
---
---