Creative Cake Decorations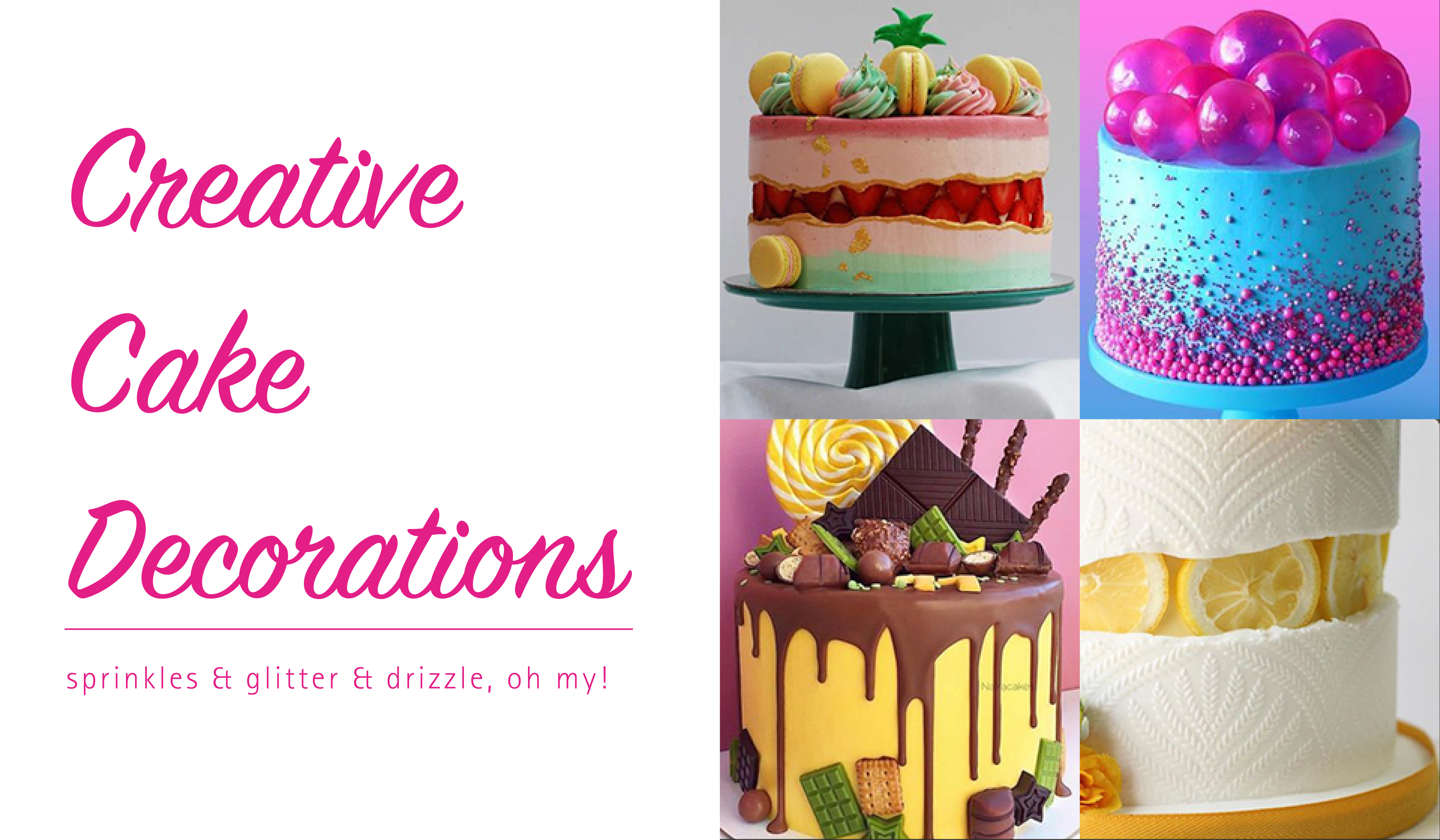 Even amateur bakers are stepping up their game, finding newer, more creative ways to decorate cakes for all kinds of occasions. There's no need to serve a simple– yetboring – iced cake for the next birthday bash, family cookout, or even a DIY wedding reception.
Take some inspiration from the following creative cake ideas and then challenge yourself to craft a unique, Pinterest-worthy decorated cake all your own.
Here are 11 ideas to helpyou get crazy-creative with your next cake:
Sprinkles, Of Course
If you love sprinkles, an iced cake is the perfect canvas to showcase your favorite kinds of sprinkles. You can cover the entire cake – sides and all– to create an eye-catching work of art.
To achievea more complexdesign, simplygrab your cookie cutters. It's easy to fill in the shapes with your choice of sprinkles, creating a fabulous-looking cake without stress.
Use Edible Glitter
Yes, it exists! Edible glitter is a great way to quickly brighten up a cake or a batch of cupcakes. You can find an array of different types of edible glitter, including festive glitter you sprinkle on, spray glitters, and gel glitter pens – all safe for eating.
Like the sprinkle designs, you can use the cookie cutters to create perfect shapes or try freehand drawing a greeting or design.
Get Drizzle Happy
Homemade drizzle with melted chocolate or powdered sugar glazes are easy to make and can jazz up a cake in a flash.
Consider making a batch of white chocolate drizzle and splitting it up into smaller amounts. Add gel food coloring to each smaller batch and create a rainbow effect with random drizzles on top of your cake, cupcakes, or cookies.
Fruity-Fresh Fun
Not only is a cake decorated with fresh fruit an amazing dessert idea, the whole presentation looks amazing.
Use fresh fruit, like colorful blueberries, raspberries, and blackberries, to decorate the sides of the cake and add a few extra on top. Depending on the cake flavor, you can even opt for some tropical fruits, like bananas and kiwi.
Add Some Chocolate Crunch
If you're a chocolate fan, head to the cereal cabinet and grab some Cocoa Krispies. They're lightweight and stick easily to your favorite icing or ganache.
There are many other cereals you can use to top your cake or cover the sides. For a more colorful look, try some Fruity Pebbles or Fruit Loops for an easy and edible decorating display.
Embroidered Topping
If you like sprinkles and an incredibly unique decorated look for your next cake, try the embroidery approach.
This throwback to grandma's favorite pastime makes for an eye-catching presentation for any occasion. A number of tutorials are available online including this onefor cake-friendly embroidery patterns.
Powdered Sugar Stencils
For such a quick and easy idea, powdered sugar stencil designstake a regular iced cake to the next level.
Craft stores sell a huge selection of stencils, from numbers and letters to more intricate designs. Simply sprinkle the powdered sugar over the stencil.
Melted Chocolate Models
If you're feeling crafty, melt down some chocolate with a small bit of shortening. Pour the melted mixture into an easy-squeeze bottle. On a piece of parchment paper, squeeze the chocolate in any design you can imagine.
Let the chocolate sit to harden before gently peeling from the paper. Place your designs around the sides and top of the cake for added flair or to match a party theme.
Go Nuts
Your local grocery store or farmer's market has a great inventory of nuts that make a perfect addition to the top of a cake.
Add chopped pecans, walnuts, cashews, or a mix of all of your favorite nuts to the sides of the cake or use your cookie cutter to fashion out a nutty design on the cake's top.
Get Dirty
A dirt cake is a popular dessert option for outdoor barbecuesor children's parties. The cake can be whatever flavor you like, covered in a chocolate icing or ganache. Crumbled Oreo cookies make extra dirt piles when added to the top.
Get creative with your dirt theme by adding gummy worms, toy dinosaurs, or race cars. You can also opt for crushed vanilla wafers in place of the Oreos and a light-colored icing to create a beach scene. Add a sand shovel, drink umbrellas, and other summertime-themed decorations.
With so many amazing supplies available for cake decorating right in your own pantry, you don't need to spend a fortune on a professional cake. Alternatively, getting good at creating unique and tasty cakes can lead to a side business for you, earning you accolades and extra cash.
If you're already thinking about starting a cake decorating business of your own, get all the packaging solutions you need at BottleStore.com. Team members can help you find exactly the cake decorating supplies you need to be successful.
Wacky Candles
You can find a whole array of wacky and wonderful cake candles at places like Amazonand local party supply stores.
Create a cool display using only the candles to top an otherwise plain cake or go for a more elegant look with extra-tall candles in gold, silver, or your favorite color.
https://www.buzzfeed.com/mallorymcinnis/become-a-cake-artist
https://www.momtastic.com/food/537951-easy-birthday-cake-decorating-ideas/?slideshow=1343#/slide/1
https://www.tasteofhome.com/collection/easy-cake-decorating-ideas/
---
---