How To Create A Signature Line Of Products For Your Spa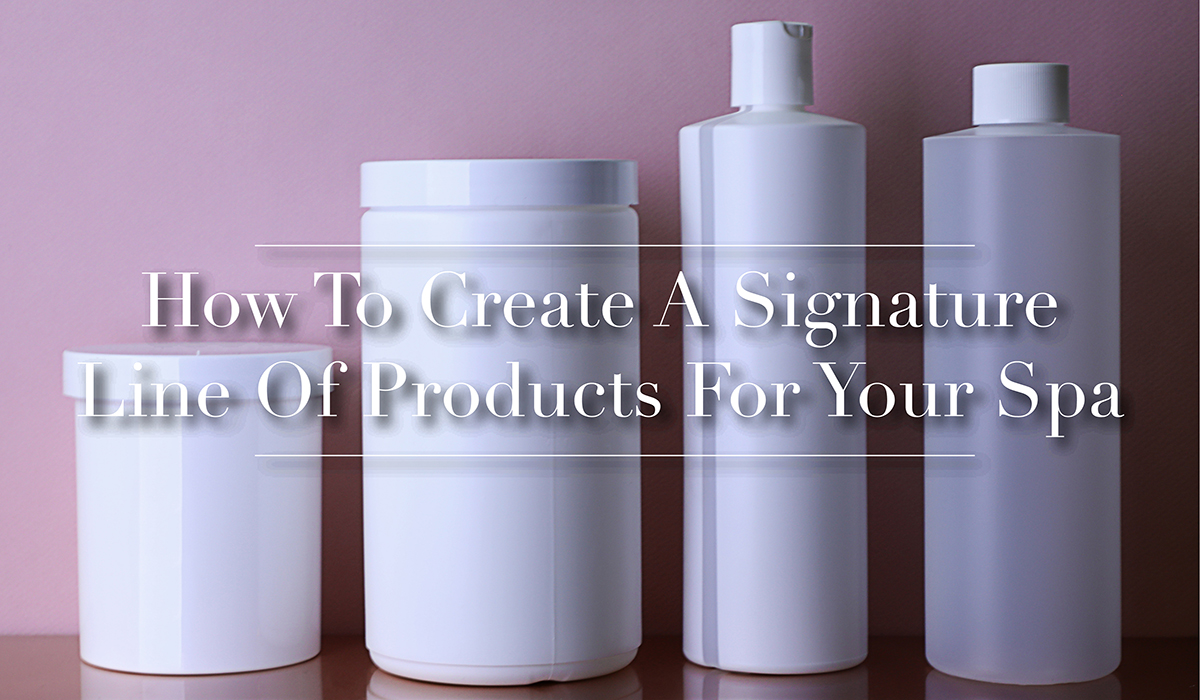 If you're looking to differentiate your spa from the rest and have the ambition to follow through, it may be time to consider the many benefits of creating a signature line of products all your own.
In the spa business today, competition is tough and establishing your own brand can help you expand your business in ways you've never dreamed possible.
Signature spa products also allow you to showcase your own talents and personal style, while catering to the specific needs of your customers.
Options for Desirable Spa Products
As a spa owner, you already have a good idea of what products are the most popular. Add to that regular conversations with your clients, and you can shed some light on potential holes in the marketplace that your signature products can fill.
Popular spa products you may want to consider turning into a signature line include:
Salt glows
Facial masks
Massage lotions
Skin exfoliants
Aromatherapy
Hair treatments
These products can be designed not only for in-spa use, but also make an excellent resource for your client's home use.
Where to Start on Your Signature Line
Once you have a good understanding of what products are likely to be most popular, it's time to start experimenting with ideas.
There are plenty of online and other resources to help you create recipes and your goal should be to work towards making these your own. You can focus on creating a line with signature ingredients, original scents, or customized benefits that address needs in the spa industry.
Once you have a few products perfected, it's time to gather feedback from your family and a select group of loyal clients. Find people who will give you honest feedback that can help you improve your line for the marketplace.
With permission, use products in your salon and give away samples for customers to use at home.
Get Ready for Commercial Sales
The products that meet the approval of others and are representative of your brand now need a professional touch to go to market, even if they're only in your salon.
Commercializing your spa line requires high quality, safe containers. If you plan to display and sell a lot of spa products, you may want to consider finding a reputable spa products wholesale container company, like BottleStore.com. There are many decisions to make about the size and style of bottles and jars you need to safely store your spa lotions and scrubs.
You also need to think about how to package your spa containers, including the look and style of your label, company logo, and required ingredients list as required by law.
Hiring a professional graphic designer is a good option if you're not skilled in designing logos and other marketing materials. These details can enhance your product's professional appearance and build customer confidence.
Getting into the Marketplace
Once your packaged salon products are ready to hit the market, you further need to consider how far you want them to go. Many spa owners are content to use and sell their signature line exclusively in their own facility.
However, if your goal is larger than that, it can help to bring your product to other locations to gain visibility. This may involve speaking with retail store locations that sell the same kind of products.
You can also research the viability of distributors that can bring your spa products into larger regional or national territories.
The Benefits of a Signature Product
In addition to creating a new stream of income for yourself and your business, designing your own signature line of spa products can be a wonderful way to express your creative side and truly represent your personality and business values.
Having your own signature spa products line can also:
Expand your business
Establish you as an expert
Make a bigger first impression
Provide solutions for customer needs
All of these factors are not only beneficial to your spa business, but also to your own growth and personal fulfillment goals.
Your own line of spa products also grants you the opportunity to move forward in designing and selling a variety of new products that keep your business fresh and relevant.
When you're ready to start bottling your signature spa creams and lotions, you can get assistance from the packaging experts at BottleStore.com. Our helpful staff can help you find glass and plastic jars and bottles that fit your budget and ensure your manufacturing deadlines are easily met.
https://www.purespadirect.com/Spa-Body-Treatments-s/414.htm
https://goinswriter.com/signature-product/
---
---