How To Make Dry Shampoo Using Only Natural Ingredients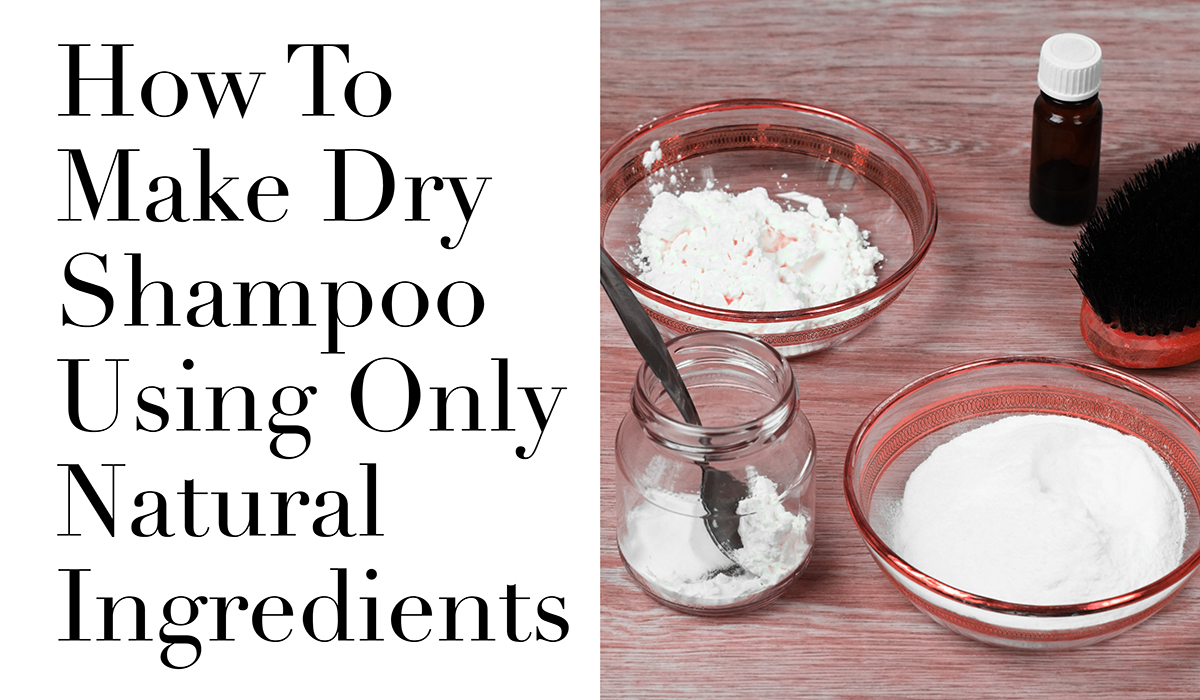 When you're battling both a busy schedule and greasy hair, you can find a solution for both in dry shampoo. Dry shampoo is a water-free alternative to clean your hair and address excess oil that drags down and dulls your hair.
To protect your hair, it's important to find a dry shampoo that uses only natural ingredients. It can be difficult to find a truly all-natural product, but luckily there are plenty of easy recipes you can work with to concoct your own.
Benefits of Using Dry Shampoo
Using a dry shampoo offers many benefits, including the quick convenience of eliminating problematic oils whenever you need to, no matter how busy you are.
Other benefits of keeping a dry shampoo on hand include:
Saves time
Adds texture
Increasesvolume
Reducesbad smells
Retainshair color longer
Natural ingredients in a dry shampoo can also help calm an irritated scalp.
Gathering Dry Shampoo Ingredients
To make a good dry shampoo without using harmful ingredients, you only need a few pantry staples. There are many recipes available for dry shampoo tweaks to make one that best suits your needs or the needs of consumers.
Starting out, simply combine equal parts baking soda and cornstarch in a durable container with a tight-sealing lid. If you have red or brown hair, you may want to consider adding a color brightener. Cinnamon is a good choice for redheads and cocoa powder is ideal for brunettes.
If you're a blonde, you can pass over the color additive and shake up the cornstarch and baking soda for immediate use.
Applying the Dry Shampoo
Use a clean powder brush (normally used on your face) to get dry shampoo into the roots of your hair.  Start by adding the mixture to the top of your scalp, gently patting the brush to cover all areas.
You can also use your fingers to run powder through the length of your hair, working through to the ends.
Upgrading Your Homemade Dry Shampoo
There are a few easy ways to upgrade your ingredients for a dry shampoo, while still keeping it natural. Consider these upgrades to customize your shampoo recipes:
Substitute arrowroot powder for cornstarch
Use peppermint essential oils to freshen the scalp
Add lavender essential oils to enhance the fragrance
Customized Containers for Dry Shampoo Storage
When you're focusing on dry shampoo powders, there are a variety of container options available at BottleStore.com.
Packaging your powders in easy-to-handle, wide-mouth glass jars is an ideal choice. The wide-mouth gives your customers plenty of room to dip the brush into the powder. Glass jars also make an attractive display on store shelves.
Plastic containers are also suitable for dry power storage and are available in a wide range of sizes and styles to complement your brand and protect the integrity of the shampoo's ingredients.
If you're planning to create your own line of homemade dry shampoos or other spa and salon products, contact one of our BottleStore.com container experts to find the right solution for your packaging needs.
https://www.bustle.com/articles/164173-how-to-make-dry-shampoo-at-home-with-all-natural-ingredients-photos
https://www.thenaturalnurturer.com/blog/diy-natural-dry-shampoo
https://www.mommypotamus.com/diy-dry-shampoo-recipe/
---
---