UN Approved Packaging Basics – How To Read The Markings
UN approved packaging is a destination for packaging that has been built, tested, and certified to carry liquid or solid dangerous materials. This is a unified means to ensure dangerous materials are transported safely. While the term "dangerous materials" may be misinterpreted as harmful, in the United States, it is simply a method DOT has for defining safe and secure shipment for certain chemicals listed in 49CFR (Code of Federal Regulations – Transportation).
UN Markings
Each UN approved package must have a permanent UN marking on the package. Examples of such marking is displayed below:
All UN markings must have an approved UN mark followed by a string of code. These codes identify what each of these UN approved packages is approved to carry, materials used to construct the package, maximum gross mass or specific gravity, year, and location of manufacture.
Deciphering the UN Markings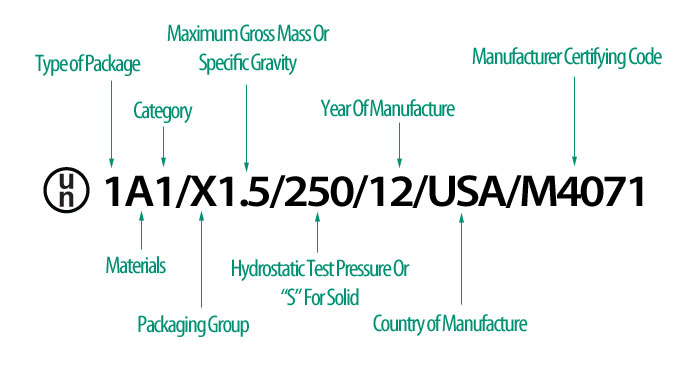 Character
Description
Type of Package
1 – Drums
2 – Barrels
3 – Jerricans
4 – Boxes
5 – Bags
6 – Composite Packagings
Materials
A – Steel
B – Aluminum
C – Natural Wood
D – Plywood
F – Reconstituted Wood
G – Fiberboard
H – Plastic
L – Textile
M – Paper, Multiwall
N – Metal other than Steel or Aluminum
P – Glass,Porcelain or Stoneware
Category
1 – Closed Head
2 – Open Head
Packaging Group
X – I, II and III
Y – II and III
Z – III
Maximum Gross Mass Or Specific Gravity
Maximum Gross Mass – Solid or packagings that have inner packagings must be marked with the maximum gross mass in kg.
Specific Gravity – Stand alone packagings intended to contain liquids must be marked with the specific gravity rounded down to the first decimal.
Solids or Inner Packaging
Solids – Marked with "S" in uppercase
Liquids – Marked with Hydrostatic test pressure in kPa rounded down to the nearest 10 kPa.
Year of Manufacture
Last two digits of the year the package was manufactured.
Location of Manufacture
Country where the item was manufactured.
What BottleStore Carries
Here at BottleStore.com, we carry several UN approved packages for liquid dangerous materials. Capacity range from 1 gallon to 6 gallon made from HDPE plastic or steel. For detailed information and UN markings, please click here to browse our offerings.
---
---