Understanding Disc Top, Liquid Dispensing and Flip Top Caps
When you have a liquid product, you will need a closure that allows controlled dispensing and can be re-closed by the consumer to ensure proper seal. With today's dispensing technologies, you have three main dispensing systems to choose from: Disc top caps, flip top caps, and flip-spout type liquid dispensing caps. In this article we will look at the anatomy of these dispensing closures and what you should know when choosing your dispensing system.
Flip-Spout style Polytop Caps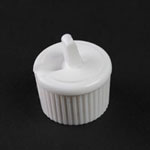 Flip-spout style caps are liquid dispensing systems, often paired with squeezable plastic bottles. The small closure passage allows precise dispensing by consumers. In many cases these caps can be operated with one hand, which makes this dispensing closure a consumer friendly options. However, since the product remains exposed in closure passage, it is not recommended for food type product such as sauce, or beverages.
Disc Top Dispensing Cap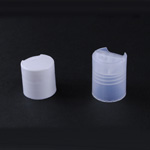 While the terminology might not be familiar with many consumers, it is widely used in the personal care and pet case industry. Just walk down the hair care or pet care aisles in your local supermarket and you will find that many personal care products are topped with these disc top dispensing cap.
Disc top dispensing caps have a slightly wider orifice opening, an ideal dispensing solution for thicker liquid type products such as shampoos, shower gel, and lotion cream. One common type of disc top dispensing cap (and ones that we offer at BottleStore.com) has a crab claw sealing system where a plastic sealing bead sits on top of the lip of the neck opening, offering a tight seal without a separate liner component.
Since disc top caps' pivoting point is in the middle, it is often offered in 20mm and 24mm for easy operation and is mostly paired with plastic cylinder bottles or thinner diameter bottles.
Plug-orifice Style Flip Top Caps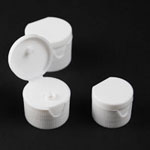 Flip top caps has a top cover over a small dispensing orifice where a plug is inserted to the opening every time it closes, providing a barrier between the product and the environment.  It is commonly found in personal care, healthcare, or food products as this type of dispensing caps offer resealing properties at the consumer end. Given it's common application it is often found with pressure sensitive liners to provide additional seal at time of product delivery. (To understand how pressure sensitive liners works, click here.)
Flip top caps are often found with plastic cylinder or boston round bottles as it requires consumers to squeeze the bottle to dispense products.
Things to remember when ordering dispensing caps
When you want to order bottles with these dispensing caps, your first consideration is your consumer. If you are using dispensing caps for your food products that requires sealing liners, go for a flip top cap. If you are packaging personal care products, go for disc top. And for products that doesn't require reseal, a flip-spout style may be a good option for you. Remember, however, that each product application is different and we encourage you to contact us prior to ordering your dispensing caps so we can help guide you in the right direction. And remember to perform compatibility test yourself prior to mass production to ensure proper fitment.
---
---