Understanding liners, and their appropriate uses
Most of our plastic CT or metal CT caps (CT stands for continuous thread) comes with a liner. While there are many different liners out on the market today, we stock several commonly used liners for different applications (solid, liquid, essential oil, powder, carbonated liquid, food, etc.). It is important to understand what these liners are commonly good for, and make your closure selection beyond overall looks alone.
Liner serves as a barrier that provide additional seal between your cap and bottle, and in some cases it also provides a tamper evident seal. Common liner types at bottlestore.com are:
F217
PE foam
Pulp & Poly
Pulp & Foil
Plastisol
HS035
PS22
PE cone
F217 and PE foam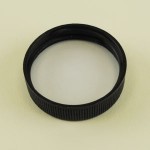 Generally good for liquid products and commonly found in our plastic CT caps, it is a white colored foam type liner. PE foam is essentially a generic version of the F217 liner, trademarked by the Tr-Seal company.
Pulp & Poly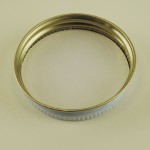 This liner is made of two layers of material: Pulp, which is a cardboard type material, which faces the cap and polyvinyl chloride (PVC), which faces the product. This liner is commonly found in our metal CT caps, and is generally suitable for solid or liquid food items such as jams and jellies.
Pulp & Poly liner looks white and shiny.
Pulp & Foil (PAF)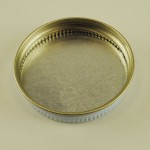 This liner is similar to Pulp & Poly, except that the product facing layer is foil rather than PVC. This liner is commonly good for product in solid or powder form.
Pulp & Foil liner looks silver and shiny.
Plastisol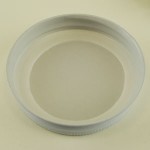 Plastisol is a foamy type PVC component which is sprayed onto the metal cap. This liner is best used when applied at 140 degrees, as the liner softens and a hermetic seal is archived with the lip of the bottle. It's application is common with glass bottles and jars with food products.
Plastisol liners are white in color, cannot be separated from the cap by hand, and foamy to the touch.
HS035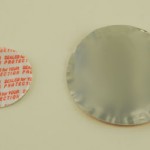 This is a speciality induction seal liner that requires a induction sealing equipment to apply as the liner sticks to the bottle to provide a tamper evident seal. When being applied, a electromagnetically activated layer bond with the lip of the bottle, given consumer a tamper evident assurance on the shelf.
HS035 commonly looks silver on product facing side and often printed with "sealed for your protection" on consumer facing side.
PS22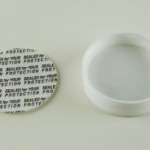 This pressure sensitive liner is trademarked by the Tekni-plex company. It provides similar tamper evident properties as the HS035 but does not require an induction sealing equipment to apply. It is simply "pressure applied" by closing the cap in place with specific torquing requirements. It provides good sealing properties for dry products in either glass or plastic bottles.
PE Cone
PE cone liners are commonly found in our Phenolic and Urea plastic caps. It is ideal for use with glass bottles and our amber pour-out glass bottles. This cone shaped liner provides a good seal on the lip of the bottle for essential oil or carbonated products.
PE cone liner is easily identified as it is natural plastic in color and it is cone shaped.
How can we help?
Not sure which liner to choose for your product? Comment below or call us. Our packaging engineers will be able to answer your questions. It is important to note that while our professionals will be able to answer your questions, product compatibility testing should still be conducted to ensure proper fitment and compatibility. For details about our product compatibility testing disclaimer, please click here.
---
---