What Are Some Odd and Unusual Canned Foods?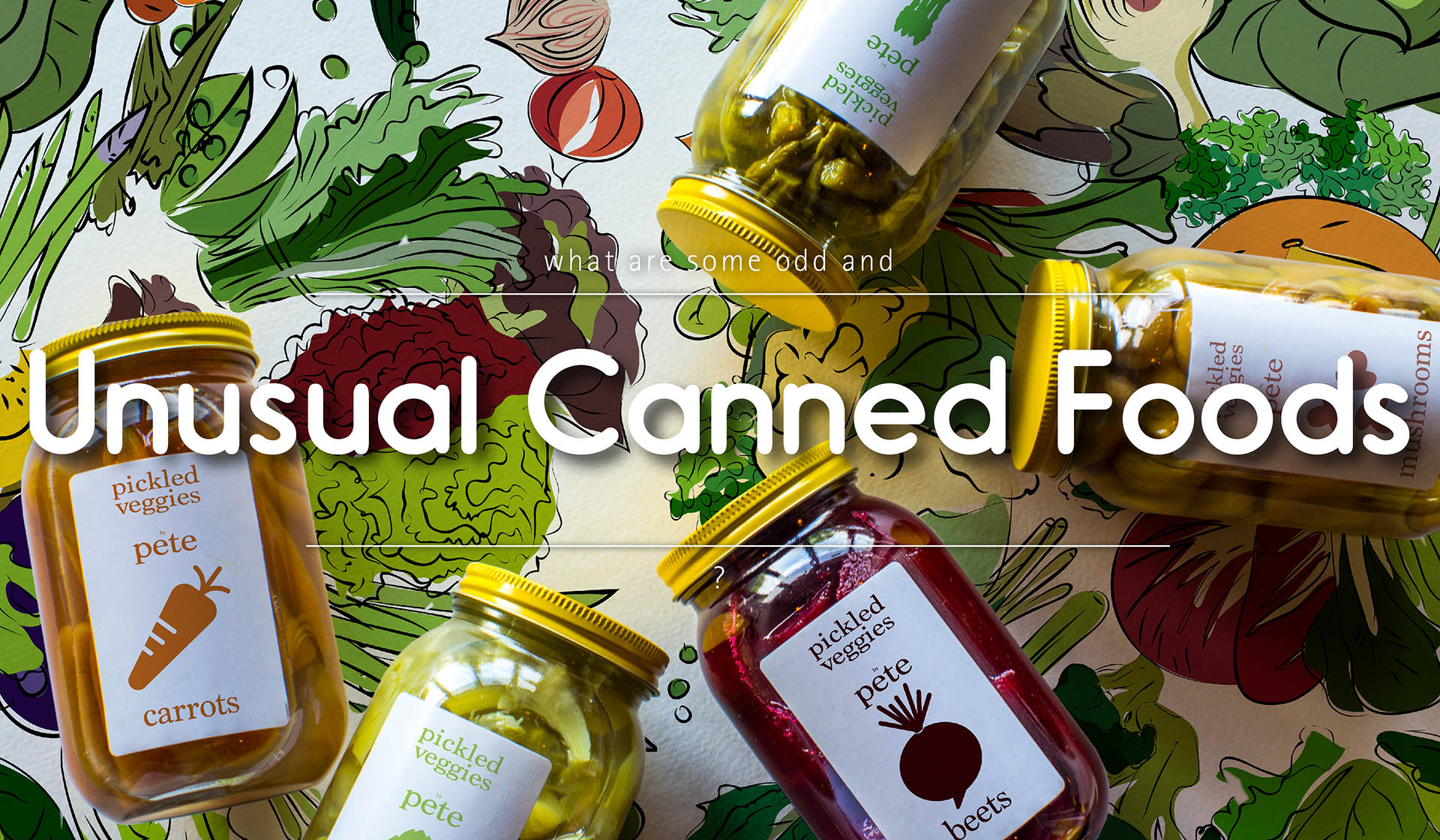 When you think of well-known canned foods, you might picture a can of Spam or the little Vienna sausages that are easy to find in the supermarket. But what you may not know is there are some pretty unusual and even downright weird foods available in convenient, mostly-ready-to-eat canned form. A lot of the most unusual foods are sold outside of the United States, but some are making their way to American food lovers via the Internet.
Unusual Canned Foods
If you thought SPAM® was the weirdest canned food you've ever seen, here are 12 unusual canned foods you may not have heard about:
1. Bugs
Yes, it's true. If you have a craving for chocolate covered worms or toasted ants, you're in luck. There are several companies that produce canned, edible bugs you can pack for lunch or eat on the go, including websites like www.edibleinsects.com and Amazon.com.
2. Cheeseburgers
If you can't find the time to fire up the grill, no worries. A German camping supply company, Trek'n Eat, makes a canned cheeseburger, if you're up to the challenge.
3. Hot Dogs
To go along with your cheeseburger lunch, you can also find brined hot dogs in a can. The fast food boasts a six month shelf life and is readily available at Walmart and on Amazon.com.
4. Pigeon
Available in paté form, canned pigeon is available in French grocery stores and is featured regularly on menus in places like Amsterdam.
5. PB&J
When you just can't find the energy to put together a traditional peanut butter and jelly sandwich, the Candwich has got you covered. The makers of Candwich not only take care of your PB&J sandwich fix, they also offer a chocolate filled French toast sandwich and a canned honey barbeque chicken sandwich.
6. Pancake mix
Traditionally coming from a box mix that requires nothing more than water, you can now make your breakfast even easier with Batter Blaster. This pancake mix in a can works a lot like cheese in a can. You simply shoot out the batter into a hot skillet and can even make cool designs for the kids.
7. Pork brains
We're not sure how smart it is to open a can of tasty pig brains, but it's available if you're willing. The brains are served in a milk gravy and are proudly made in the United States.
8. Canned bacon
They say you can never have too much bacon but when it comes to bacon in a can, you may want to reconsider. Canned bacon distributed by a company called Yoders has a shelf life of nearly 10 years. It's fully cooked and you can simply pop the top and enjoy.
9. Haggis
Haggis is a traditional Scottish fare consisting of the liver, lungs, and heart of a sheep stuffed in a sheep's stomach. Canned haggis is readily available on Amazon and Scottish gourmet food sites.
10. Smoked rattlesnake
If you ever get a hankering for some rattlesnake, you're in luck. You can enjoy a tasty bit of smoked rattlesnake from a can. Several companies sell variations of smoked rattlesnake and you can find them online at Amazon.
11. Whole chicken
A company called Sweet Sue has managed to stuff an entire chicken into a can. It's said to taste mostly like chicken, as most things do, although it's a bit on the salty side.
12. Quail eggs
Canned quail eggs are cooked, peeled, and ready for eating, if you're brave enough. The eggs are a popular commodity in Taiwan and also available in the United States as a gourmet food option.
Whether or not you decide to take a leap into the unknown and try a canned variety of unusual food, the reality is these foods do exist and take the world of canning to a whole other level.
Read More About Bizarre Foods
30 Bizarre Foods In A Can – Buzzfeed
Weird Canned Food Products – The Daily Beast
The Five Worst Canned Foods You Can Easily Find In America – Houston Press
The Most Disgusting Canned Foods – Ranker
Weird Canned Foods From Around the World – Telegraph.co.uk
What Are Some Unusual Canned Foods – Quora
---
---