25 Creative Ways to Use Glass Jars for Decoration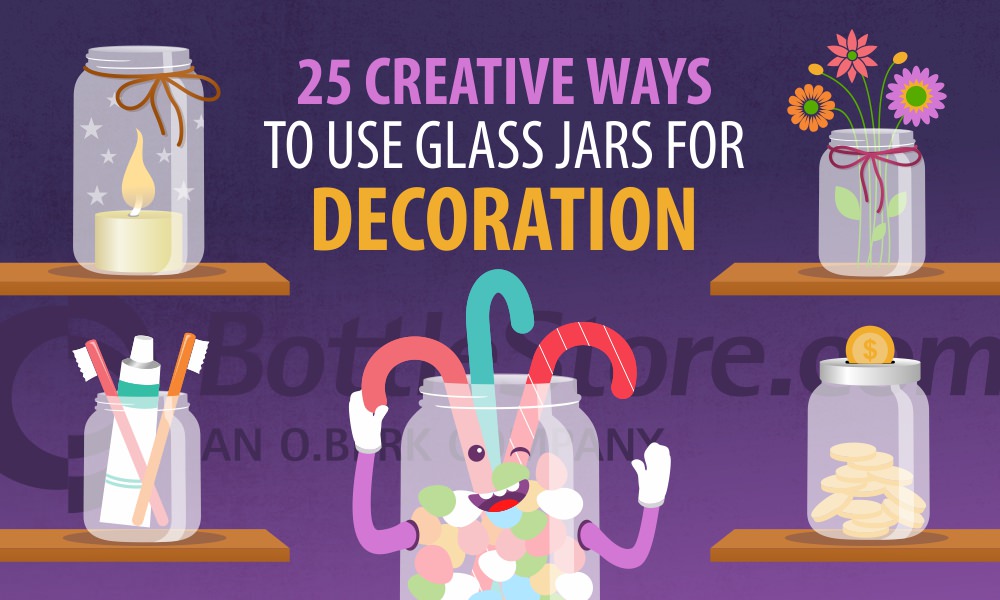 Glass jars are a simple but elegant way to add style and practicality to your living space and beyond. They are an inexpensive way to give your home more storage, add sparkle to a special occasion, or to create something new and beautiful. They also offer versatility so you can use them in every room of your home!
What Can You Do With Glass Jars?
Let's take a look at 25 creative ways you can use a glass jar around your home, for creative gift-giving, and for better organization.
FOR THE HOME

Decorative Storage for the Kitchen
Glass jars can be used for a number of kitchen items. Pantry foods like pasta, spices, baking ingredients, and even cereal can be conveniently stored in a glass jar. Not only is it easy to access these items, you can quickly organize and beautify your pantry space and cabinet interiors. For extra creative storage space in your kitchen, mount the lids under your cabinets, fill your jar with candy or snacks, and reattach the jar to its lid. You can also mount the jars under shelves for extra storage capacity.

Decorative Storage for Bathroom
Bathroom counters are often filled with a multitude of things you need daily. To create an effective and great-looking storage system, use glass jars in all sizes to house items like cotton balls and swabs, toothbrushes, hair accessories, makeup tools, and jewelry. Mount the jars under existing shelves to free up more counter space. Place a large glass jar on the counter or shelves and fill it with clean washcloths to match the décor of your bathroom.

Office Organization
Office areas are another place many little things take up space. Use glass jars to get your office organized and clutter-free. Use glass jars of varying sizes to house pens, markers, paper clips, notepads, and rubber bands. Add some style to your office decorating the glass jars in pleasing materials to match your existing décor. Place jars on the book case, desk or mounted to the wall for easy access.

Change Jar
Designate glass jars for different saving purposes to collect your loose change each. Decorate one jar marked as vacations and another tagged for a rainy day fund. Keep the jars in the areas around your home where pocket change is popular like the bedroom, bathroom, and laundry room. Those pennies, nickels, and dimes do add up!

String/Ribbon Organizers
Crafty people have a lot of supplies including a variety of ribbons, twine, and string that gets tangled up into everything else. Use glass jars with a lid to keep your string tangle-free. Poke a hole in the top of the lid to pull the string through as you use it.

Decorative Flower/Bud Vase
Decorate a glass jar with glass paint or crafting materials to match your décor to create a decorative flower vase or bud jar. Assemble glass jars of different sizes for a unique centerpiece arrangement. Decoupage a glass jar with pictures from a magazine using Mod Podge or other sealer. You can also wrap glass jars in your favorite fabrics and burlap for a personalized look. Your glass jar flower vase can also be decorated for seasonal use – for the holidays or change of seasons. A glass jar is the perfect blank canvas to create your masterpiece. Choose colored jars to enhance the look of your flowers if you prefer a simpler, classic look.

Pet Treat Containers
Keep your pet's favorite treats at hand by storing them in a glass jar. Use a jar with a unique shape to display on your kitchen counter. You'll have the convenience of having the treats close by and a cut decoration idea for your counter top. When using glass jars for food storage, make sure to always have lids which seal properly. Air-tight lids will ensure food stays fresher for longer periods of time. When selecting new jars for human or pet food, look for a quality jar with a matching lid for the right fit.

Unique Picture Frame
Crafty folks can create a unique picture frame using a glass jar, your favorite photographs, and accessories to match your personality and style. Another great gift idea for your holiday and special occasion needs.

Store Fireplace Matches
Keep your fireplace matches in a nice-looking glass jar and store them close by for easy access. If you use the kind of matches you can strike anywhere, cut out a circle of sandpaper and glue it on to fit the lid. You have an all-in-one Firestarter in a lovely-to-look-at display case for your mantle.

Make a Sewing Kit
Turn a glass jar into a convenient sewing kit. Keep your needles, thread, and accessories safely inside a glass jar. Add cushioning and your favorite fabric to the top of the jar to create a pincushion. This kit also makes a great gift idea!
Make a Terrarium
A terrarium is an enclosed environment where moss and other plants thrive, making a unique decorating idea for your home. Glass jar terrariums can be cultivated in a lidded glass jar filled with colorful pebbles, natural stones, and other elements of nature. Use them in your kitchen or on your patio as a conversational piece or gift one to a friend.

House a Betta Fish
Bettas are a fairly low maintenance choice for a pet. An attractive glass jar can make the perfect home for one of these colorful fish which do not require special tank equipment like other fish do. A glass jar that holds at least 1-2 gallons of water (to give them enough room to swim) made up with colored gravel and aquarium plants makes a great place for a betta to live.

Create Herb Gardens
For cooks who like the freshest ingredients, create your own herb garden using a variety of glass jars. Grow your very own parsley, cilantro, rosemary, and thyme using a glass jar. Keep your herb jars conveniently in the kitchen window for easy access when cooking. You not only get fresh herbs every day, you can make a lovely display of your hard work.

Handmade Oil Lamp
Fight pests off your porch with a striking glass jar oil lamp. It only takes a few minutes to assemble a lamp – just add oil and a rope wick to the glass jar. Citronella oil is effective at deterring pests and the handmade oil lamps look nice on the table as they do their job keeping mosquitos and other insects away.

Display as a Collection
Whether decorating at home or for a special occasion, choose a variety of glass jars in different shapes and sizes to make an attractive display for your table or shelves. Add craft jewels, marbles, or fresh cut flowers to create an elegant display for everyday living. Jars of different colors can be a lovely complement to your existing décor and the variety of colors and sizes of the glass jars can make a unique focal point in any room. Use a mix of tall, slender glass jars with shorter, wider jars, choosing shapes to catch your eye. Blue, brown, and green glass jars add a personalized touch to your display.
FOR CRAFTY INDIVIDUALS
Handmade Staples
Glass jars are a crafter's best friend. A number of entrepreneurs are starting their own businesses using glass jars to make and package their specialty products. Small jars are perfect for creating soy or beeswax candles. Jars can also hold handmade soaps, lotions, and other bath products. Other creative types have been preparing their own blends of spices. Many of the jar sizes can be fitted with a versatile dispensing tops such as pumps for lotions and soaps.

Painted for Holidays/Seasons
Glass jars are the perfect canvas for your holiday decorating needs. A few bottles of glass paint and you can make holiday decorations your family will cherish for years to come. Decorated glass jars are perfect for Halloween ghosts, winter snowmen, Easter baskets, and seasonal décor.
Souvenirs
Wish you could revisit the beach any time of the year? You can! Make a souvenir of your beach trip or other vacation by creating a memory jar. Fill a glass jar with trinkets to remind you of your time away. Sand, shells, and photographs can be displayed in a beautiful way in a glass jar.
Decorative Gift Sets
Need a creative gift idea for friends of family? Assemble ingredients in a glass jar for the perfect cup of hot chocolate, a pot of soup, or dry brownie mix ingredients. Attach a colorful ribbon and a handwritten gift tag for an affordable, unique glass jar gift idea.  If food isn't your style, fill the jar with any number of options including bath supplies, nail accessories, or candy. Your gift recipient gets two gifts in one – the delicious food or useful item plus a reusable glass jar!
Gift Wrapping
Already bought a gift but need the attractive packaging for its presentation? Give gifts to your loved ones in a cute glass jar. Popular presents like gift cards and cash can be boring when given by itself but packaged in a decorative glass jar with accessories and bright ribbons will put a smile on their faces. The lid makes the gift stand up and stand out from the crowd.

Design Your Own Lamp/Lights
Use glass jars as covers for your existing light fixtures. Measure the size of the fixture and select the right opening size for jars. You can also create attractive chandeliers and unique lighting displays using tinted or painted glass jars. Light kits are also available and can be added to uniquely shaped glass jars to create a new lamp.
FOR ENTERTAINING
Party Décor
Glass jars are becoming a popular staple for special occasion decorating. They make the perfect centerpiece and can be customized for the event by what you put inside. Elegant weddings and anniversary parties can use candles inside each jar to set the right tone. Use colorful candy or marbles for birthday parties and baby showers. Personalize jars to match the personality of the person being honored. The sky is the limit when it comes to decorating with glass jars.
Illumination Décor
If you've been looking for a creative way to add subtle lighting to your home or patio, a glass jar filled with battery-powered string lights makes an eye-catching display for your shelves or table top. For outdoor settings, place tea light candles in a glass jar filled with stones or sand for low-key, elegant lighting.
Party Favors
A simple glass jar is a sweet way to thank your party guests for coming. Fill the glass jar with mementos of the day like party favors and a handwritten thank you. Color coordinate the favors with bright candies or other treats your guests can enjoy later. Glass jars may also be the perfect addition to your annual Halloween gathering. Fill a wide-mouth glass jar with treats for party guests and use glass-safe paint to write guests names on the outside for a more personalized favor gift or placeholder. Bridal and baby showers are also the perfect venue for glass jar favors. Choose a small glass jar and fill it with small candies or mints for guest to take home. They nicely double as a table decoration throughout the event. Decorate with a simple white, pink, or blue ribbon depending on the occasion.
Summer Drinks
Planning a backyard barbeque with friends and family? Use cute glass jars with a lid to pre-mix your favorite beverages. Ice the jars down in a cooler so they are ready to go when your guests get thirsty. Make sure to tag which beverages are for adults only!
Glass jars are a versatile and timeless must-have in your home. You can do so much with them to make your life more organized and your living space more attractive. Glass jars go with anything so no matter what your décor choice or personal style, you can incorporate a unique, sparkling glass jar into your space.
No matter what your creative abilities are, there are many wonderful things you can do with a simple glass jar beyond the list above. BottleStore.com offers a large variety of glass jars in many shapes and sizes to fit your own personal needs. From slim vials to wide-mouth glass jars, you have plenty of options for your next craft project or home decorating idea.
Edit June 25: A previous version of this article suggested glass jar could be used as a container for a Betta fish, we have amended the article to note that it should be at least a 1-2 Gallon capacity glass jar.
---
---