Jazz Up Your Juice with HDPE and PET Juice Bottles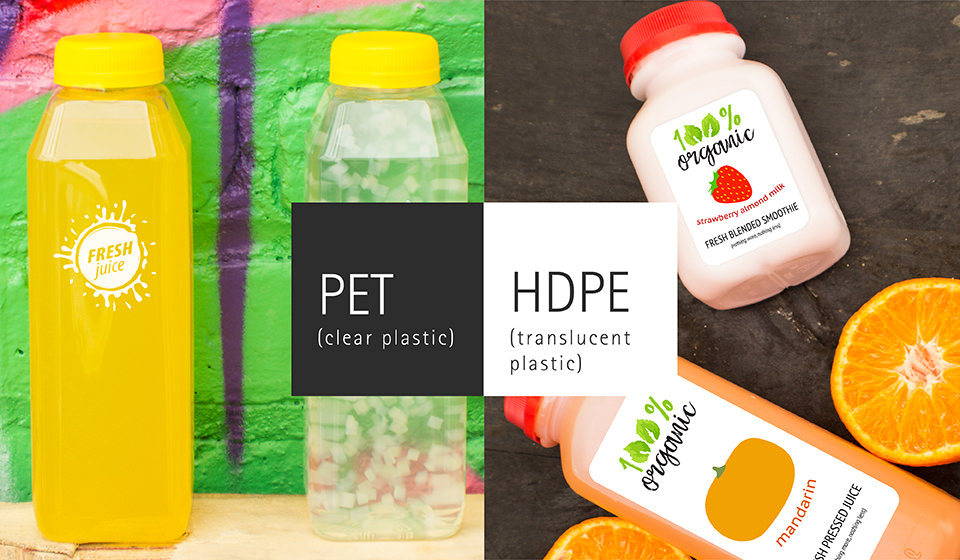 Formulating your juice recipe undoubtedly takes a lot of time and effort. When it comes to bottling your juices, why hide their beautiful colors behind a low-quality plastic juice container? Catching the attention of the consumer is a big part of the marketplace battle. Bottling your juices in a clear yet durable, food-grade plastic container will showcase your juice and let its natural beauty shine through.
The Lowdown on HDPE and PET Juice Containers
The use of plastic juice bottles can certainly have a positive effect on your bottom line, as well as the environment. Consider the many other benefits of choosing HDPE or PET plastic juice bottles.
Durability – Both HDPE and PET plastics are manufactured to be durable. They are a great alternative to glass juice bottles where shipping and distribution is concerned.
Less Costly – HDPE and PET plastic juice containers are lightweight so shipping is less costly.
Shipping Safety – Plastic containers won't break during transportation and delivery, which makes juice bottle distribution more safe.
Manufacturing Ease – There are a large variety of neck sizes available in plastic juice bottles. A larger neck size will make filling each container easy and the durable plastic will withstand the manufacturing process.
Convenience – HDPE and PET plastic juice bottles will make it easier to stock store shelves and maintain inventory. Plastic bottles cut down on financial losses from smashed bottles falling from shelves. They are lightweight and easy for the consumer to carry.
Reliability – HDPE and PET plastic juice containers can be fitted with coordinating caps featuring tamper-evident closures. Protect your product while ensuring consumer safety with the tamper-evident bead on a closed container. Tear-away and band plug seal caps are also excellent options for protecting your juice products. Plus, the plastics are guaranteed food-grade quality to keep your juices safe, fresh, and ready to drink.
Quality – PET plastic juice containers are the ideal choice for highlighting the freshness and look of your juices. Clear plastic bottles showcase the consistency, quality, and freshness of your juices. Consumers appreciate a clear window into the products they buy and PET plastic makes a great window.
Versatility – Plastic juice bottles are available on BottleStore.com in a variety of sizes and shapes. A unique bottle shape or size can help your juice product stand out from the rest.
Positive Impact – Using HDPE and PET plastic bottles for your juice can also benefit the environment. These plastic containers are recyclable. The durability of plastic juice containers makes them a great option for repurposing in craft projects and other activities.
High-quality HDPE and PET plastic bottles are an ideal solution for keeping your business costs low and consumer satisfaction high. A variety of bottle sizes, neck sizes, and cap colors are available at BottleStore.com. Popular shapes for juice beverages include Boston Round, Wide Mouth Round, Modern Round, and Square. Consider investing in smaller ounce bottles for trial sizes of your new juice products.
---
---