Cold-Pressed Juice Bottles
The cold-pressed juice marketplace has grown significantly over the last decade, as more and more consumers are looking for ways to conveniently increase their fruit and vegetable intake. Cold-pressed juices can be much healthier than other juices because a cold-press only includes 100% fruit and/or vegetables, with no sweeteners or artificial ingredients. If you're looking to capitalize on the juice cleanse trend, you'll need to find the perfect wholesale cold-pressed juice bottles to store and ship your product.
BottleStore.com has a broad selection of glass and plastic bottles that are perfect for packaging cold-pressed juice, including a wide variety of bottle sizes and shapes. We also stock many different types of caps and closures, ensuring that you'll be able to find the right lid for your chosen bottle.
Wholesale cold-pressed juice glass bottles are always a popular option, as the glass bottle adds a touch of class to your operations. Especially considering that cold-pressed juice is almost always more expensive than other juices, many consumers will prefer a more premium bottle.
If you prefer glass cold-pressed juice bottles, our 16-ounce flint Boston round glass bottle is an excellent option. This 100% recyclable container is entirely clear, allowing potential customers to examine the quality of your juice while it's still on the store shelf. The straight-body design makes it easy to decorate these cold-pressed juice bottles with silk-screen applications or traditional labels. In addition, the 28-400 neck size of this bottle is compatible with many different caps and closures, as this is a very common size.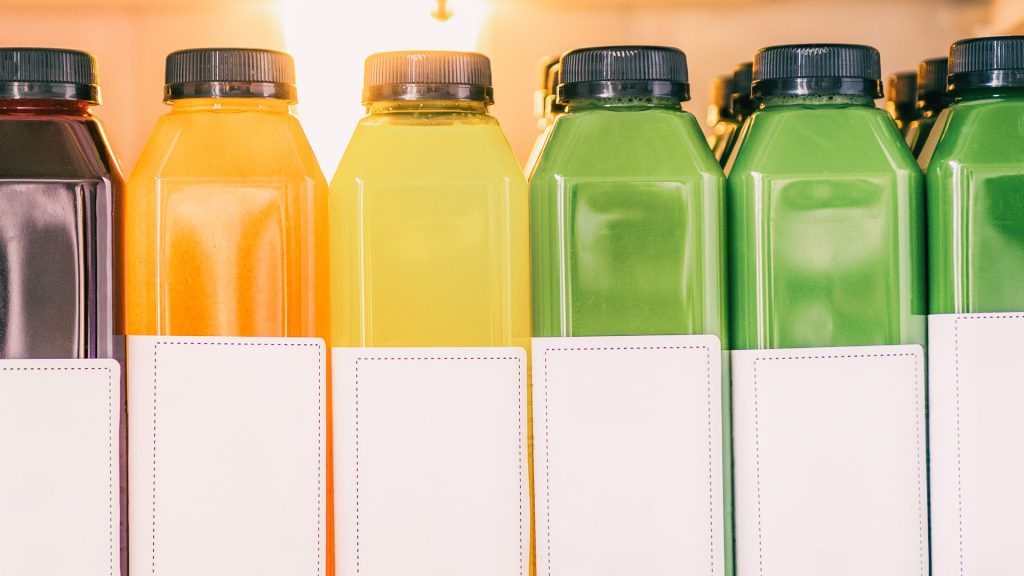 We also stock many plastic cold-pressed juice bottles, including translucent HDPE bottles and transparent PET bottles. If you're looking for something translucent, our 16-ounce HDPE natural tall square plastic juice bottle is made with BPA-free, recyclable plastic and pairs perfectly with one of our tamper-evident closures. For an entirely clear option, take a look at our 16-ounce clear PET wide-mouth beverage bottles with plug-seal closures. These bottles give you some great choices for colorful closures as well, with nine different colors to choose from, including purple, green, yellow, red, and more.
Keep in mind that BottleStore.com has outstanding cold-pressed juice bottle wholesale discounts that can significantly reduce your total costs on large orders. If you're having some trouble figuring out which of our many cold-pressed juice bottles would be the best choice for your manufacturing process — or if you need some assistance finding the right caps and closures — contact BottleStore.com at your convenience. We're always happy to help you find the perfect cold-pressed juice bottles for your business, and we'll even send you free samples of your desired bottles and caps.
---
---