How to Package Cannabis: A Brief Guide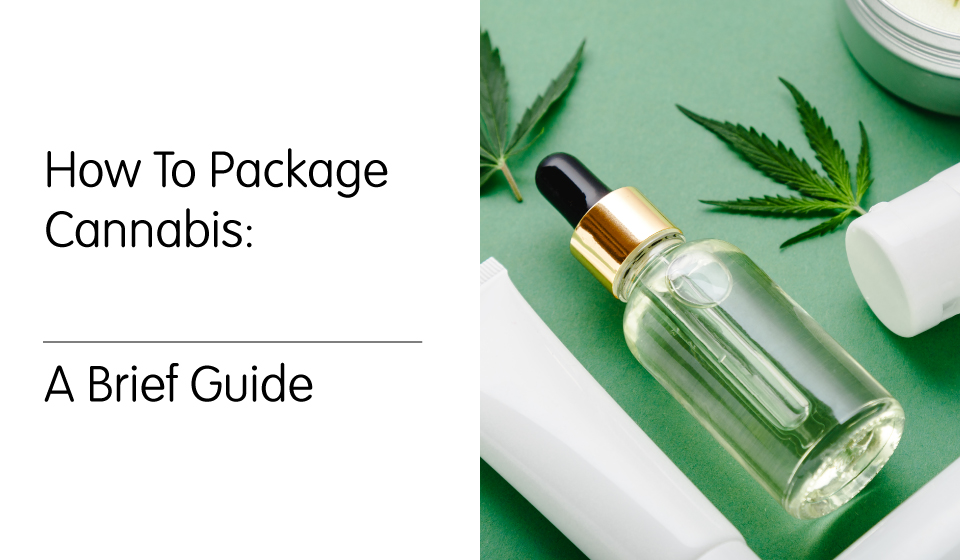 One of the most important steps in the business development process for any cannabis company is finding the right packages for your products. Cannabis packaging is how most brands in this space make their first impressions on customers, and there are several different priorities to balance in this area. You need a container that stands out in a crowded marketplace, is safely and securely packaged, is scalable for large-quantity manufacturing processes, follows all applicable laws, and aligns with customer priorities.
Packaging design and brand identity are two of the most important factors to consider when packaging cannabis products. You need a container that communicates your company's branding, while not blending in with the many other products on the shelf. Most cannabis shops carry many different brands and styles of products, so it's crucial to impart a high-quality look and feel to your packages. Whether you're selling flowers, edibles, vape cartridges, or other THC products, it's a good idea to sell those products in packages with simple, clean design aesthetics.
When designing your packaging, you should keep your target audience firmly in mind. Do you want to market your products to a medicinal or recreational audience? Are you looking to attract young, on-the-go professionals? Or perhaps you're producing cannabis products to help seniors deal with arthritis or aching muscles? As you can imagine, each of these target markets has its priorities and desires when it comes to cannabis product packaging.
However, you also need to walk a fine line between having eye-catching packaging and accidentally marketing your products to children. With this in mind, steer clear of cartoonish graphics, too many bright colors, and phrasings that could attract underage kids. You should also check with your state government to see if there are any packaging regulations intended to keep cannabis packages out of the wrong hands.
Another crucial aspect is functionality. Your product packaging needs to safely and securely contain its contents, especially because many cannabis products will be ruined if they're exposed to too much oxygen. You will need child-resistant packages, keeping your THC products away from young people.
Thankfully, BottleStore.com has the answers you seek. Our extensive line of cannabis packaging includes glass and plastic jars with child-resistant closures, tincture bottles with droppers and vials, tamper-evident plastic and glass beverage bottles, topical containers with dispensing closures, capsule containers, and packers, droppers and dab jars, vape liquid and cartridge containers, and much more.
Scalability is always a vital factor as well. A specialized container with a funky design aesthetic might be an eye-catching option, but is it readily available in large quantities for your production process? Along these same lines, will it be practical to affordably purchase in bulk? You'll never have to worry about these issues when you buy cannabis packaging from BottleStore.com. All of our containers are available in wholesale quantities, ensuring you have plenty of packaging to keep up with your manufacturing process. In addition, we offer bulk and wholesale discounts, providing a nice boost to your company's bottom line.
Another aspect that too often goes overlooked is that you should package your products in ways consumers want to purchase them. This often means producing sustainable and eco-friendly packaging. It's an unfortunate reality that the cannabis industry creates lots of packaging waste. For instance, stand-up pouches (also known as Doypacks) are very popular for packaging marijuana flower and edible products. However, these packages are typically quite difficult to recycle, and more times than not, they end up in the landfill. Cannabis packaging waste is such an issue that some government entities are publishing guides to help people figure out how to reuse and recycle their packages. For example, check out Denver's marijuana packaging recycling guide.
Here at BottleStore.com, we focus heavily on recyclable and reusable packaging that won't simply go in the trash when your customer finishes consuming your products. Our top-quality glass products are essentially endlessly recyclable, and our plastic cannabis packages are manufactured with 100% recyclable, BPA-free plastics. It can even be a good idea to advertise the environmentally friendly aspect of your packaging right on the bottle!
The final piece of the cannabis packaging puzzle is compliance labeling. Each state has its own rules and regulations for how marijuana products need to be packaged. For example, here is Washington's cannabis packaging and labeling resources page, which includes in-depth information on regulatory issues. In most locations, you will at least need to include legal warning text, an ingredients list, indications of product strength and potency, a list of pesticides used (if any), the manufacturing date, the expiration date, and more. Some states also mandate certain tamper-evident or child-resistant features. Keep in mind that if you fail to include any legally required information, your cannabis packaging may be non-compliant with state law.
If you need some help selecting the best packaging options for your high-quality cannabis products, contact one of our BottleStore.com representatives at your convenience. Our packaging experts know the ins and outs of every cannabis container we sell, and they can help you find the packages you need to sell your products in compliant and consumer-friendly containers.
Also, BottleStore.com's inventory of cannabis packages can be combined with eye-catching labels. With some of our containers, you can even print labeling information straight onto the package itself. Either way, it's easy to incorporate your company's unique branding with any of our CBD product containers. Finally, don't forget to ask about our bulk and wholesale discounts! We can save you a significant amount of money if you're willing to purchase a large quantity of containers. We will even send you a free sample so you can try your chosen packages before buying in bulk.
---
---