Looking Ahead- How Businesses Have Adapted to the Curve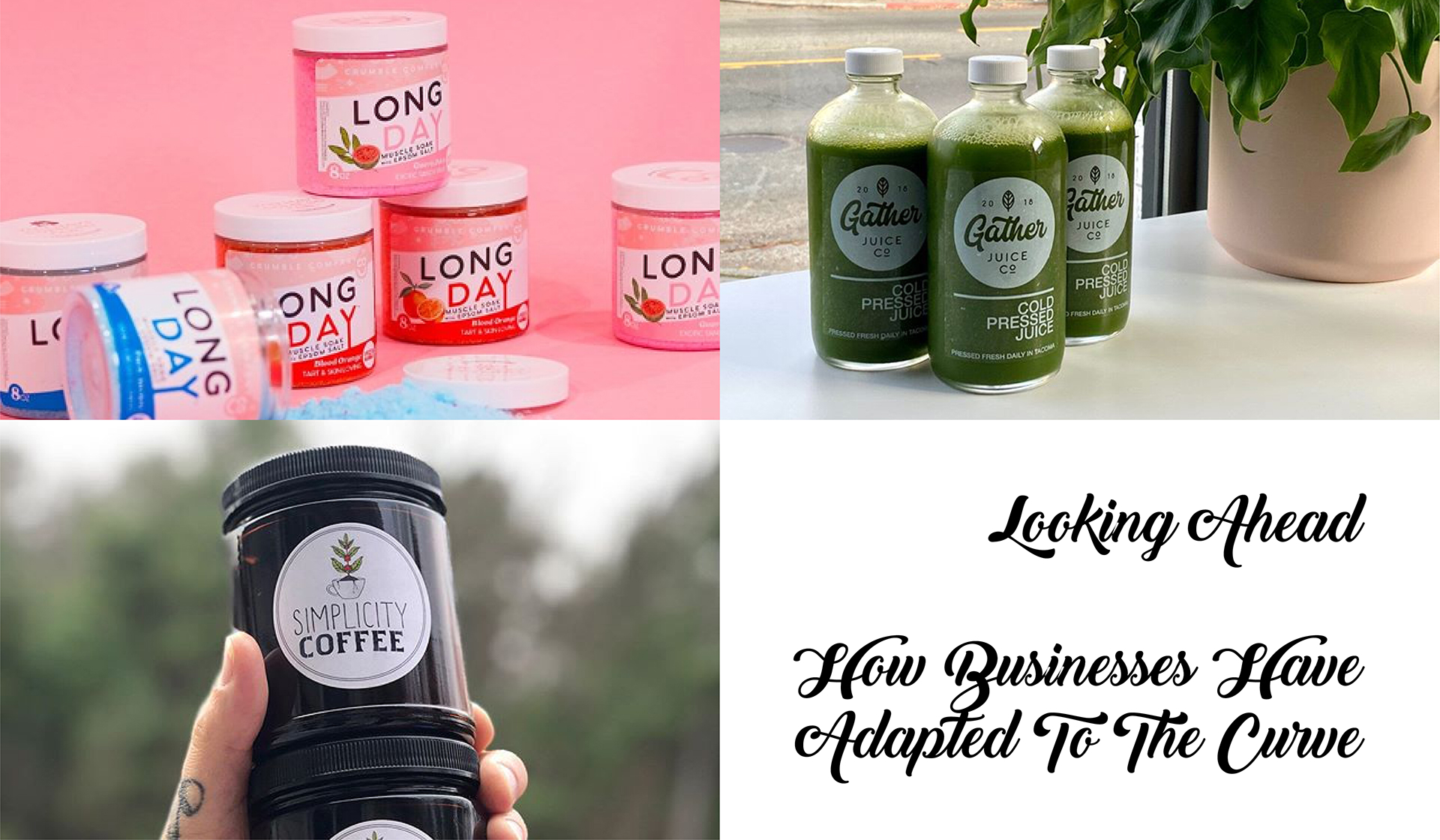 COVID-19 has caused many U.S. businesses to adapt to uncertain times and operate under the guidance of their local and federal governments. These challenges have not halted businesses from looking for more ways to serve while protecting their customers and employees, becoming inspirations for other businesses impacted by the virus.
Virtually interacting with three different customers, BottleStore has been able to gain insights on how their businesses' day-to-day operations have been impacted and what steps they've taken to adapt to the current situation.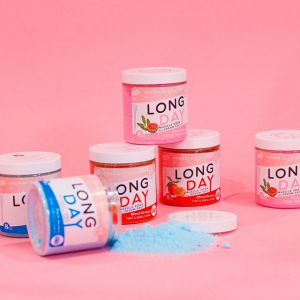 Crumble Candle Co., Email- Help@CrumbleCo.com, Website- CrumbleCo.com, Instagram- @CrumbleCandle.
Brandon Love, CEO of Crumble Candle Co., a Kansas based handmade cosmetics and home aromas business, said that COVID-19 has reshaped the overall business market and has allowed his own business to adapt to the current needs of clients while keeping a safe working environment for employees.
"We were lucky enough to plan a month ahead when the virus started in China, and began purchase orders in preparation of hand sanitizers, cleaning supplies and small comfort items for home. We upped production of wax melts and candles for example, to meet the new stay-at-home cultures demand. We also offered all members of staff a $3 raise to stay on the payroll through April, alongside custom masks, and other precautionary accessories. Protecting the team was #1 in preparation."
Brandon noted that Crumble Candle products serve customers right in their own homes.
"Most of our items are under $30 and meet a tight budgets needs, considering the massive income loss most families are facing."
When it comes to remaining in the know, Brandon believes in keeping up with pop-culture and major events so that his business can be prepared to shift gears at any moment.
"This is what allowed me to launch the right products at the right times. While Walmart was in panic, and out of cleaning supplies and sanitizer, we were bottling around the clock to meet demand- and did so, successfully! Keep your nose to the ground and watch the news as if it will impact your business always- because it always impacts your customers!"
Due to COVID-19, he pointed out that their social media channel has been quiet, but their online community and large e-commerce presence has kept them going strong.
"We've been a bit quiet on social media pages, but our online Facebook community has been a place of comfort for many customers and that alone has doubled our social presence, so we can get back to making products that matter… Due to the crisis, we have decided to halt all physical growth and even close our warehouse boutique permanently to better focus on online business."
Brandon's best advice for small businesses is to remain fluid, take risks and adapt quickly where you can.
"It's not the big that eat the small, but the fast that eat the slow. This is how giants like JC Penny and Macys have fallen out of favor for online alternatives like Amazon. If you're small, good, you can pivot FAST. Do it. Take risks. Change on a dime. They can't – you can. Use it to your advantage."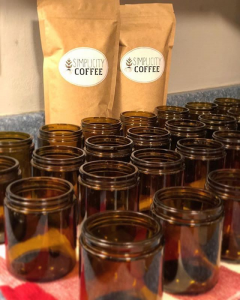 Simplicity Coffee LLC., Instagram-@simplicitycoffeellc, Website- https://simplicity-coffee-llc.square.site, Email- simplicitycoffeellc@gmail.com
Since the beginning of the Coronavirus crisis, Simplicity Coffee LLC., a Connecticut based coffee business that offers whole and ground coffee to customers online and in person, has begun to deliver coffee to customers' doorsteps to reduce the need to go to a drive-through or take a trip to a grocery store.
James, owner of Simplicity Coffee LLC. said, "With the high demand put on delivery services we decided delivering locally was a better way for the consumer to save money and stay safe. I don't know about you but a fresh bag of coffee sent to my mailbox makes me excited and ready to tackle the day."
He explained that social media has been a major plus during these times, not only for product marketing purposes, but also for connecting with people to spread positivity.
"It allows for us to get product info out in a creative way, along with being able to communicate with a larger audience at any given time…We also like to spread positivity and happiness daily, keeping mental health a priority. As we know during times like this it is extremely important to focus on mental health along with physical health."
James expressed the best advice he could give to small and growing businesses during this time is to always remain true to who they are and what their brand represents.
"This is not a time to quit, but more of time to get creative and innovative. Consistency is a major tool to use when it comes to business. If you're consistent everything else will fall into place."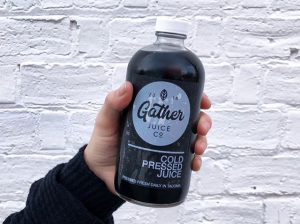 Gather Juice Co., Instagram- @gatherjuiceco, Facebook- Facebook.com/gatherjuiceco, Website- www.gatherjuice.co.
Gather Juice Co., a juice bar in Tacoma, Washington, continues to allow customers to explore a healthy lifestyle as they have adjusted their operations in accordance with social distancing measures.
"We're currently doing delivery only, 2 days per week. That's forced us to pair down the menu to just juice because nothing else really travels well. We closed completely for 2 weeks, a day or two before Washington's governor announced general shutdowns. There were so many people coming into the shop and we were also interacting with so many people daily that we couldn't know for sure that we weren't infected but just asymptomatic. So we just stayed home, didn't leave the house except for walks for 14 days."
Sean, owner of Gather Juice Co., reflected on how they thought of their customers first, while learning to operate as a delivery business.
"We saw pretty clearly that, at least in our opinion, the best thing we could do is encourage people not to leave the house at all. So we landed on delivery only. It's been an interesting learning curve for a business that did no delivery (even through UberEats, DoorDash, etc.) to move to 100% delivery only, but that's part of the fun of being a small business owner — you get to solve interesting problems on a regular basis."
Gather Juice Co., remained true to their identity as a business that provides customers with everyday nutrition and knowledge about the topic.
"We sort of look at juice as a nutritional insurance policy. It's so packed with good stuff that it can supplement a diet that might include a lot of pasta, pancakes and chocolate chip cookies right now!.. We always try to offer ways to educate people about health and wellness. That includes workshops, educational content, etc. We're not able to do as much right now because we're busy with delivery and because people can't gather. Our business is, by it's very nature, obviously health focused."
Praising the presence of social media and e-commerce, Gather Juice Co. recalled how both helped their business keep up with it's customers during this time.
"Instagram and Facebook have been an indispensable way to let our customers know what we're up to and also to communicate one on one. We've also found it important to just post regularly to keep our business front of mind for our customers. We'd be lost without e-commerce. We had a website before, of course, but it was just informational. We had to start from scratch and build an ordering and delivery system online that would allow us to continue to take orders."
Sean advised businesses to remain transparent with their customers and to know that customers also have the business' back too.
"I can't tell you how frequently we're interacting with customers online and our guiding principle is just be a real person, be honest and transparent. For example, if a customer asks for something we can't do, we try to thank them for the suggestion and, if we can't do it, explain why we can't. Your customers also want to support you — small business always feels a little tenuous, you're always a little worried that today is the day that the customers just decide they've had enough juice. We had no idea how delivery would go, but our customers have been so supportive, excited, nice, fun, etc."
---
---