Make an Organic Container Garden for Your Deck, Patio, or Balcony With a 5-Gallon Bucket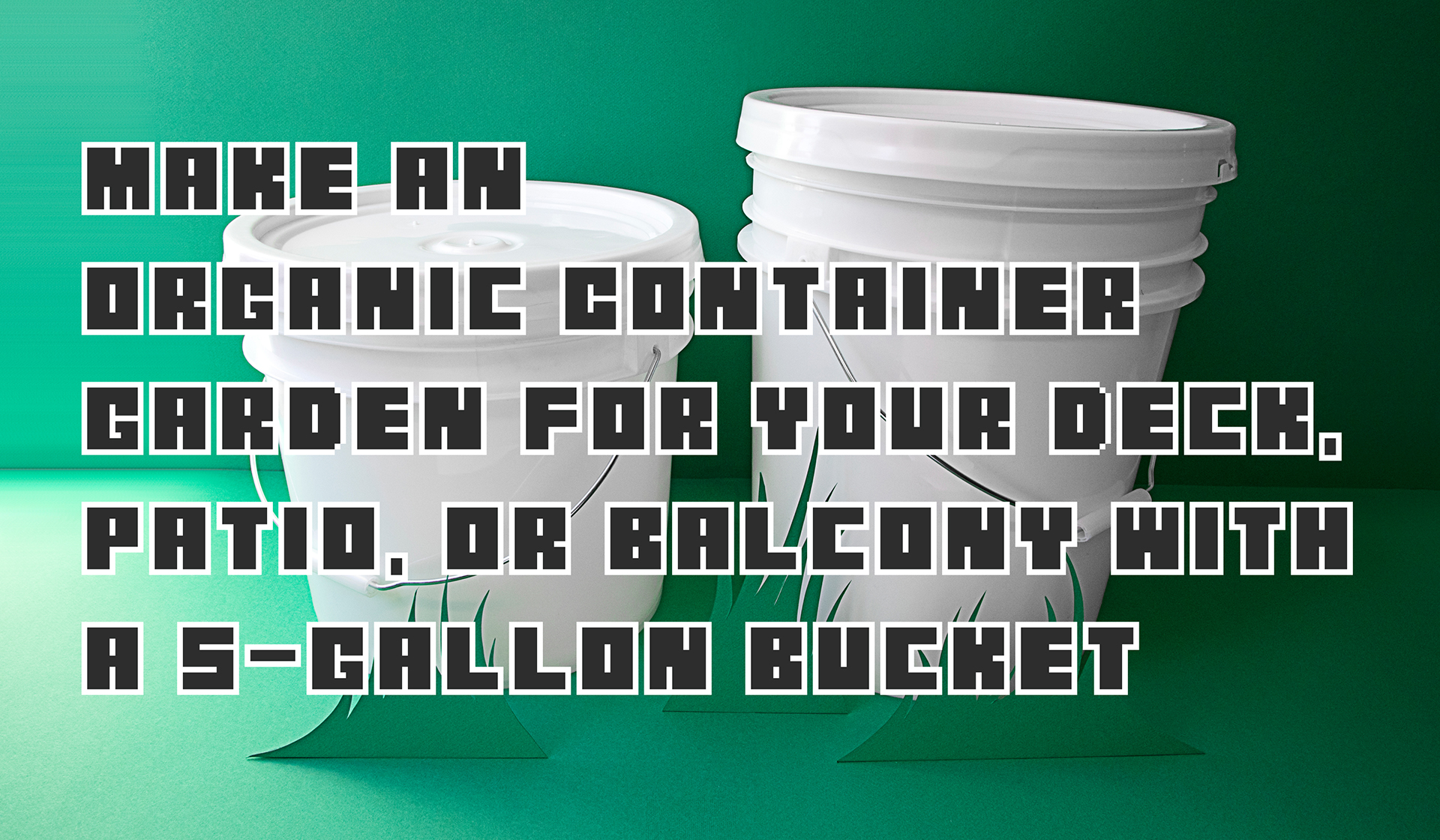 Organic container gardening is a fantastic option for people who don't have much outdoor space to work with. This form of gardening doesn't cost too much money, and it's also not terribly complicated. At its most basic level, organic container gardening involves growing organic plants in pails or buckets, rather than in a traditional garden plot.
There are many advantages of organic container gardening, starting with the fact that you don't need a yard at all. You can plant a thriving container garden on a deck, patio, or balcony. As long as it's receiving plenty of sunshine, there are very few limits to where you can successfully grow organic plants in a container. 
In addition, it doesn't require much money or expertise to get started, and only a few basic tools are necessary. You also don't usually need to do any weeding, as container gardening doesn't present many opportunities for unwanted plants and weeds to crop up. 
The first step is to purchase your containers. At BottleStore.com, you can find everything you need to start your own organic container garden in our Gardening and Hydroponics collection. Depending on what you're growing — and specifically, how much space you need — we typically recommend one of our HDPE round plastic pails. 
You can get these pails in either 3.5-gallon or 5-gallon sizes, and either one is an excellent option for container gardening. Either way, you'll want to drill a few holes in your pail so that you don't flood your plants. Keep in mind that you don't want too much water pouring out of your drainage holes though, because it takes some valuable nutrients with it. 
Next, you'll want to purchase or make your own organic potting soil. If you aren't operating on a tight budget, you can simply buy a pre-made organic growing mix, although these can get rather expensive in a hurry. If you would prefer to make your own, all you need to do is blend garden soil in equal portions with compost. 
At this point, you're ready to plant your veggies or herbs. Some plants are easier to grow in organic container gardens than others, due to the limited space available for root systems. Some of our favorite things to grow include herbs of just about any kind, along with cucumbers, peppers, beans, tomatoes, eggplant, radishes, squash, lettuce, and other leafy greens. 
There isn't too much upkeep required with an organic container garden. As we've already mentioned, there's typically no need for weeding, and the nature of container gardening also means there's rarely much of a requirement for pest control. Because your plants are elevated, it's harder for bugs and other animals to access your plants, and you also don't have to worry about pests, bacteria, or fungi that often live in the soil. 
Of course, you will need to water your containers regularly, and also make sure to move them around from time to time if they don't get enough sunlight, or if the light they do receive is uneven. In addition, you might need to occasionally add more compost to dampen your potting mix, or add some perlite to help with drainage if it gets too wet. 
Do you want to discuss plans for your organic container garden with one of our expert BottleStore.com representatives? Contact us today to get assistance in choosing which of our many products best suits your gardening exploits. Our reps can walk you through the different options for containers, and if you want to start a large organic container garden, they can even discuss bulk or wholesale discounts to keep your costs as low as possible. 
Organic container gardening is a fun and inexpensive way to grow your favorite plants just about anywhere, and BottleStore.com is here to help any way we can! 
---
---