Spotlight- Root and Muddle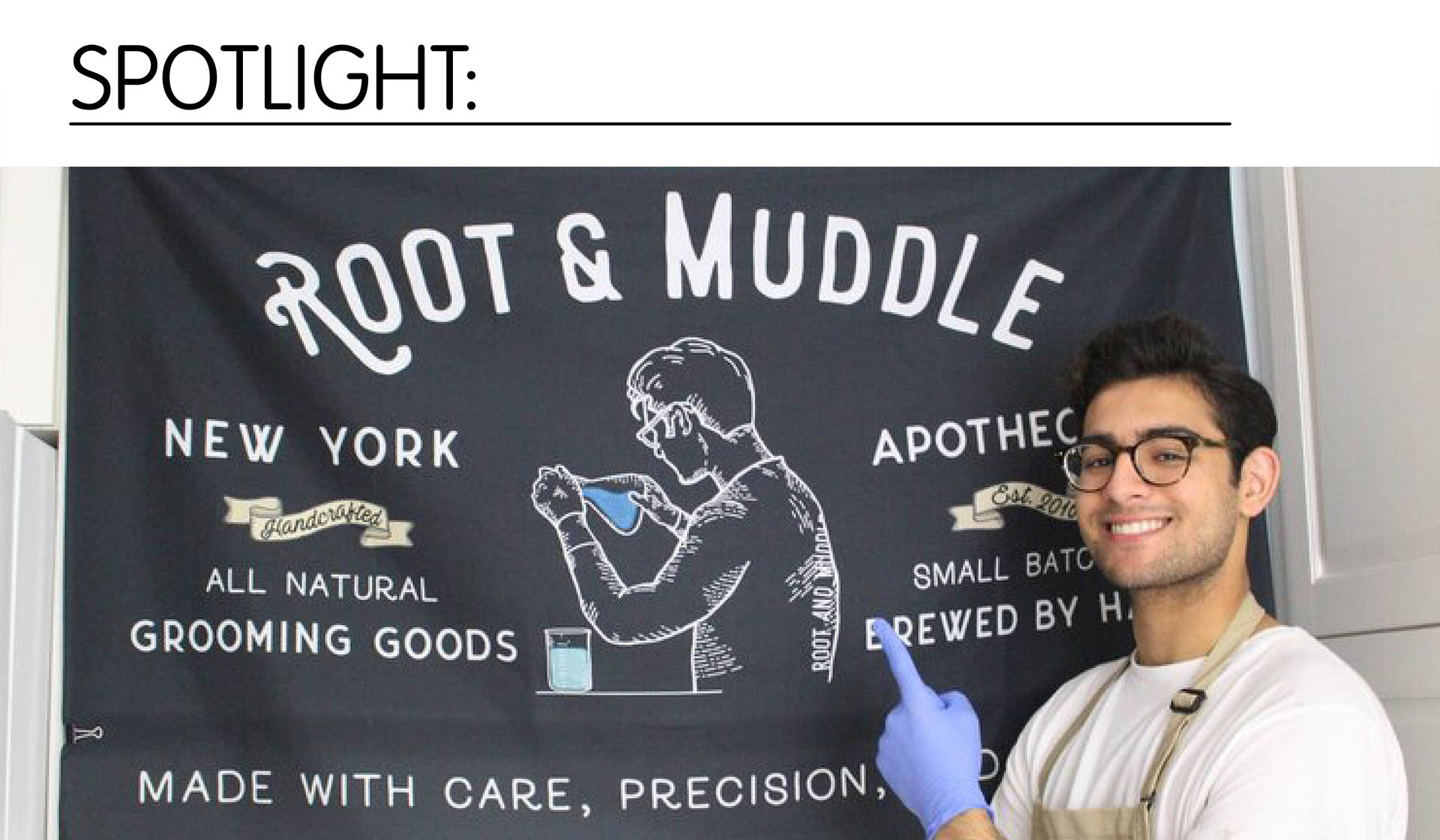 Root and Muddle., Website- www.rootandmuddle.com, Email- support@rootandmuddle.com, Facebook- @rootandmuddle, Instagram- @rootandmuddle.
Bottlestore customer, Root and Muddle, is a New York based apothecary that manufactures hair, skin, and body products made in-house from well-sourced organic ingredients. Their products are formulated using only therapeutic-grade essential oils, natural Indian Ayurvedic oils, and all-natural ingredients that are sustainably sourced. The mission for the company is to deliver "products with ingredients that are good for you and good for the environment," according to the Root and Muddle website.
Shiv Singh, Root and Muddle's co-founder and head brewer, spoke on how Root and Muddle started as a passion project for himself and his sister Meena in 2016. As mentioned in the "about us" section of their site, "I always had a passion for handcrafted grooming products and fragrances since my early teens. At the age of 17, I decided to combine my passion for grooming products and my interest in molecular chemistry to create some of the most unique products on the market."
Along with making products that are good for their customers and the environment, Root and Muddle created products that separated themselves from the rest of their competition, like their solid colognes. "Liquid colognes are usually alcohol based, which means they evaporate quickly and the scent doesn't last very long. Solid colognes, on the other hand, are butter and wax based. This means that the scent matures throughout the day and lasts longer than a spray," as noted on their website. Shiv noted the importance of their solid colognes' packaging for portability and appearance for their customers and how Bottlestore helped them in filling their needs for their products, by supplying the type of quality and quantity of products and services needed to meet their demands from the beginning. "Root & Muddle initially launched with our Black Label solid colognes, which come in 3 scents. We looked at other solid cologne brands to get inspiration, from lip balm tins to stone jars, and we decided to keep it slick and simple in metal round tins. As for our hair products, we considered metal tins and plastic jars, but there was such a high quality feel to your amber glass jars. Your customer support, super fast shipping, and personal accommodations are unmatched by any other packaging brand we have come across."
Shiv believes that packaging is an integral part of engaging with their customers, but is also something that many companies don't put enough attention towards. "Packaging is one area that is often overlooked in most brands. For Root & Muddle, however, we take packaging very seriously and look at it holistically. To us, a product is more than how it performs, a product also about how it looks and feels. We want to create a luxury brand for the everyday person."
He described Bottlestore providing Root and Muddle with unique and slick looking packaging that helped them stand out from most brands in the handmade grooming market. "We frequently get told that the packaging of our spray products (Rio round bottles) like our Texture Spray and Green Tea Facial Toner look "clean and luxurious", according to one customer." In closing when asked about what advice he could provide other businesses looking for the right packaging solution, Shiv said be ready to experiment and don't be afraid to stick out. "My biggest piece of advice is to really experiment with different packaging. Understand your market and the presentation of products/brands and try to differentiate yourself from the majority. Don't be afraid to try out new packaging designs."
---
---