Sprinkles Go on Everything: Delight Your Customers With These Bake Shop Specialties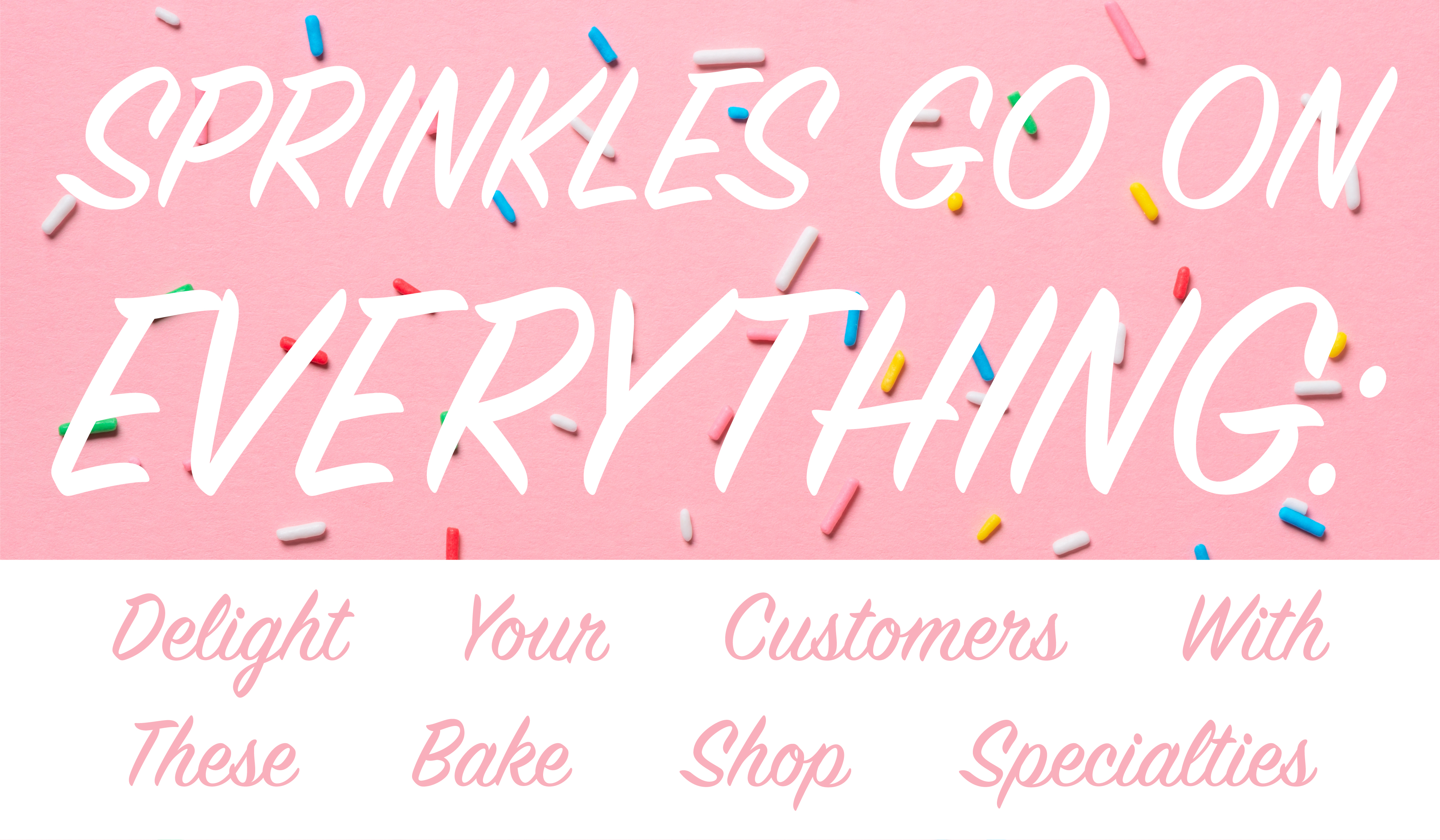 What better way to add a little extra sparkle into your customers' lives than to top an already-sweet dessert with sprinkles? Sprinkles are like a festive party, adding a splash of practically any color to an already delightful desert.
If you're looking for new ways to incorporate sprinkles into your confectionary creations, read on for some quick recipe ideas that contain all-things-sprinkles!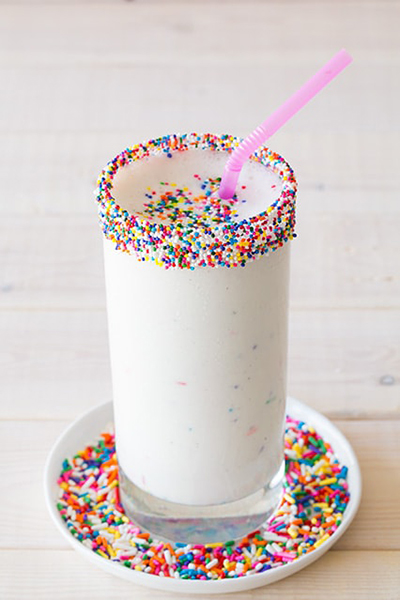 Jazz Up a Classic Shake
If yourshop specializes in more than just baked goods, offer customers a twist on the classic milkshake. Rainbow sprinkles not only go well in a chocolate or vanilla shake, you can also create a celebratory presentation using sprinkles on the outside of the glass.
Make a shake by combining vanilla ice cream and milk in a blender. You can add a squeeze of chocolate sauce or throw in some funfetti-style dry cake mix for added birthday cake flavor.
To decorate the outside of your glass, brush on a light coating of corn syrup around the rim of the glass then roll in your favorite kind of sprinkles.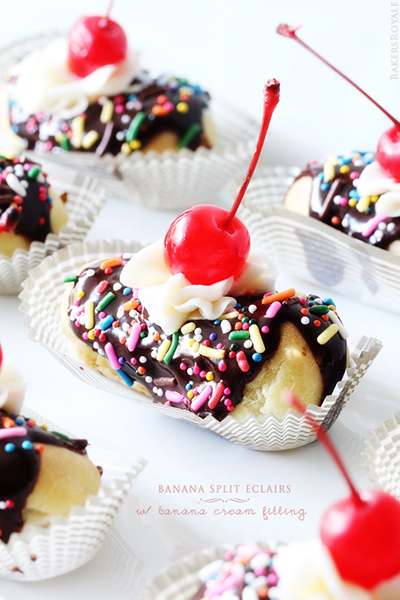 Baked Banana Splits
Following an ice cream theme, you can transform a traditional éclair into a tasty work of art. Making the eclairs is relatively easy, first creating the pastry then filling it with a tasty banana cream.
Each éclair can be topped with a rich chocolate glaze to up the wow factor. Transforming your éclairinto a sundae only takes a handful of sprinkles and a maraschino cherry on top.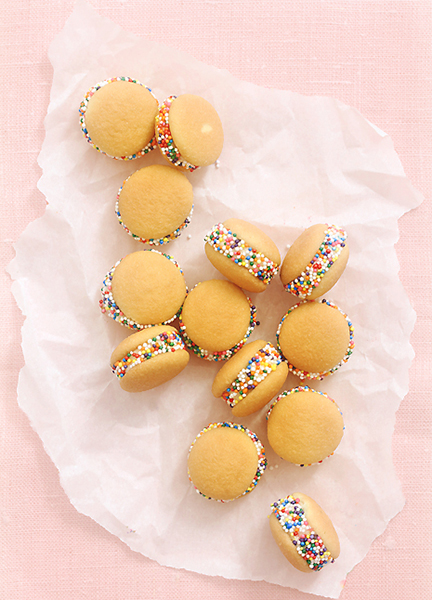 Peanut Butter and Banana Sandwiches
If the idea of a peanut butter and banana sandwich makes your taste buds happy, you can create a bunch of tiny peanut butter and banana sandwiches to appease your customers in no time at all.
To make the sandwich, replace bread with mini vanilla wafer cookies. Add a dash of peanut butter on the flat side of one cookie then add a slice of banana. Once the sandwich is put together, roll each one in your favorite sprinkle style and color.
Not only are these PB and banana bites easy to make, they're small enough to just pop right into your mouth. Because you're using fresh banana, it's necessary to serve these treats fresh.
Sprinkle-Happy Krispie Treats
Fans of Rice Krispie treats will adore a beautifully sprinkled variation of this popular snack. All you need to get started is a stick of butter, a box of crispy rice cereal, and a bag of marshmallows.
You can tailor treat flavors by using flavored marshmallows, like chocolate or strawberry, instead of the traditional style. You may also want to change up your cereal choice opting for fruit-flavored krispies or the cocoa variety.
Heat the stick of butter then add marshmallows until thoroughly melted. Mix in the cereal well, ensuring all of it is coated with the warm marshmallow.You can pour the mixture onto a piece of parchment paper, adding your favorite sprinkles before it cools completely toensure they stick.
For added fun, use your best cookie cutters to shape the treats into a variety of designs.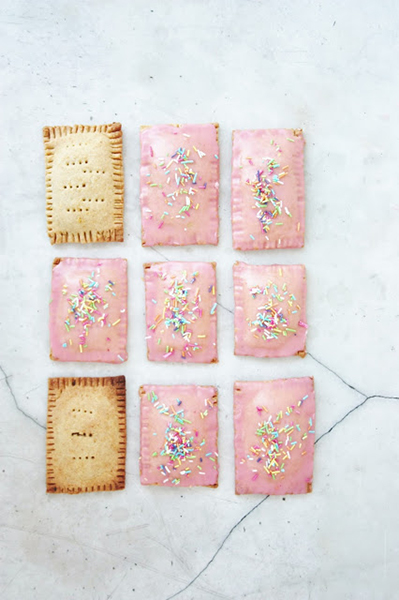 Handmade Breakfast Pops
Who doesn't like a warm-out-of-the-toaster Pop Tart to start the day? You can make your own version of tartseasily enough, opting to fill each with your favorite fruit preserves and topped with a homemade icing plus some colorful sprinkles.
The tart dough is made with flour, butter, powdered sugar, egg yolks, and a pinch of salt. Ingredients are mixed together to form a dough, which needs to be refrigerated for at least an hour.
Once cold, the dough should be rolled out and cut into rectangles, then brushed with a bit of egg yolk. Use a spoonful of your best fruit preserves then add the top of the pop, using a fork to create edges all the way around.
Baking takes about 15 minutes and after a brief period of cooling, you can add a simple powdered sugar and water glaze or another favorite icing, before applying your choice of sprinkles, like sugar sprinkles in a variety of colors.
Brilliant Brownies
Brownies are a bakery staple, so richly delicious it's hard to eat just one. Follow your favorite brownie recipe, bake, and let it cool before decorating the top.
Step up your brownie game by adding an equally rich chocolate ganache on top, which not only tastes great, it holds your colorful sprinkles in place.
There are so many ways to add sprinkles into your favorite baked goods. Sprinkles not only make every taste better, they can increase your customers' happiness with the bursts of bright, cheery colors.
If you're already making sweet treats for the masses and need storage solutions for your extra sprinkles or baked goods, speak with the experts at BottleStore.com to learn about options for packaging your home-baked goods.
---
---