The 15 Most Creative Candle Jars of All Time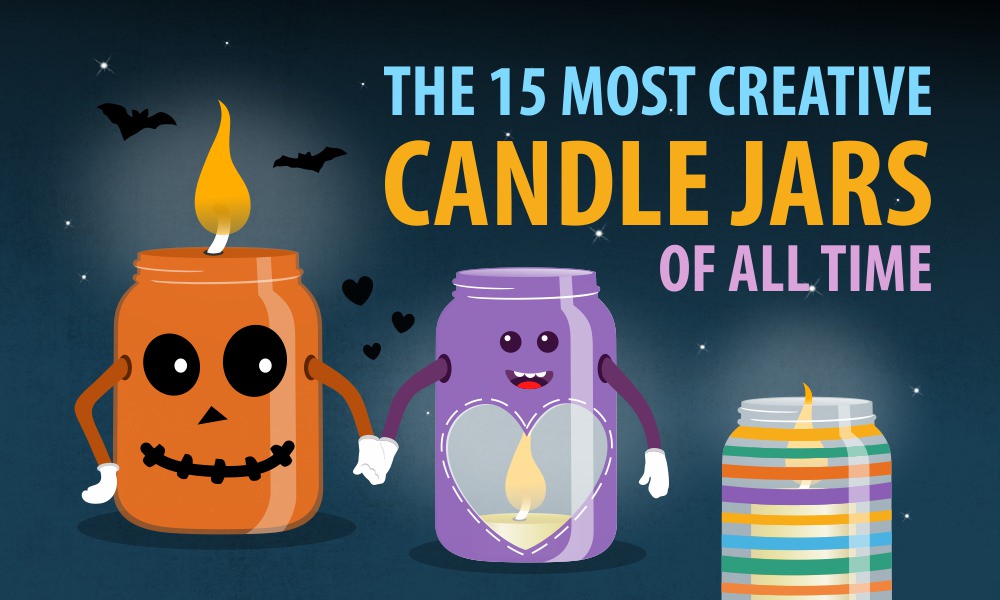 An empty glass jar is the perfect canvas for creating a candle jar for your home with your own personal touch. Handmade candle jars are relatively easy to make and can be designed to look exactly like you want. These days there are many flameless, colorful, battery-operated candles to add to your glass jar creations. So many ideas are being created every day by crafters who want a distinct look for their candle décor.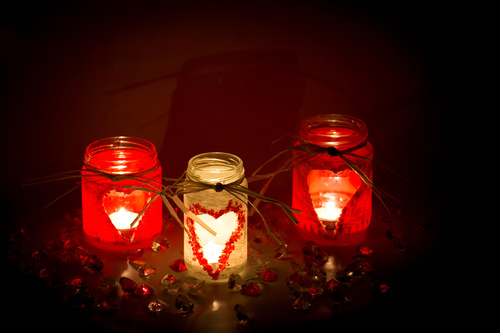 Let's take a look at 15 of the most creative candle jar ideas of all time:
The Chalkboard Candle

Using an empty glass jar, chalkboard spray paint, and LED candles, you can create your own chalkboard candle. It makes an ideal centerpiece for special occasions including weddings, showers, and birthday celebrations. The jar needs to be coated evenly in the chalkboard paint. You can use painter's tape to design a special cut-out design where the light will shine through when the candle is lit. Chalk markers can be used to personalized the candles with the newlywed's name, a custom thank you note, or simple drawings.

Twig Candle Jar

Take a simple glass jar and turn it into a piece of nature-inspired art. The only supplies you need are an empty jar, LED candles, a hot glue gun, and a handful of twigs. Sort twigs into like sizes and glue them to the glass using hot glue. For added flair, twigs can be painted in metallic gold or silver, or any color of your choice, before gluing. These twig candles would be ideal on your summertime porch or patio. They can also serve as a lovely centerpiece for your holiday dinner table.

Watercolor Candle Jars

This project is a wonderful way to create useful candles and get some use out of leftover paint. Use a small bowl to mix paint and water together to make a watercolor mixture. Several colors can be used (mixed separately) to create beautiful candles. The watery paint mixture will be applied to the inside of the glass and allowed to dry completely. Apply the paint colors lightly. It's okay if they run together a little. Mixing them up too much will result in a brown shade.

Film Strip Candle Jar

Beautiful girl sitting on a sand outdoors handmade chandelier from a jar using twine

This is a super-cool idea for anyone with a collection of old photograph negatives. Use a glass jar of your choice but a simple round jar would be best. Wrap negative photo strips around the jar to figure out how many will fit before gluing. Adhesive strips or glue dots are a good way to secure the negatives to the glass, especially if you plan to change the pictures from time to time. Add an LED flameless candle to the jar and light it up for a new perspective on your old pictures.

Newsprint Candle Jars

If you like a vintage look or have a passion for books, these inspired candles are perfect for your personality. Select a glass jar of your choice. For a display, use some taller jars with smaller jars. Use pages from old books or copies of vintage newsprint. Cut the paper to match the size of the glass jar. Use glue dots or adhesive strips to secure the paper to the jar. Add the LED candle and enjoy the soft glow from behind the pages.

Colored Glass Jar Candles

handmade chandeliers from a jars with a twine placed on a sand outdoors

Add your favorite color to a new candle jar using Mod Podge and food coloring. Pour a little Mod Podge in a separate container and add a few drops of food coloring until you achieve the color you like. Mix well. Apply to the inside of the glass with a small paintbrush, using thin coats to cover the entire jar. Allow to dry complexly. Add an LED candle and enjoy the lovely colors.

Decoupage Candle Jar

Make fun and festive candles using decorated tissue paper and Mod Podge. Tissue paper is available in multiple colors and designs. Mix and match your choices to create centerpieces for festive birthday parties. Simple size the paper up to the jar and trim off the extra. Apply a little adhesive initially to stick the paper to the jar. Wrap the tissue around the jar, sealing it on the glass with adhesive. Alternatively, you can use a paper punch in different shapes to cut through the paper. Glue just the shapes around the glass jar to achieve a desired look. Add a flameless candle or pour your own wax mixture into the jar, adding a wick to complete the candle.

Glitter Candles

Make a glittery candle jar easily to light up your night. Choose a smaller sized glass jar. Coat it in Mod Podge. Hold the jar over a piece of newspaper and sprinkle any color glitter generously, covering all of the adhesive. Gently tap the jar to remove excess glitter then allow the jar to dry completely. Add a flameless candle or tea light. A creative way to add some extra sparkle to your home or special occasion.

Beaded Candle Jar

Crystals, pendants, charms, plier, glass hearts, box with beads and accessories to create hand made jewelry on old wooden background. Top view

Visit your local craft store and pick up a bag of flat-sided beads in a variety of colors or the solid color of your choice. Using a hot glue gun, apply the beads one at a time in any design you wish. A few beads around the jar create a fun, bubbly effect or fill the entire jar surface with beads. Add an LED flameless candle or pour in your candle wax and wick.

Winter Luminary

Make a simple winter-themed candle using pine cones and fake snow in no time at all. A medium sized glass jar would be best for this project. Use a hot glue gun to add pine cones gathered from the outdoors. Fill the bottom of the jar with a few spoonfuls of Epsom salts to give off the illusion of snow. When the glue is dry on the pine cones, brush on fake snow (available at craft stores), highlighting the edges of the pine cones for an authentic look. Add a flameless candle and place in your windows for the holidays or on your dining table to welcome guests.

Fall Fantasy Candle Jar

Invoke the feeling of autumn and preserve a little of the season at the same time. When the leaves start changing their color, gather a few in good condition. Using Mod Podge, adhere the leaves to a glass jar decoupage-style. When leaves have dried completely, add a clear coat of varnish to seal the jar. A handful of small earth-toned pebbles added to the bottom of the jar will make the perfect floor for a LED candle light.

Lace Up Candle Jar

If you are a fan of all things lace, adding some of your favorite fabric to a glass jar will make a sure statement piece. Lace material should be matched up to the jar. Trim off the edges. Use a glue dot to tack the end of the lace to the jar for easier gluing. Using Mod Podge, apply a layer of the adhesive over the lace material. Let dry completely. Add a flameless candle to the jar for a romantic-looking candle.

Beachy Candle Jar

If you love the beach, take a little home with you and create the perfect candle. A large-sized glass jar is a good choice for your project. You can use the Mod Podge and food coloring technique mentioned above to create ocean blue colored glass. After the adhesive dries, add an inch or two of sand and set your candle on top. Tie or hot glue your favorite shells around the mouth of the jar for a summer fresh lighting idea.

Color Salt Candles

A simple craft with big results, the color salt candle jars are perfect for any occasion. You'll need a bag of Epsom salt and a box of food coloring. Add salt to several different bowls and place a drop of food coloring in each. Mix the salt until the color is even. Pour one color of salt from the bowl onto a paper plate. Put your hand inside the jar and apply Mod Podge to the outside of the jar. Roll the jar in the plate of colored salt. Shake off extra salt and allow jars to dry completely. Spray several layers of clear protectant on the jar, allowing them to dry between coats before use. Place a tea light or LED flameless candle in the jar.

Halloween Luminaries

Create a spookily delightful path for trick-or-treaters with Halloween-themed glass jar candles. Choose an assortment of glass jars in different sizes. Use construction paper to make simple cutouts of ghosts, spiders, and other symbols of Halloween. Cover the jars in torn pieces of tissue paper with Mod Podge. Layer the paper until the desired color is reached. After the adhesive dries completely, start adding your Halloween cutouts to the jar, applying Mod Podge to secure. Let dry. An orange or purple flameless candle is a great choice for lighting up the luminaries. You can line your driveway or walkway for great-looking holiday décor.
Inventing your own glass jar candle design is the fun part of crafting. Make candles to compliment your home's décor or gift them to friends and family members. Create candle jars which match their personalities, favorite colors, or inventive designs.
---
---