What Do You Do with Empty Glass Jars? 21 New Ideas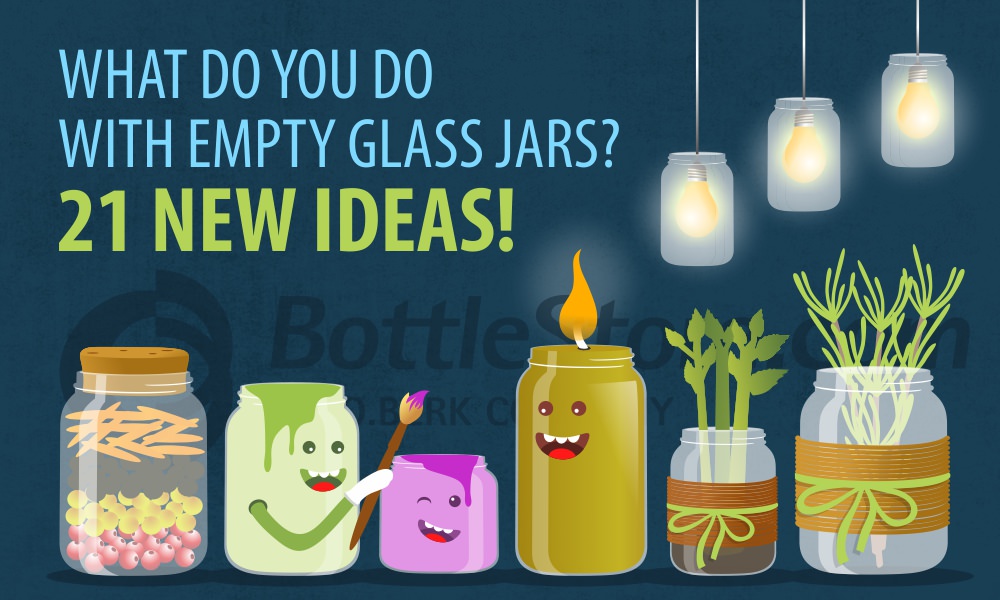 Crafty folks find glass jars to be a versatile medium to work with in a variety of projects. Glass jars range in a variety of sizes and shapes so you can use them in all sorts of ways around the home and garden. From DIY projects to handcrafted gift ideas, glass jars are an essential element in a crafter's toolbox.
Here are 25 creative ways to use empty glass jars:
Home and Garden
Tea Light Holders
Set the mood at your next party by creating tea light holders from empty glass jars and items from your pantry. Fill the jar ¾ of the way with kernels of corn, dried peas or beans based on your color scheme or party theme. You can also mix a variety of colored beans for a more festive celebration.
Twig Vases
Create a simple, natural-looking twig vase for your table top. Chose the appropriate size glass jar to serve as your vase. Collect twigs and sticks from the backyard and cut them down to a size just slightly larger than the jar. Pruning shears are a good tool to use for trimming the sticks. Using a hot glue gun, start gluing the sticks to the jar in a circular pattern. Once the glue has set, you've created a fun and functional vase for your next bouquet or collection of fresh-cut flowers.
Twine-Wrapped Jar Sets
Twine is an easy-to-use craft staple. Create decorative twine jars in just minutes to hold your pens or favorite flowers. Simply apply a strong craft glue suitable for glass crafts and wrap twine around the jar. Start at the top and work your way down. Snip off excess twine at the bottom of the jar upon completion. Create a collection of twine-wrapped jars in a variety of heights to make a stunning centerpiece for your next dinner party.
Hanging Garden Lanterns

Turn a few empty glass jars into the highlight of your nighttime garden party. Any sized jar will work. All you need is a spool of twine, a pair of scissors, and some knotting skills. Craft a hanging formation from the twine which fits around the glass jar and allows it to hang freely. There are several designs you can try, depending on your ability to tie knots. Once the jar is secured with the twine, a small candle can be inserted and used to light up your party. Tie jars in a cluster for a brighter lit area. Jars can be hung from a porch or the tree branches to create a magical scene. If you have access to electricity, you can also make hanging lanterns using standard lighting kits. Use the glass jar as a unique cover.
Fabric-Wrapped Jars
Your favorite fabrics can be incorporated in new ways using some glue and a glass jar. Choose the fabric, the right sized jar, and grab some craft glue and scissors. Cut the fabric into strips – any width you choose. Fabric strips should be dipped in glue to cover both sides. Strips can be placed on the jar until completely covered. Allow the fabric-covered jar to dry fully before trimming extra pieces of fabric away. Flameless tea lights can be used inside the jars. The light will produce a soft glow, highlighting your fabric. This project is a great way to complement your current décor with your own personal touch.
Emergency Candles

Empty glass jars can be an essential part of your survival kit. All you need is a bag of soy wax flakes and candle wicks, available at any craft store. Start making your emergency candles by placing your wicks in the glass jars. The wax will need to be melted using a double-broiler or a two pot cooking method – using a smaller pot fit inside a larger pot filled with water. Boil the water and add the wax flakes to the smaller pot. Flakes will melt gradually. When fully melted, pour the wax into a spouted container to make filling your candles easier. Center the wicks and allow wax to cool and harden. Store candles in a dry, cool place until you need them during a power outage or other emergency.
Word Jars
Use empty glass jars to create personalized containers for friends or holiday celebrations. Use a bottle of puffy paint to write a name, a special message, or draw a symbol. Allow the puffy paint to dry fully. Use a colorful spray paint to cover the outside of the jar and your design. It may take 4 or more coats to ensure color coverage. Be sure to allow paint to dry between coats and for several hours after painting before adding flowers or other festive decorations to the jar.
Marquee Lighting
Create a unique marquee light for your family wall. Paint your initial of choice on a piece of sturdy wood. After paint dries, drill holes in the back of the board several inches a part in the center of the letter. Light spacing will be based on the measurement of the string of lights you use. Light bulbs will be pressed through the back of the board so they show in the front. Glue glass jars over the bulbs to form your marquee sign.
Oil Lamp
Old-fashioned oil lamps are still in high style for your outdoor entertaining. They are simple to make and look wonderful when lit. Choose a glass jar with a lid and fill it with lamp oil. Make a hole in the top of the lid and pull the cotton wick through before securing the lid. Let the jar rest for an hour or more so the wick can absorb the oil. Light and enjoy.
Natural Room Freshener
Forget the chemical sprays! Create your own natural room freshener using fresh herbs from the garden and your favorite fruit. Gently boil your choice of herbs and fruit with a small dash of vanilla extract and two quarts of water. Allow the mixture to simmer. Add the cooled mixture to a glass jar with a secure lid. You can also use a vented lid to release the fresh smell from the mixture for several days. Replace ingredients as necessary.
Bird Feeder
Use a small metal chicken feeder attached to a glass jar to create a functional bird feeder for your backyard feathered friends. The jar can be filled with your favorite bird seed. The chicken feeder is then attached by screwing it on to the jar. Use knotted twine to create a hanger if you want the feeder to hang from a tree. Not only is the feeder good for the birds, it also adds a classy decoration to your outdoors.
Playful Bubbles

Bubbles are a staple in every kid's life. Use empty glass jars to make your own bubble solution. All you need is a jar big enough to hold four cups of hot water, 2 tablespoons of glycerin, and one cup of liquid dish soap. Secure the lid and shake well. Bubble wands can be found on Amazon.com. This also makes a great gift for the children in your life.
Fun Foods
Jarred Birthday Cake
For a new twist on an old classic, serve your next birthday cake in a glass jar. Bake the cake as directed. When cooled, cut circular pieces of cake big enough to fit into the jar. Add one layer of cake then top with icing. Add another cake layer and more frosting. Not only will the cake taste extra good, it can also serve as a party decoration.
Powdered Sugar Shaker
For your Saturday morning French toast breakfasts, add powdered sugar into a glass jar. Use a nail to hammer a few holes in the top of the lid and viola – the perfect powdered sugar dispenser without the mess.
Salad Jars

Use a large sized glass jar to prepare you next salad. Add all of your favorite ingredients into the jar and chill. Bring your favorite dressing along. When you are ready to eat, pour in the dressing, replace the lid, and shake.
Herb Garden
An array of glass jars in various sizes will help you create a lovely herb garden for indoors or out. Fresh herbs like cilantro, rosemary, and thyme are easy to grow. You'll wonder how you've ever lived without access to fresh herbs for every meal.
Sun Tea
Sun tea is the perfect summer treat. Select your favorite herbs including mint and chamomile to fill up a jar. Add water and set out in the sun for 6 to 8 hours. When the tea is done, strain out the herbs and discard. The tea can be sweetened as desired and served over ice. Sun tea will last in the refrigerator for up to a week – if it lasts that long!
Organization
Cupcake Cup Holder
If your pantry is always strewn with loose cupcake wrapper, try storing them in a glass jar. They will be easy to see and the glass jar storage will help the cups maintain their shape. Bonus tip! Use a glass jar to serve cupcakes at your next gathering or to give out as gifts during the holidays.
Desk Caddy
Keep your desk neat as a pin with a homemade desk caddy. Mount jars on a sturdy base using clamps. The jars make it easy to store your pens and pencils to keep your desk space organized. This can also be a great way to store painting supplies with convenient access while you are working.
Paint Storage

When you purchase paint for home projects, you likely will have paint left over. Use airtight glass jars to store the paint. Not only will this storage method protect your paint, it will be easy to tell which colors are inside. For extra convenience, add a label to the jar and note which rooms or projects the paint was used on. When it's time for retouching, you'll know you're picking out the right paint colors.
Time Capsule
For a wonderfully fun project with your entire family, use an empty glass jar to house sentimental items from each member of your family. Add notes, magazine pictures and articles about current events. The time capsule can be highly personalized in any way you choose. Be sure to include a note inside the jar listing the time, date, and family members who participated so you'll remember all of the details in the future. The capsule should be buried in a safe location. Make yourself a note or take a picture of exactly where it is buried. Choose the time frame you want to use for retrieving the capsule later on. Whether it's five or ten years down the road, re-opening the capsule will be an amazing experience.
Crafting with glass jars is easy because there are so many options available. Whether you need small or large-sized jars, BottleStore.com can accommodate your order. Get crafty with our selection of colored jars, glass vials, jugs, and glass bottles. Our large inventory of high quality products is sure to make your next project easy, affordable, and fun.
---
---