Go With The Full Size: Refillable Sustainability For Hotel Amenities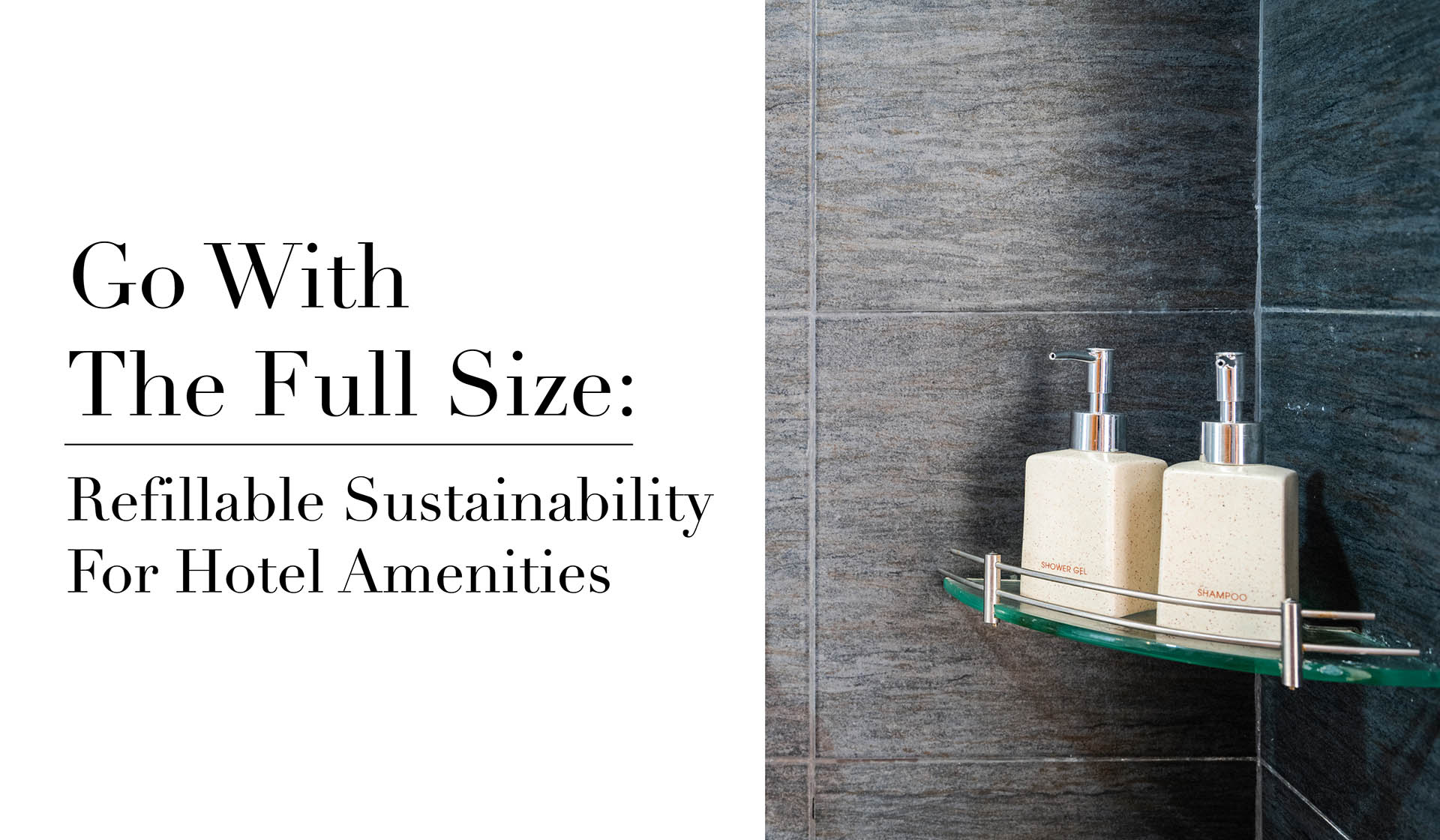 As hotels continue to search for amazing new hotel amenity products, you may have an advantage over other suppliers if you start selling your personal care items in bulk.
An estimated one million shampoo, lotion, and other hotel amenity bottles are tossed into the trash each year, increasing the environmental footprint of the company and the overall cost of guest amenities.
How Bulk Products Can Make a Difference
One way to cater to the hotel industry with your line of amenity products is to offer bulk-sized products that can easily refill the smaller sized bottles around the sink.
You can also cater to hotels that are interested in reducing costs and their environmental impact by offering full-sized lotion and shampoo dispensing bottles. These full-size bottles are an excellent option for hotels who want to avoid the added cost of the easily pocketed containers most commonly used in the hospitality industry of today.
Opting for full-sized plastic or glass containers for personal care products not only saves hotels a significant amount of money in a single year, they can also prevent a lot of annual waste.
Larger sized bottles of shampoos and other common hotel amenities also increase the efficiency of the housekeeping staff as they only have to refill the larger sized bottles once a week or less.
The Difference in the Customer Experience
The small bottles of personal care essentials are convenient for many travelers – but not for all. While some hotel guests prefer the smaller sized bottles to take home, many are more interested in the convenience of the available products for the duration of their visit.
By offering full-sized bottles of shampoo and shower gels, guests have the luxury of always having enough product to use throughout their stay without having to ask for more.
Large bottle sizes also give the guest the opportunity to truly enjoy the products being offered, a benefit for your company and a way to increase direct sales to the consumer. Many travelers are first introduced to their new favorite products after using them during a hotel stay.
Making Your Pitch as a Supplier
Approaching the powers that be at the hotels of your choice involves highlighting not only your products, but the benefits of full-sized bottles over the traditional sample sizes.
By creating full-sized versions of the most popular hotel amenities, like shampoos, conditioners, shower gels, and body lotions, you can supply hotels with what guests most want while further building your brand.
Of course, you will still need to account for the cost of packaging trial-sized bottles of your best products for marketing purposes. You should also make the effort to find durable, yet attractive bulk-sized containers for your liquids and lotions.
An attractive, unique bottle is both appealing to the hotel purchasing department and memorable to the guest who is using it.
At BottleStore.com, our experienced packaging experts can provide personalized assistance to help you find the right bulk size bottles and trial size hotel amenity containers that reinforce the quality of your personal care products, while meeting the high standards of the hotel's image.
https://www.ahla.com/resources/green-guidelines-refillable-amenities-4
---
---