What Steps Are Major Hotels Taking To Reduce Their Environmental Footprint Where Hotel Amenities Are Concerned?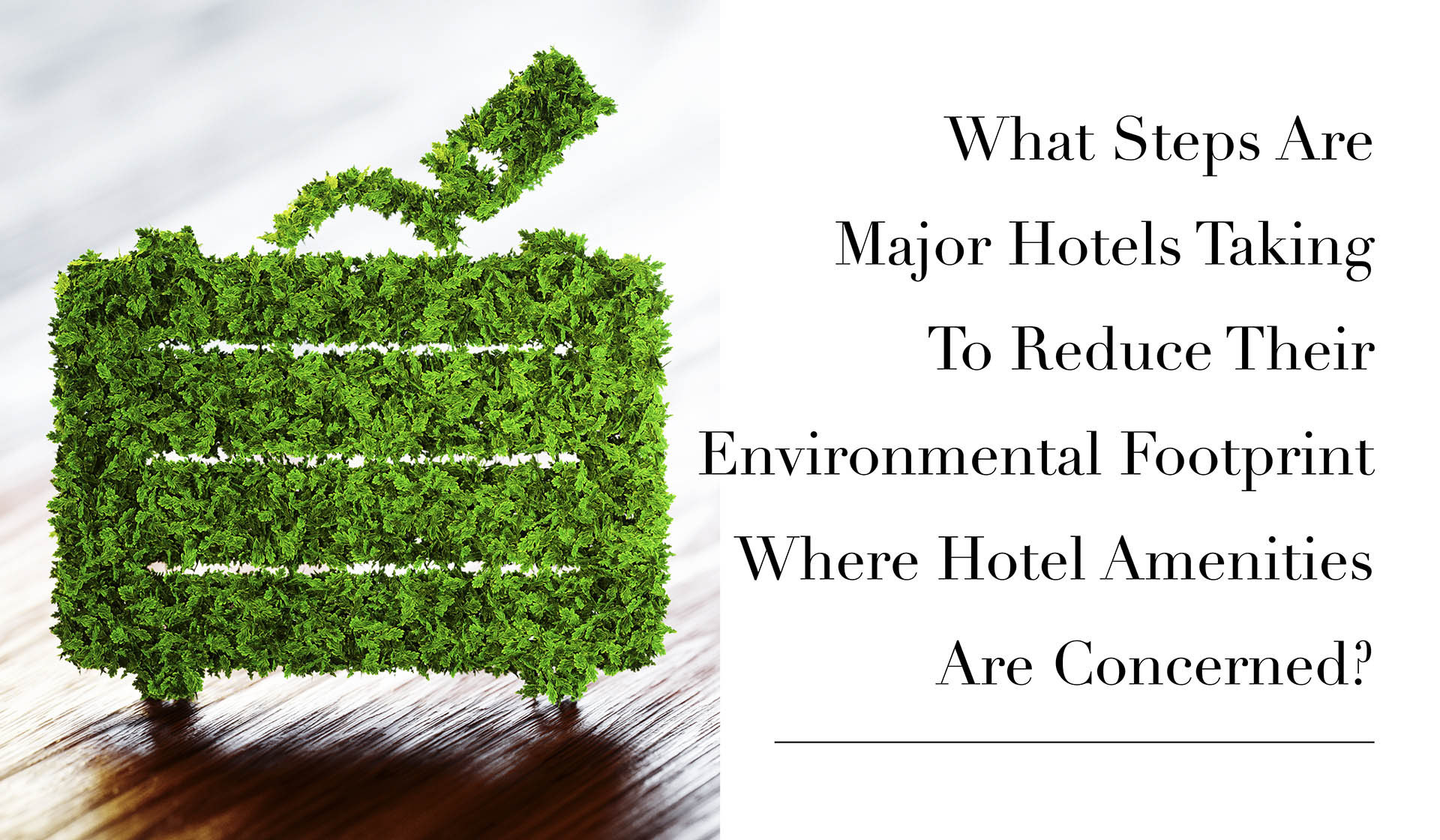 The hotel industry produces an excess amount of waste each year from single use toiletry bottles to water bottles and everything in between. In an effort to reduce their environmental footprint, more major hotel chains are working on solutions to limit waste – some are even doing good for others.
How Sustainable Changes Are Being Made
Some of the most notable changes in the hotel industry to reduce the impact on the environment include:
Laundry Requests
Many major and smaller, independent hotels are asking for their guests' help in reducing water waste from excessive laundry washing.
Signs are now posted in hotel rooms across the country requesting hotel guests reuse their towels and linens multiple times to cut down on laundry and save water and electricity.
Single-Use Toiletry Bottle Switch
One of the biggest efforts that hotels are making across the country to reduce plastic waste is phasing out single use bottles of shampoos and lotions, opting instead for full-sized bottles of products that are easily refilled once a week or less.
The larger sized bottles aren't convenient for guests to take home, although they are reducing the millions of bottles thrown away each year. Large bottles of shampoos and conditioners are also improving the overall guest experience.
Hotel groups like Holiday Inn and Crowne Plaza are aiming for a full switch by 2021.
Recycling Soap Shreds
Hilton brand hotels are taking a giant step forward in finding a new use for old soap. The scraps collected from hotel bathrooms after the guest leaves are being crushed and sanitized then made into new bars of soap.
The new soaps are then distributed to those in need, even being used as part of emergency hygiene kits for emergency situations around the world.
Food Waste Reduction
Hotels are also focusing on eliminating the amount of food waste produced by a continual supply of guests.
Marriott hotels are now using technology to measure food waste weekly so they can adjust their practices accordingly. Unused, prepared foods are being used in donation programs for area organizations that help people in need.
There are also strategies in place through the American Hotels & Lodging Association to work with animal feed processors to reduce food-related waste at hotels across the country.
No More Water Bottles
Another single-use plastic bottle that ends up in landfills comes from bottled water. As many hotels offer complimentary water, a number of companies are replacing the plastic with reusable drinkware.
Additionally, hotels are cutting out the in-house use of paper plates and cups, as well as plastic straws.
The Loop Concept
The Loop shopping platform may be making its way to the hotel sector in the near future. The Loop system involves the old-school concept of reusing a variety of container types, much like milk jugs of the past.
Everything from ice cream containers to drink bottles would be picked up from businesses and residences around the country. The containers are cleaned, refilled, and redelivered to their customers doorstep.
There are many more inventive ideas floating around hotel executive offices for reducing waste and minimizing the environmental footprint in the near future.
If you specialize in hotel amenity products and need packaging solutions to accommodate the requests for full-sized bottles, the container experts at BottleStore.com can help. They offer an extensive supply of full-sized plastic and glass bottles that enhance your brand's image and meet the changing needs of the hotel industry.
https://www.huffpost.com/entry/ihg-hotel-shampoo-bottles-plastic-waste_n_5d41d2d2e4b0db8affb27022?guccounter=1
http://serve360.marriott.com/wp-content/uploads/2018/06/2017_Sustainability_and_Social_Impact_Report.pdf
---
---