Kombucha Popularity Makes Beverage Market Growth Soar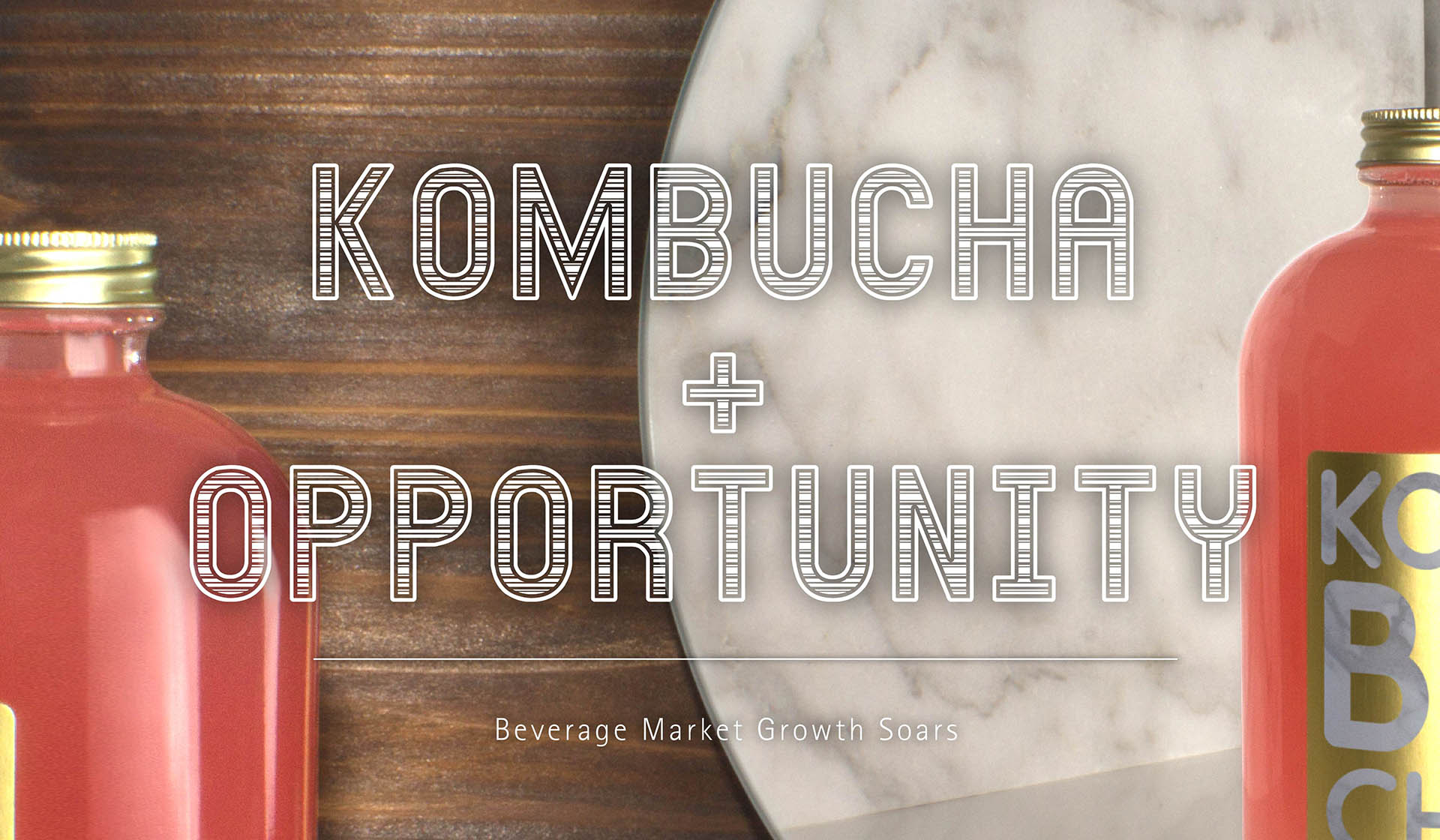 Kombucha may be a somewhat new trend among the health conscious but truth be told, this fermented tea beverage has been around for over 2,000 years. Kombucha has roots in the Far East, where it was touted by the Chinese for its amazing health benefits. Today, as part of the health food market, this ready-to-drink, carbonated delight is the fastest-growing segment of the functional beverages category.
The Healthy Alternative
As consumers work towards adopting a healthier lifestyle, kombucha fits the bill as a beneficial health food. The sugary tea is fermented using a symbiotic culture of bacteria and yeast. Additional flavors can be fused into the drink. The most popular flavors include berries, apple, coconut & mangoes, and herbs & spices.
Currently, kombucha has 39.4% of the functional beverages market share in the United States. With 51% of adults between the ages of 25-34 drinking kombucha soda, it's not surprising to learn the kombucha market was already a $534 million business in 2016. It is expected to experience immense growth by 2020, with an estimated 25% growth each year and a $1.8 million profit. A company called Millennium Products, Inc. was the first to bring kombucha to the US in 2013 and several companies have since followed suit.
One of the earliest developers of kombucha to see multi-millions in profits was GT's Kombucha. GT Dave is the founder of this LA-based company. He started as a teenager in his parents' kitchen, bottling his own homemade kombucha for local health food stores. GT's Kombucha continues to grow as more flavors are added to its lineup.
Curing What Ails You
Kombucha's success is due in part to its function as a health food. The probiotics, vitamins, and enzymes found in the drink are said to have beneficial effects on a variety of health concerns, including weight loss, improved digestion, increased energy, immune system support, and detoxification of the body.
The probiotics in kombucha have been shown to cure common stomach problems, including leaky gut, heartburn, and stomach ulcers. Probiotics also help keep the digestive system balanced with good bacteria.
Nearly 43% of Americans feel modern society makes it difficult to maintain a healthy lifestyle. Kombucha sells between $3 and $5 as a ready-to-drink bottled beverage. Manufacturers continue to expand the kombucha business, growing their choices of flavors and blends to strengthen their place in the market. Many kombucha brands are easily found in mainstream grocery stores – everywhere from Whole Foods Market to the local supermarket.
Research shows kombucha may have more staying power than other health beverages of the past (coconut water, vitamin water). As kombucha is similar to a soda, without the sugary downside, more consumers are gravitating toward kombucha to break away from commonplace bottled water products. Kombucha also offers a variety of additional health benefits many other drinks don't.
Just recently, beverage giant PepsiCo Inc., acquired KeVita Inc., manufacturer of kombucha and other fermented probiotic drinks, in an effort to stay relevant and branch out into a variety of beverage sectors.
---
---