Niche Brands Make Hotel Amenities Feel More Luxe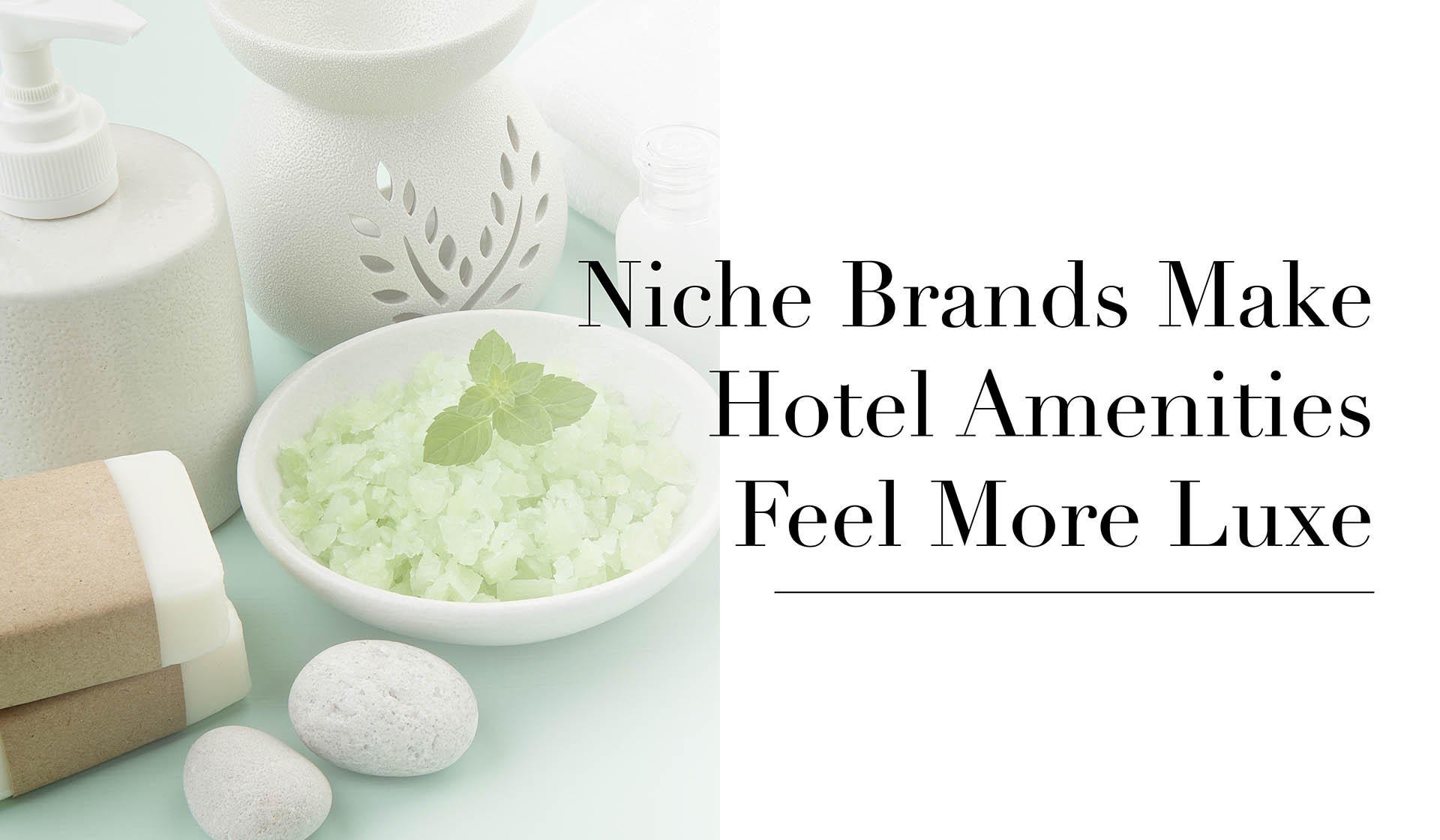 Today's hotels are focusing more and more on finding niche brands and ideas to set them apart from the competition. Their constant research on the latest trends is also helping them battle the popularity of Airbnb and other such websites that offer guest accommodations.
There are a variety of ways the hotel industry is customizing guest experiences to increase loyalty and your personal care products may just fit the bill. Hotel amenities can actually be a deciding factor in where travelers prefer to stay. Free product samples can also help travelers determine what items they buy for year-round use at home.
Why Hotel Amenities Rank So High
Many guests, especially those that stay in hotels frequently, truly appreciate the personal care products neatly placed on the sink or bathroom shelves after a long day of travel. Showing up to a handful of generic shampoos and low-grade lotions can be a big disappointment. It may also project a poor image of the hotel in general, making it feel cheap or inattentive to guest needs.
To increase guest satisfaction and exceed expectations, hotel executives continually search for new and inspired products to make their hotel feel luxe and relevant for each and every guest. While some larger chains may prefer department store name brands, many boutique hotel companies are focused on niche products from independent suppliers.
Guests look forward to trying out new products and brands without the initial investment. They also enjoy discovering new niche items in the personal care industry, such as custom aromatherapy lotions and shower gels that focus on relaxation and stress relief.
Find Your Niche in Hotel Amenities
If you're looking to promote your personal care brand, the hotel industry may be the ideal place. Even if you already make high-quality lotions, shampoos, and bath gels, it may be worth your while to think outside the box about what hotel guests want.
Aromatherapy products are a popular trend because they go beyond the getting clean factor. Essential oils and other ingredients that promote health and wellness are an added benefit for hotel guests after a long day of airports and traveling.
There may also be big business in creating a whole new idea for enhancing the hotel guest experience that goes beyond lotions and shampoos. Perhaps a nourishing facial cleanser or stress-relieving bath bomb would make a nice addition to traditional sink-side hotel amenity bottles.
Making Your Pitch
Before you start sending out free samples of your latest creations, it's important that you first consider where you want your products featured. If you're seeking exposure via a national restaurant chain, you may first need to align with a reliable distributor.
If you're confident in the quality of your personal care products and uniqueness of your amenities, it may be worthwhile to visit local boutique and independent hotels with a variety of samples.
Hotel decision-makers want to know what differentiates your products from the rest and how those same products will enhance the hotel guest experience. In addition to having the highest quality products, you also need to be ready to sell them to an industry already overwhelmed with hotel amenity options.
Your brand needs to be perfected and in line with the overall image the hotel wants to convey. You need to consider all the fine details of your packaging, from the label to the container, before reaching out to the people that matter in the hotel industry.
If you need trial-sized container options for your hotel amenity line and personal care products, contact the packaging experts at BottleStore.com. They can help you find exactly the right containers for your line of products that fit your budget as you work to expand into the hotel industry.
https://www.nytimes.com/2012/05/31/fashion/hotels-upgrade-beauty-products-in-rooms.html
https://slate.com/human-interest/2015/08/hotel-toiletries-how-are-the-soaps-and-lotions-in-the-bathroom-chosen.html
---
---